All roads towards  e-Passport globally have led to the usage of Radio Frequency Identification (RFID).  RFID is a means of encoding digital information onto silicon, which can be transmitted over radio frequency waves, and can be read, authenticated and processed by a RFID Reader.
The e-Volution to e-Passport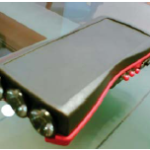 Managing sensitive documents such as passports and keeping track of all visits / tour transactions in a global economy is a very tedious task. For some Governance processes, individuals are asked to report all trips made in the last 3 to 5 years, and this could be a staggering task for a frequent traveler in this global economy.
There are three critical requirements which are the necessary and sufficient conditions for e-Passport
1. Digitised record of citizenship and travel transactions
2. Secure transmission of this digital information on an as needed basis only
3. Capability for authentication and verification at all government checkpoints
All roads towards – e-Passport globally have led to the usage of Radio Frequency Identification (RFID).
Though e-Passports are definitely one of the top e-Governance priorities around the world but it is currently facing the following major issues:
1. Digital data which can be transmitted over RFID can be read by a RFID capable Reader matching  the frequency ranges.
2. Once 'Read' the data can be copied to another silicon potentially cloning any sensitive  document.  Even after encryption techniques which can be used,  encryption techniques has had  some  failure  rates.
3. Nationality can be detected and hostile agents can trigger harmful activity to a specific National by automatically detecting the information over RFID.
4. Identity theft can be done by eavesdropping into personal information such as name, birth dates, address and passport number.
A Secure Solution for e-Passports

QuantumID Technologies addresses all of the issues through Quantum-Secure e-passports. QuatumID secure solution for e-passports is based on completely revolutionary dimensions of technology
Tags powered by light

RF transmission over line  of sight

Data transmitted over multiple mediums light and RF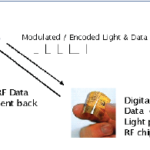 QuantumID Technologies conceptually formed in late 2005 based on disruptive innovation in the field of RFID in MIT, Boston. It envisions to generate an ecosystem of profitable growth by bringing powerful efficiencies into the market with RFID based products methodology, solutions and services. Its services include: Business Consulting RFID, Feasibility Analysis, Pilot Projects, Application software, Technology Consulting, RFID Implementations with SAP.
QuantumID has a patented technology – "Active tags without batteries".  Its tags have the   ability to store KB's of digital data in secure memory of the silicon, which is dead, till the tag is powered with light encoded data by Quantum-authors.
Quantum-authors are literate RFID machines which can read and write RF and have the power to invoke Quantum secure memory RFID tags embedded in passports.
The data in the e-Passport remains safe till the e-Passport gets powered on by light and gets an electronic data Key transmitted as encoded / modulated light.
The data sent and  received is  encrypted at multiple levels at client (tag) and server sides  and has  a line of sight  restriction which is  the  cure  for eavesdropping.
Quantum thus has an innovative and quantum secure e-Governance model for e-Passports  and  other  governance ID cards.
Follow and connect with us on Facebook, Twitter, LinkedIn, Elets video