Introduction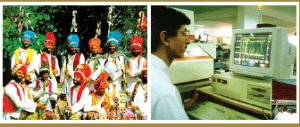 Punjab is situated in northwestern part of India, covering 54 percent of the country's total geographical area with a total population of 24.3 million (2001 Census). The boundary of Punjab is bordered by Pakistan on the west, the Indian states of Jammu and Kashmir on the north, Himachal Pradesh on its northeast and Haryana and Rajesthan to its south.
Enterprise and endevour are the two words that symbolise the true spirit of the people of Punjab. Since independence, in over 5 decades  the state has recorded the average growth rate of 10 percent ( amongst the highest in the country (www.punjabgovt.nic.in) through its enterprising spirit and untiring toil of its people. On the technological front Punjab was the first state to translate the agricultural technology into "green revolution" recording the highest growth rate in food production.
Punjab was also the first state to realise the importance of electronics and computers for technological development and targeted this sector through policy planning and establishing Punjab Infotech in 1976. Today Punjab has 2.04 million of small and medium industries and over 600 large scale industries. In the recent liberalisation of Indian economy, Punjab has started making a mark in the global business mainstream through forming joint ventures with major players in the world.
IT Policy in Punjab
In consonance with the national objective of making India a global IT Power and a front runner in the information revolution, the Government of Punjab set up the Department of Information Systems and Administrative Reforms (DISAR) by merging the Department of Administrative Reforms, Evaluation and the Computerisation Wing of the Planning department. The new Department of Information Technology (DoIT) has been entrusted to execute IT policy framework in the state and to give technical assistance in formulating and implementing IT in all government departments of the state of Punjab. The government of Punjab formulated  Punjab IT Policy in the year 2001. The major objectives of Punjab Government IT policy focused upon improving the overall economy of the state through generation of more jobs and revenue, creation of high value employment through human resource development in IT and related areas, make Punjab a favoured industry destination through creating world class infrastructure and an enabling environment, provide citizen-centric governance, make Punjab globally competitive and turn the state into a knowledge society.
e-Governance Implementation in Punjab
Punjab was the first state to implement the national e-Governance plan under National common service centers (NCSC) (http://egovernance.wordpress.com/). The e-Governance initiatives of the Punjab IT policy(2001) focused upon creating efficient and cost effective government by improving the internal processes of the government through administrative reforms, process re-engineering, modernisation and deployment of IT for an efficient, productive, objective and accountable government.
e-Governance projects in Punjab
The various e-Governance project initiated by DoIT are summed up as following:
1. Punjab wide area network- Project PAWAN acted as the vehicle for effective implementation of Electronic Governance (e-Governance). PAWAN is aimed at serving the requirement of all state departmental applications and also shall enable access to central government applications through interconnectivity with NICNet (National Informatics Centre Network).
2. Common service centers- The project aims at establishing (PPP) Public Private Participation partnership module in the state, which allows for rural entrepreneurship for the base at the front end and market mechanisms to determine the contents, along with government services, to be piped through this delivery platform
3. State-data centers- With a vision to creating a knowledge based society and providing better public services to its citizens through e-governance the government of Punjab has established one state data center at Chandigarh and 19 district data centers at district level.
4. e-District-e-District project envisages integrated and seamless delivery of citizen services by district administration, through automation of work flow, backend computerisation, data digitisation across participating departments.
5. Suwidha integrated citizens services- The major objective of the project is to facilitate citizens through providing single-user-friendly windows help-line to applicants.
6. ICT Education project- Under the project, Government of Punjab in the Department of School Education has decided to provide Information and Communication Technology (ICT) / computer education to the students in upper primary 5400 selected government schools in a phased manner
7. Transport service-  The projects aims at computerisation of transport department though application of issuance of driving licenses (Sarathi), application of issuance of registration of vehicle (Vahan) and application for issuance of permits.
8. Social security management system-  The project of computerisation of social security department has used Information Technology as an effective tool for monitoring/implementing schemes, budget and targets, transfer of funds and disbursement of pension, payments/recoveries of loans.
9. Excise and taxation- The excise and taxation project aims at providing better services to tax payers through bringing efficiency in the tax collection, Value Added Taxation (VAT) compliant system and capturing on-line cross verification of business records.
10. Treasury and accounts management system- The projects aims at implementing the payment module, receipt module, pension module, loc module, stamp module, bank module, data transfer module and  web module in the state.
11. Integrated land record management- The prime objective of the project is to provide an integrated computerisation of land records management system and registration of documents.
12. Agrinet Punjab- "Agricultural Information System Network (AGRISNET)" in collaboration with NIC aims at (i) the state-of-the-art IT infrastructure requirements to establish AGRISNET as the  intranet over NICNET, (ii) development of databases and information systems for decision support for evaluation, monitoring and policy formulations, and (iii) human resources development, (iv) multi-media based training and demonstration of transfer of technology to strengthen farm research and education using broadcast VSATs, (v) special interest groups in respect of subjects, problems, programmes, schemes, etc.
13. Food and civil and supplies-  The Department wishes to explore new perspectives in leveraging the best of technologies and also redesigning/ re engineering its current processes in the envisaged environment, taking cognisance of the efforts of other states. The department has identified Information Technology (IT) as a key enabler in achieving the objective of good governance and taken this initiative to redefine and computerise the core business processes.
14. Personnel management system- The project aims to cover the 6 functional areas of Punjab government employee's information, personnel information system,  pay accounting system, leave accounting system, loan accounting system, general provident fund accounting system, pension accounting system
15. e-Procurement- The objective of the government of Punjab e-Procurement initiatives is to develop a coordinated approach to attain best procurement practices across the Government departments.  
References:
www.punjabgovt.nic.in
http://egovernance.wordpress.com/
http://punjabgovt.nic.in/budget/SPEECH.HTM
punjabgovt.nic.in/WHATSNEW/India%20Tech%20Awards%20-%20Punjab%20E-Governance%20Strategy.ppt
www.networkmagazineindia.com/200508/coverstory01.shtml
Follow and connect with us on Facebook, Twitter, LinkedIn, Elets video