THE Commonwealth Connects 2007 International e-Partnership Summit, was held in New Delhi, India, from 23 to 24 March 2007. Organised by the Ministry of Communication and IT, Confederation of Indian Industry (CII) and Commonwealth Business Council in New Delhi, the Summit aimed to bring together information and communication technology (ICT) ministers, as well as industry experts, private sector organisations, government representatives, civil society and other delegates from across the Commonwealth. They discussed collaborative efforts to enhance the Commonwealth's competitiveness and its development capacity by bridging the digital divide within and among communities and countries. Prior to the Summit, Dr Michael Frendo, Chairperson of Commonwealth Connects, had said in an interview in London :
"The India summit will enhance the visibility of Commonwealth Connects and facilitate engagement with the private sector and civil society to take forward the fi ve key areas of ICT for development." They include building ICT policy and regulatory capacity; modernising education and skills development; entrepreneurship for poverty reduction; promoting local access and connectivity; and improving regional networking, local content and knowledge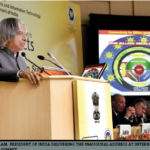 A P J ABDUL KALAM, PRESIDENT OF INDIA DELIVERING THE INAUGURAL ADDRESS AT INTERNATIONAL E-PARTNERSHIP SUMMIT
Dr APJ Abdul Kalam, President of India,while inaugurating the Summit said that if technology was to make a real difference to the lives of common people, the governments of the 53 Commonwealth countries, especially those of Africa and Asia, must consider ways of providing communication bandwidth free of cost, on March 23, 2007. Dr Kalam said if the Indian experience in connectivity was any guide to the creation of a Commonwealth-wide knowledge grid, the large-scale adaptation of local languages that empowered people to access and make use of technology would be needed. This in turn would power the spread of education, healthcare and a range of other crucial services to a wider base of people than ever before. Referring to bandwidth as a demolisher of knowledgebarriers,Dr Kalam also said providing it free made good economic sense in the long term, considering that the costs could be easily recouped from the boom in offtake of services and products that it would enable.
DELEGATES FROM COMMONWEALTH COUNTRIES PARTICIPATING IN THE SUMMIT
Dr. Mohan Kaul,Director – General, Commonwealth Business Council announced that a working group would be formed to provide ICT expertise and assistance to those countries that are lagging behind in ICT capacity. He said that Indian companies are leaders in providing ICT services and Commonwealth Connects should fi nd a new model of public – private partnership to bring low cost technology from these companies to all the commonwealth nations.
Commonwealth Connects has a task to bridge the digital divide in 53 countries to reach the economically backward people, said Mr. Don McKinnon, Commonwealth Secretary General. Fifteen commonwealth countries have made coherent ICT policies whereas thirty-eight countries still need support for using technology and creating policies, he said. Commonwealth Connects will assist in formulation of national ICT strategies as means to address digital divide,he added. Mr. McKinnon also mentioned that Commonwealth Connects will act as a catalyst for regional networking between government, business and civil society assisting with capacity building for information sharing and collaboration.
http://www.thecommonwealth.org/
http://www.ciionline.org/news_new/
  newsMain23-03-2007_2.asp