Nearly 70% of paper documents that are being shared across governments and corporate world deal with forms of some kind or other. Be it for example, in creating a new customer record, adding data to existing database, providing information to someone, seeking information by someone, or even transacting and sharing information is more often done through paper based forms. These paper-based forms are then fed into electronic systems via human interface to then process the same. The need for electronic processes was always there and the time has come where practically every IT enabled processes seek to render forms electronically.
The market dynamics over last 3 years have been studied. As such, with the help of customer interactions across specific verticals like government and other industry segments it has been found out that the biggest hurdle for e-Forms adoption and proliferation includes user experience; look and feel of electronic forms should match the paper like fidelity as existent today; the learning curve for people to adapt to e-Forms is very limited and hand holding during initial stages is paramount to success; there should be less technology and IT jargons but more of human processes that need to be unconsciously built into the e-Forms paradigm for user acceptance; people and processes would need to be the main focus while trying to render paper forms as electronic forms; the end users should not be tasked to buy or install expensive software in order to participate in e-Forms processes and the onus of doing so should lie with the service provider of such e-Forms; keeping in mind that end users are across a wide spectrum of literate and illiterate IT background, the e-Forms should be intelligent to allow people to fill the form at their convenience, preferably offline, have tips and validations to help them relate to the forms and have the confidence that the form they submit electronically is as intended by the user with 100% security and non-repudiation; and, the look and feel of a form should be human readable and fillable while the machine reading and processing can be at the background using XML as the data transfer mechanism which is privy to the end user.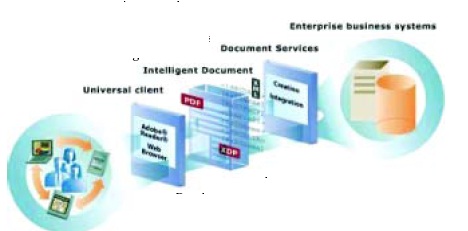 Keeping the above pointers in mind EBridge Solutions picked some of the most difficult customers and enabled them to flawlessly render e-Forms services in a most optimum manner having less people process conflicts. Adobe's Reader software that is free and avaialble with 95% of all Internet connected systems helped EBridge Solutions to leverage it fully. The forms, which were in paper, were rendered as electronic forms with the exact look and feel of existing paper form by EBridge Solutions engineers using Adobe's designing tool – Adobe LiveCycle Forms Designer that is XML based. After having designed the form, the validations and simple tips are put into the form so that even when a user works on the forms in an offline mode, one gets to relate to the intelligence of the PDF form as originally envisaged. These e-Forms are then Adobe Reader- enabled to enable all intended audience to just interact, fill, save, sign digitally, pre-fill, scrutinise, process, comment etc., all this and more with just a free Adobe Reader.
Currently, a strategic defence vertical in India has got around 1300 paper forms designed into e-Forms with built-in logic and processes. The e-Forms service being provided in the country now is enabling lakhs of people to fill the e-Forms and print the same with embedded business logic to process the forms quickly and efficiently. At a later stage 2D Bar-codes would also help in avoiding re-keying of information as well as to support wet signature requirements in select government mandated processes. The Department of Income Tax has also started the use of e-Forms for the registered corporates to file their returns electronically. The Finance Ministry has mandated only electronic filing, and is using the e-Forms in Adobe PDF which has extensive validations and checks thereby allowing the end user to conveniently fill these multi page forms offline. By utilising the power of the Adobe Reader at client level, the service provider or parent organisation would need to invest in minimal s/w expense at back end but then be able to address the entire population as the Adobe Reader is on every desktop.
Now that NeGAP is kicked off well in India with MCA-21 being the first eGovernance project gone live, little wonder that even here the forms are entirely rendered in Adobe PDF and Adobe LiveCycle Solutions by Adobe and it's other Tier 1 Partner. Currently, the success of Indian Defence forms project or Department of Income Tax rides on the new wave of e-Forms proliferation. Organisations like DAPRG, Judiciary, Passports etc., have also started taking to e-Forms.