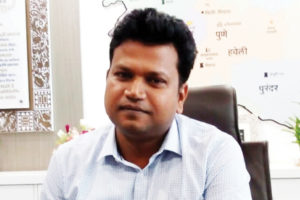 Pune is currently struggling with the traffic problem. The traffic has to be improved through IT enabled services, says Naval Kishore Ram, Collector, Pune, in conversation with Poulami Chakraborty of Elets News Network (ENN).
Known as the 'Oxford of the East', how do you view Pune's growth as a city?
Pune is a very important city being an education hub. It is also known as the cultural capital of Maharashtra. The place is swaying with the great histories of the country as well as the State. Right now, I am working as the District Collector, Pune which is a matter of pride for me. Pune is emerging as the IT hub of the country along with Hyderabad and Bengaluru. Industrially, the Hinjewadi area is still in the Gram Panchayat.
Problem areas like solid waste management etc, which should be managed by the Zila Panchayats, are being managed by us, as people come to us seeking solutions for their problems. Students should be provided good environment. Thankfully, the city is having a good law and order situation. We are looking forward to provide solutions for solid waste management in the city as well. A lot of information and communication has to be taken up to the citizens. A good administration will lead to better governance for sure.
How Smart Cities Mission has helped Pune to scale new heights in urban transformation?
The Smart Cities Mission is very important for a city like Pune. It is the eighth largest city in terms of population. Business is growing here. The Government of India and the Government of Maharashtra have important works and offices here. The city has to be made citizen-friendly. Pune is currently struggling with the traffic problem. The traffic has to be improved through IT-enabled services. In a place like Pune, citizens security can be ensured. Through the Mission, we can ensure good surveillance systems. We also need to improve our water supply system and waste management. We need to provide citizens a single window system for all the Government services. Plans for the implementation of Smart City projects have already been made in Pune.  The Special Purpose Vehicle (SPV) created for the implementation of projects has made many great plans.
What are your views on the digital transformation taking place in the city?
A citizen has to be given fast and speedy services. IT services help in getting more results in less time. It helps in providing citizen-centric services, law and order maintenance, traffic management, etc. In Swachh Bharat Mission also, surveillance becomes very useful. It increases the efficiency and the transparency in the entire system.
Pune has been very expansive in terms of reaching out to Pashan and Nanded regions. What is the current scenario in terms of connecting the different parts of the city?
Pune has changed a lot in the past 10 years. All the problem areas will be undertaken in the Smart City projects.
Coming from a drought affected area in Maharashtra, how are you looking up to the administrative challenges in Pune?
Beed falls into the drought affected area of Marathwada district region in Maharashtra. I sensitised myself listening to people's problems there. I worked on water conservation, increasing farm income, etc. Mostly, the biggest learning was the human touch of the administration for poor people. Administration has to be same everywhere, i.e. pro-people and sensitive.
Pune is also known for the extensive healthcare in the country. Where do you think Pune stand for in healthcare systems?
Pune has good healthcare facilities. It is known for multi-speciality hospitals. There is always a scope for growth and development of healthcare here. People from distant places come here for the treatment. With the city's growth, the healthcare services willalso be increased. The Government of Maharashtra has actually introduced a programme where people will be given free health treatment. Our focus is on those people here who are not able to afford costly treatment in private hospitals. For such people, there are a lot of schemes.
Pune comes in focus here because affordable healthcare solutions in the city can be found easily. What more schemes should be implemented in Pune?
The nature of the city has to be preserved. We have to understand what people actually ask for. At the time of finalising the plans, there has to discussions with the people at large, their opinions have to be taken care of.
Pune's historical monuments have to be given preference so that a life can be given to the history of the city. What challenges do you observe in the city?
First challenge is to create a good airport. It has to have ring road, good connectivity with National Highways, etc. Many projects needed to be completed in time. The Government has already sanctioned many projects here. Being the Collector, my work is to achieve this vision of the Government and I am working towards it.
Get a chance to meet who's who of Smart Cities ecosystem in India including key policymakers from Central and State Governments. Join us at Smart City Conclave, Kochi on 18 August, 2018 to explore business opportunities. Like and connect with us on Facebook, Linkedin and Twitter.