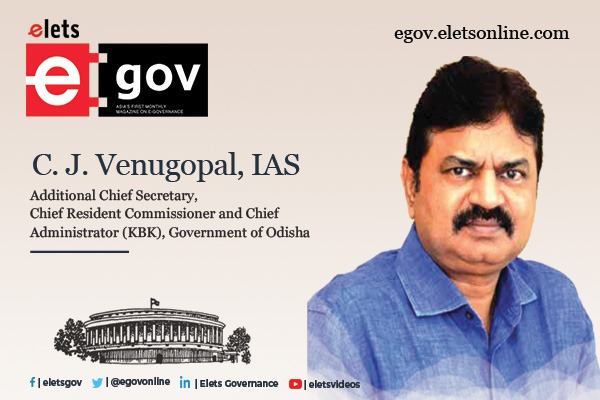 The state of Odisha has made remarkable progress in integrating its most remote and backward areas with the mainstream by development of a robust rural road infrastructure, excellent power infrastructure, house-to-house tap connections, and an extensive fibre grid network, alongwith capacity augmentation in health and education. With the focus now shifting to ensure quality of these services, the state is well poised to meet the aspirations of its people and provide future ready governance, shares C. J. Venugopal IAS, Additional Chief Secretary, Chief Resident Commissioner and Chief Administrator (KBK), Government of Odisha, in an exclusive conversation with Krishna Mishra of Elets News Network (ENN). Edited excerpts:
You have Played a key role in the development of several important road infrastructure projects in Odisha, including road capacity expansion in remote tribal areas. What have been some of your key innovations and how has the implementation of technology impacted road infrastructure in Odisha?
I can say that the implementation of technology and innovation has had a significant impact on the road infrastructure in our state. With the use of modern technology, we have been able to ensure the timely completion of projects and enhance the quality of construction.
The Biju Expressway is a prime example of how technology and innovation have transformed road infrastructure in Odisha. It is a four-lane highway that stretches over 650 km and connects major cities and towns in the state. The project was implemented using state-of-the-art technology and modern construction techniques, which ensured that the road was built to the highest standards of quality and safety.
Apart from the Biju Expressway, we have also implemented several other road infrastructure projects in Odisha that have benefited from the use of technology and innovation. For instance, we have used GPS technology to monitor the progress of road construction projects in real-time, which has helped us identify any delays or issues and take corrective action immediately. In addition to this, we are also exploring the use of new technologies such as drone mapping and artificial intelligence to enhance the quality and efficiency of road infrastructure projects in Odisha.
One unique innovation which we adopted for road development in Odisha's remote areas was usage of Bailey bridges. We found these bailey bridges very effective in addressing the need of quick road penetration in tribal belts with a fast turnaround time.
Today we have 100 percent penetration of roads in all the villages with a population 250+. Our target now is to cover smaller villages and hamlets with population 125 and below.
You have been the Chairman and Managing Director, Orissa Power Transmission Corporation Limited. What is your take on the state's journey towards providing seamless and uninterrupted power?
I have closely witnessed Odisha's journey towards energy self sufficiency. When I took over the reins of the Orissa Power Transmission Corporation Limited (OPTCL), there were few functional sub-stations in the state. Given the importance of power in the state's economy, I took power infrastructure expansion on a mission mode. With a focussed approach, stable policy and visionary leadership of our Hon'ble Chief Minister, today we have several sub-stations covering every nook and corner of the State. We are acutely conscious of the fact that to attract industry in the state, the state must have a robust infrastructure of roads, power and water and we are working in that direction.
While serving as the CMD of Odisha Power Transmission Corporation Ltd (OPTCL), we came out with a vision 2025 document in the year 2009 which aimed at paving the way for efficient power management in the state and provide much needed fillip to the industrial growth. This futuristic vision document is a reflection of the state government's commitment to providing 24X7 power supply and takes into account future demand as well.
The document underscores the OPTCL's ambition to become the leading transmission utility in India by 2025. It has laid out pathways traversing with which OPTCL aimed to enhance its operational efficiency and network reliability, ensuring uninterrupted power supply to its customers. OPTCL aims to invest heavily in technology and automation to improve the reliability and efficiency of its operations. OPTCL also plans to strengthen its transmission network by increasing its capacity and expanding its coverage.
The document highlights the role of adopting cutting-edge technologies to automate its processes and improve its infrastructure, including the implementation of smart grid solutions. OPTCL also plans to prioritise customer satisfaction by improving its service delivery and responsiveness.
Overall, OPTCL's vision 2025 and its strategic planning demonstrate the OPTCL's commitment to delivering reliable, sustainable, and customer- centric transmission services while embracing technology and innovation.
I am happy to say that this vision document was appreciated at the national level and has been adopted by many other states.
Odisha has a rich potential for renewable energy, particularly solar and wind power, and the state government has taken several initiatives to harness this potential. This includes the development of large- scale solar and wind power projects, as well as the promotion of decentralised renewable energy solutions such as rooftop solar panels and solar water pumps.
The state has also taken steps to encourage energy efficiency and conservation, such as the implementation of energy-efficient building codes and the promotion of energy-efficient appliances. Overall, I believe that Odisha is on the right track towards energy transition and is making steady progress towards achieving its renewable energy targets. However, there is still a long way to go, and it will require sustained efforts from all stakeholders to ensure that the state's energy needs are met in a sustainable and responsible manner.
Another basic parametre of the development index is ensuring potable water to rural masses. What has been the progress so far? How is climate change affecting water availability in Odisha and what measures are being taken to adapt to these changes?
Odisha started its own version of HarGharJalAbhiyan way back in 2012. When I was Secretary of the Rural Development Department, I prepared a 10-years action plan with a mission to provide drinking water to all the households in the state. With the whole hearted support of the Hon'ble Chief Minister, we have made significant progress on this front and hope to achieve 100 percent coverage by the end of the next year.
Also Read | Odisha's potential to emerge as digital powerhouse
Climate change is a critical issue that is affecting water availability in our state. Increasing temperatures and changing rainfall patterns have led to reduced water availability in many areas, particularly during the dry season. This has caused significant challenges for agriculture, which is the primary source of livelihood for many people in Odisha.
To adapt to these changes, the Government of Odisha has taken several measures, such as promoting the use of efficient irrigation systems, encouraging rainwater harvesting, constructing check dams and recharge pits, and improving water storage infrastructure. We have also launched various programs to promote water conservation and efficient use of water resources in the state.
Public awareness campaigns and education programs are essential to promote sustainable use of water resources in Odisha. We are working closely with local communities, NGOs, and educational institutions to raise awareness about the importance of water conservation and sustainable water use. We are conducting campaigns and programs to educate people about efficient irrigation practices, rainwater harvesting, and water conservation techniques.
Through these efforts, we hope to create a culture of responsible water use and ensure the availability of water for future generations.
You were also associated with Grid Corporation of Odisha. How has the Fibre Grid project in Odisha enabled the delivery of various e-governance services to citizens and improved their access to government services?
The Fibre Grid project in Odisha has been a game-changer in enabling the delivery of various e-governance services to citizens and improving their access to government services. As you may be aware, the Fibre Grid project is an ambitious initiative of the Government of Odisha aimed at providing high-speed internet connectivity to every corner of the state, including the remotest and
far-flung areas.
Through this project, we have been able to establish a robust and reliable communication network across the state, which has enabled us to deliver a wide range of e-governance services to citizens. With high-speed internet connectivity, citizens can now access various government services, such as online payment of bills, application for certificates, and registration for various schemes, from the comfort of their homes.
I am happy to share that we are the pioneers in leveraging the transmission infrastructure of our state to establish a pan-Odisha fibre grid. Today, this model has been replicated in many other states. This has also resulted in opening an additional revenue stream for OPTCL. The Fibre Grid project has also enabled us to improve the efficiency and effectiveness of government services. By digitising various government processes, we have been able to reduce the turnaround time for service delivery and eliminate the need for citizens to physically visit government offices.
Overall, the Fibre Grid project has done well in Odisha and has played a crucial role in improving the delivery of government services to citizens. However there are several interior villages where the expansion of the grid network needs to be done.
As Member, Board of Revenue, and Principal Secretary (IT) earlier, you were at the forefront of the policy push for implementing the 5T programme of the Odisha government which focuses on using technology for governance transformation. Please tell us about state preparedness in leveraging ICT for making public service delivery more efficient.
As Member, Board of Revenue and a key participant in the implementation of the 5T programme of the Odisha government, I can say that the state has made significant strides in leveraging Information and Communication Technology (ICT) to improve public service delivery.
One of the key components of the 5T programme is the use of technology to transform governance. The programme has led to the development of several initiatives aimed at improving public service delivery. These initiatives include the implementation of
e-governance solutions, online service delivery, digital payments, and the establishment of common service centers across the state.
The government has set up a robust ICT infrastructure to support these initiatives. The state has implemented a state-wide area network (SWAN) and a state data center (SDC) to support the digitization of government services. These networks provide secure and reliable connectivity to all government offices and enable the seamless exchange of information between various government departments.
Odisha has also implemented several citizen-centric online services such as online issuance of certificates, online land records, and online payment of taxes and fees. These services have not only made it easier for citizens to access government services but have also increased transparency and reduced corruption.
To further enhance the state's preparedness in leveraging ICT for governance transformation, the government is also investing in building the capacity of government officials and providing them with the necessary skills and training to effectively use technology in their work.
Overall, I am proud to say that the state of Odisha has made significant progress in leveraging ICT for making public service delivery more efficient. However, there is still a long way to go, and we will continue to work towards further improving our systems and processes to better serve the people of Odisha.
If you look back at your 34+ years of administrative experience, what have been your most significant achievements? What were the challenges in discharging your duties and how did you overcome them?
After having served the state's administration in various capacities over the past 34+ years, I have a feeling of contentment and self satisfaction that I was able to make a small difference in the lives of a citizen. Be it providing basic amenities like roads, water and electricity or facilitating creation of a future ready digital architecture, I feel I have been blessed with having been given an opportunity to make a positive impact on the society and contribute to nation building.
In terms of specific achievements, some examples might include introducing the concept of bailey bridges to create rural road infrastructure in remote Kalahandi region, drafting and implementing a 10 years action plan to cover all the households with tap connections, drafting the Vision 2025 document of OPTCL, augmenting the power infrastructure in the state and leveraging OPTCL infrastructure to strengthen the fibre grid network in the state, thus opening a new revenue streams for it and passing on the benefits to people in terms of lower tariffs.
I feel a huge sense of contentment when I see the trees of development fructifying in the remote and inaccessible areas which I served. However, contrary to popular perceptions, the role of a bureaucrat is not easy. Challenges like managing competing priorities, dealing with difficult situations, handling uncertainties and navigating complex administrative machinery are always there. To overcome these challenges, it's important to stay organised, communicate clearly and assertively, be passionate about the job, think out of the box innovative solutions and keep the welfare of the people at the centre. My biggest achievements and trophies are the fond memories etched in the minds of countless people in whose lives I have been able to make a positive impact.
I think that in any administrative role, one of the most important things is to have a clear understanding of the goals and objectives of the organisation or department that you are working for. This will allow you to prioritise your work and ensure that you are working towards the right outcomes. It's also important to have strong communication and interpersonal skills, as administrative roles often require you to work with a wide range of people, both inside and outside the organisation.
"Exciting news! Elets eGov is now on WhatsApp Channels 🚀 Subscribe today by clicking the link and stay updated with the latest insights!"
Click here!