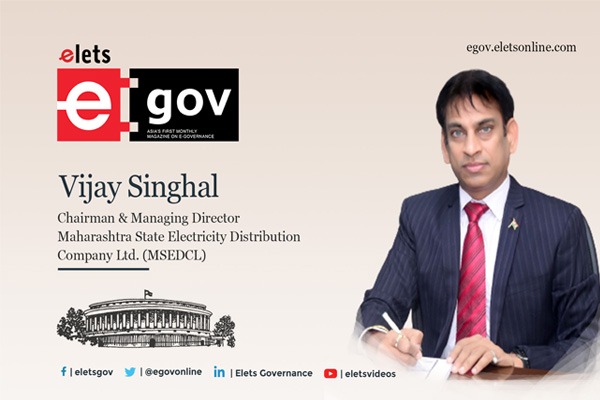 Maharashtra State Electricity Distribution Company Limited (MSEDCL) is one of the largest power distribution companies in India and Asia, serving more than 2.90 crores of consumers with around 70000+ employees shares Vijay Singhal, Chairman & Managing Director, Maharashtra State Electricity Distribution Company Ltd. (MSEDCL) in interaction with Vikas Nag of Elets News Network. Edited excerpts.
Please take us through the progress and key initiatives of the organisation.

After restructuring of erstwhile Maharashtra State Electricity Board in June 2005, MSEDCL embarked on its journey to become "Best power utility in India".
During this journey, the company has adopted new state-of-the-art technologies and best practices for improving its operational efficiency. After taking charge as a CMD of this largest distribution company, I am continuing with the key initiatives to improve operational and financial performance. A few of the recent initiatives taken are shared below:
MSEDCL successfully catered the unrestricted peak demand of 24,668 MW in April 2022 – the highest ever in its history. Also, during the recent unprecedented coal shortage, we managed the power supply without any single instance of load shedding.
Despite pandemic challenges, exemplary efforts have been made to achieve a never-before recovery, amounting to Rs 76,199 crore, which is more by Rs 20,905 crore more compared to the previous year's recovery. With such a paradigmatic recovery, AT&C loss also reduced significantly by 5.22% from the previous year to reach 15.15% in FY 2021-22.
Today, power transmission and distribution players are adapting to changing business models by utilising tech-driven innovations. How are digital technologies helping boost the efficiency and resiliency of power grids and unlock innovation to create new sources of revenue?
MSEDCL is implementing a "Substation Monitoring System" for all 4,093 substations through which we will monitor real time health parameters of the entire distribution network. Soon, a Centralised Energy Command and Control Centre (ECCC) will be commissioned, wherein power flow visibility from EHV to consumers will be available through the GIS platform. At ECCC, optimum network planning through software-driven network analysis is possible. The ECCC will facilitate data-driven decision-making to improve overall efficiency, and resiliency of the distribution grid.
MSEDCL is also deploying a load forecasting and power portfolio management tool which will guide in day-to-day power procurement planning. The tool will help in assessing the optimal mix of present sources available and reduce power purchase cost through artificial intelligence and machine learning tools.
To improve billing and collection, MSEDCL is installing smart meters at 2.37 crore non-agricultural consumers, respective Distribution Transformers and Feeders under the RDSS Scheme. These smart meters on prepaid mode will ensure realisation of timely revenue and reduced consumer complaints.
MSEDCL has entered into long-term PPAs (Power Purchase Agreements) to procure around 8000 MW of renewable energy. What are your thoughts on the current status and future prospects of renewable energy?
Presently, thermal (fossil fuel) constitutes 57 per cent share in the supply mix, so the state will easily meet its base demand by FY 2031-32. In future, deploying more solar makes sense as Maharashtra's peak demand occurs during the daytime. MSEDCL has planned its RE capacity addition in line with the MERC's RPO target and our state's demand profile.
MSEDCL has contracted 1,479 MW of solar energy under Mukhyamantri Saur Krushi Vahini Yojna (MSKVY). The range for tariff discovered is very competitive; Rs. 2.93 per unit to Rs. 3.30 per unit. Under Mukhyamantri Saur Krushi Pump Yojna (MSKPY) 1 lakh solar pumps have been installed and another 1.75 lakh solar pumps will be installed in next 2-3 years. Solarisation of AG supply will provide quality and assured supply to large agricultural consumers and in a cost- effective way for MSEDCL.
Maharashtra is also a leading state in installation of solar roof top system. It has so far 71 thousands consumers with cumulative capacity of 1276 MW. Further, tenders worth 1500 MW for hybrid (Solar + Wind) have been concluded out of which PPA has been signed with TP Saurya Ltd. for 300 MW capacity. By 2024-25, we have planned to increase solar capacity by 4,354 MW and wind by 1,063 MW.
However, the proliferation of RE will raise challenges like grid operations, peak demand mitigation, etc. However, these challenges will be overcome with the RE market getting more matured and stable with penetration of other solutions like battery storage, pump hydro storage plants etc.
Digital transformation has unlocked various opportunities all along the power-industry value chain, from generation to customer relationship management. What is your perspective on this?
Yes, 100% agreed.
Digitalisation has opened up a vast array of opportunities from generation to consumer end from "ease of doing business" perspective. For example, automation of grid operation, digitalisation of consumer services etc. Digital technologies such as Artificial Intelligence, Machine Learning, IoT, etc. will drive higher efficiencies and lowering operational costs.
Few of them are real time management of supply-demand through SCADA systems, settlement of complex energy transactions by Load Dispatch centers, deployment of AMR/AMI to improve metering and billing efficiency, online payment avenues to help consumers to pay the bills from home.
What are the key barriers for power utilities in reaping the full potential of technological advancements? What is your approach to keeping pace with evolving tech trends to stay relevant in today's digital age?
I think, huge capital expenditure required to deploy technological solutions, legacy consumer mix (urban: rural ratio, % of subsidised consumers), bundled tariff structure (not providing any real time price signal), and DISCOM's readiness to adopt these solutions (such as, trained resources) are the key barriers in reaping the full advantage of technology adoption.
Also Read | "BEST undergoing fiscal transformation, will become profit utility soon" 
The ultimate goal of technology adoption goes beyond improving billing, collection, and distribution automation. DISCOMs must use the real time data coupled with other controllable devices such as remote ON/OFF of supply and dynamic tariff to improve the demand response: an active load management tool. Demand response is also crucial in managing large-scale integration of intermittent RE sources.
MSEDCL has already taken the right steps in this direction. MSEDCL is deploying smart meters on large scale, substation automation, AMR/AMI infrastructure, which are the basic building blocks of Demand Response. Apart from these technological interventions, MSEDCL is also undertaking distribution system upgradation & loss reduction projects worth Rs.28,500 Crore under RDSS scheme, and AG pump solarisation to reduce the cost of supplying power, and also meet its universal supply obligations.