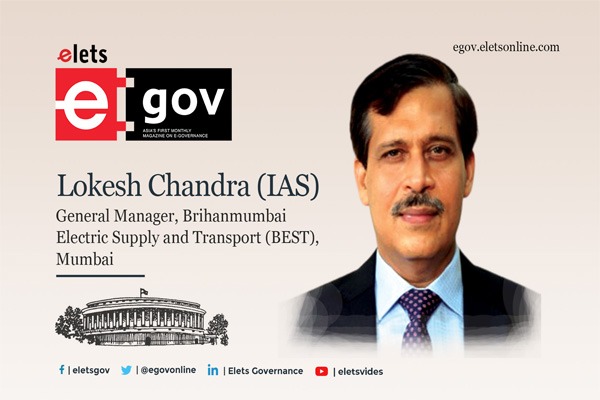 Technology is the driver of the 21st century's world. It has made a huge impact in every aspect and in every sector of the economy. Technology upgradation is a must for urban mobility and power utility and to make them future ready. Lokesh Chandra (IAS), General Manager, Brihanmumbai Electric Supply and Transport (BEST), Mumbai in conversation with Vikas Nag of Elets News Network (ENN), delves into the technology-related aspect of making BEST a future ready transportation and power utility.
Q. Smart Urban Mobility has been a focused area and the government has brought some key policies and initiatives in this regard. What are BEST's plans in this regard?
Ans: Basically, we are working to make the public transport more reliable, efficient, passenger friendly and at the same time making these operations environment friendly and sustainable. When I'm talking about the reliability thing, reliability is pertaining to two forms. One is that the person who is standing at the bus stop should know at what time the bus will come and second is to have a good frequency of buses. So, to inform the commuter about the timing of the arrival of the bus, we have now launched an app called Chalo app in which live tracking of the buses is available. So, anybody who wants to take any bus from any bus stop will know the real arrival and departure time of the bus. Now, another thing we have done is route rationalisation to increase the frequency of the buses. We have redesigned all the routes.
Through route rationalisation, we have brought the frequency of buses from 1 hour to around 15-20 minutes on every route, and we are aiming to bring the frequency further down to 10 minute by increasing the fleet number. So, the wastage of time at the bus stop is reduced. Through this intervention, we have managed to save around 2 lakh productive man days of the Mumbai commuters in the last three to four months only.
Q. Net Zero emission has become a buzzword of late. The whole world is focusing on cutting the emission rate. What major changes has BEST brought to reduce its emissions?
Ans: Vehicular emission is the main catalyst for air pollution in the city area and the quality of air in the city depends on the public transport system. Around 24 per cent of the air pollution is attributed to vehicular emission. To reduce this, we have adopted the policy of 100 per cent electrification of the buses. So, by the end of next year, 50 per cent of our fleet will be fully electrified. And our aim is to complete 100 per cent fleet electrification target by March 2026. By the end of next year, we will have our fleet size increased from the current strength of 3700 to 6800 and by March 2026, the fleet size will be increased to 10,000 electric buses. In terms of saving fossil fuel and cutting down emissions, we will save around 6,000 million tonnes of fossil fuel and 6500 million tonnes of CO2 emission in the next 10 years.
Q. Digital technology and data analytics per se is going to play a huge role in transforming the power sector in India. Your view.
Ans: Technology is the driver of the 21st century's world. It has transformed the way things were done earlier. It has made a huge impact in every aspect and in every sector of the economy.
As far as the power sector is concerned, it has also been witnessing some transformational development. Technology upgradation is a must for making power a future ready utility. In terms of reducing Aggregate Technical and Commercial (AT&C) losses and making services more customer friendly, technology is a must. By employing the latest technology, BEST has switched to smart metres. So, our 10.5 lakh consumers will now avail the facility of smart metres which will be very easy and convenient for the consumers and also helpful in checking electricity theft. Though we are always ahead of others in terms of technology adoption, the current system in place at BEST is an outdated one, so we are switching to smart metres. We are going for the new billing system and we are going to have a customer relationship management. These will give consumers a totally different experience. In case of electricity failures, instead of them chasing us at the offices for any issues, they will now have specialised people at their fingertips to address their issues. The level of automation will be such that if somebody forgets to switch off their ACs, fans, lights etc, and goes out of their home, they can now easily switch them off from anywhere. This will be a drastic step in reducing wastage and losses of electricity.
Q. Distribution loss has been brought down by DISCOMs from 40 per cent to the current rate of 20 per cent and BEST has been working in the direction of making electricity usage more efficient and transparent. What more can be done to address the issues of electricity theft and revenue leakages?
Ans: We are among the best utilities, not only in India, but also in the world. Our AT&C losses i.e 6.6 per cent is among the lowest in the world. We have already reduced these losses to the minimum possible and whatever remains, will be reduced subsequently through our IDSL plan, which is also a Government of India assisted program. We are also below the national average of distribution losses i.e. 20 per cent. So, we have developed a comfortable cushion in this regard and we will take it further down. We are looking for best technology like data analytics, Artificial Intelligence and Machine Learning using which, we can bring substantial progress in our utility.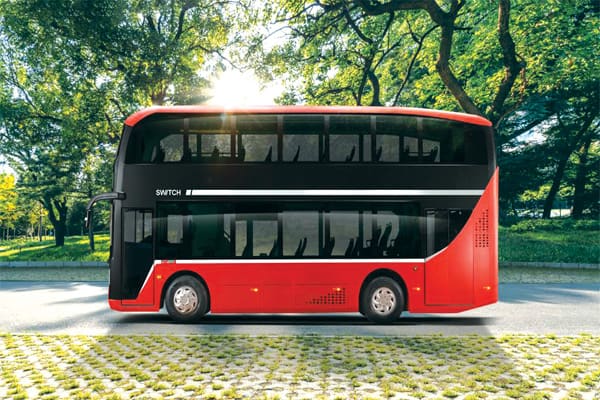 Q. When you took over as GM, apart from being debt-ridden, BEST was also facing other problems viz., less fleets and electricity problems etc. What measures have been taken in this regard and what is your future outline for BEST?
Ans: BEST is still reeling under financial crisis but the kind of measures viz., resources planning and upgradation of technology, we are very confident that BEST will turn from a loss making utility into a revenue generating utility. All our losses will go down and we will eventually start making profit. In the event of the 75th anniversary of BEST foundation, we have launched Ho-Ho AC bus service for tourists visiting the state. So, we are taking all the required measures for making BEST a financially viable utility. The state government renewed focus on smart urban mobility has generated new impetus in BEST fiscal transformation. The state government is also working in close tandem with the Union government in this regard. Private sector is also being encouraged to play its parts in changing the face of the power sector in Maharashtra as well as in the country.
Also Read | Cities As Drivers of Aatmanirbhar Bharat