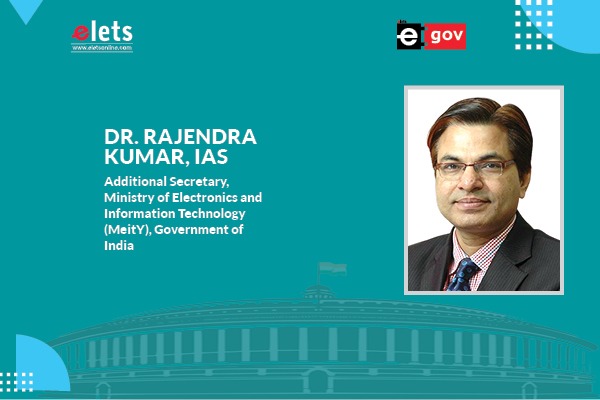 The focus of this year's Union Budget was the digital economy, which includes digital infrastructure and digital currency. From agriculture to education to health to passport, the mantra for the Government of India this year was digital transformation. Dr Rajendra Kumar, IAS, Additional Secretary, Ministry of Electronics and Information Technology (MeitY), Government of India, interacted with Nisha Samant of Elets News Network (ENN) to share his views on powering digital transformation in India.
With digitalisation, the government has witnessed a revolutionary change in its operations and service delivery. How has MeitY been instrumental in adapting to change and implementing IT initiatives effectively?
The pace of digitalisation in almost all domains of governance and economy has increased significantly in recent years. MeitY has been playing an instrumental role in the digitalisation and growth of the digital economy across all sectors. In the domain of
e-Governance, MeitY has led the development of large cross-cutting common platforms such as Aadhaar, Unified Payments Interface (UPI), Government e-Marketplace (GeM), Aarogya Setu, CoWIN, etc.
MeitY has also provided technical expertise and support towards developing public digital platforms in various domains such as transport, health, education, agriculture, logistics, etc. These platforms bring multiple applications together on a common seamless interface, providing new integrated services and improving ease of access for citizens. These large public digital platforms have been architected and developed using the latest technologies and incorporating relevant standards to ensure interoperability and easier sharing of data for providing better online services.
Also Read | Digital Transformation of Governance in India
With the implementation of these public digital platforms, citizens can avail integrated public services through multiple channels in a seamless and timely manner. The platforms will also help in enhancing the productivity of various organisations as the applications have been made interoperable and exchange of data is much easier now. MeitY has also built 'API Setu', which is an Application Programming Interface (API) platform to allow government departments and agencies to share data in an automated fashion through APIs.
MeitY recently issued a draft of the National Data Governance Framework Policy. What is this framework and how will it impact citizens?
The Draft National Data Governance Framework Policy aims to harness the power of data to increase the efficiency of digital government, support the growth of a data-driven digital economy, improve public service delivery to citizens and businesses, and promote research and innovation for social good. By streamlining data access and use, delivery of public services to citizens can be made much more efficient and seamless in various domains, such as agriculture, healthcare, education, etc. The policy aims at facilitating data access, ensuring that the benefits that accrue from the application of data are not restricted and are accessible to all. The policy also aims at improving the availability of reliable and high-quality data to catalyse digital innovation for public good, thus creating new opportunities for startups and entrepreneurs. Unlocking the value of data will also lead to sustained growth in the digital economy, empower citizens and improve government- citizen engagement.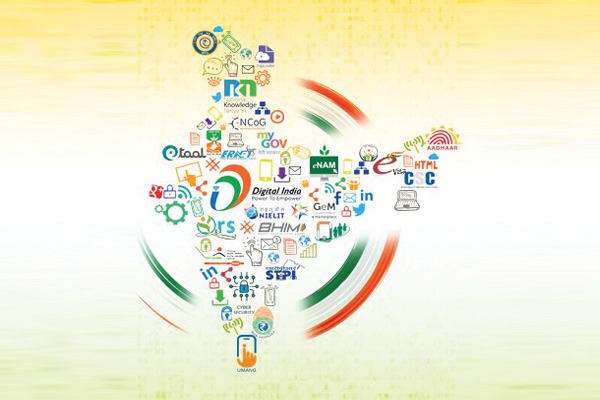 MeitY's vision statement reads, "e-Development of India as the engine for transition into a developed nation and an empowered society". How are you faring on this front? What are some of the recent developments in this direction?
This vision statement is a part of the Digital India programme. The programme has made outstanding contributions to digital government and the digital economy since its inception through a whole-of- government approach. Creation of massive digital infrastructure and large-scale digital platforms such as CoWIN and Aarogya Setu served the needs of the country during the COVID pandemic very well. Applications such as e-Office have ensured that government offices continue functioning without any interruption. Programmes such as Pradhan Mantri Gramin Digital Saksharta Abhiyaan (PMGDISHA) have been very effective in imparting digital literacy to crores of people. A huge network of over 5 lakh Common Service Centres (CSCs) have been successfully delivering digital services to the rural population.
Digital India has also helped in infusing digital technologies in the industry, including in the MSME sector, leading to their modernisation and improved competitiveness. India now hosts the third largest startup ecosystem in the world with over 100 unicorns. India is also ranked 46th in the world in the Global Innovation Index. In the Global Cybersecurity Index, we are ranked 10th in the world. These are very impressive achievements.
MeitY has also unveiled $1 trillion digital economy vision for the country which will catapult India to become a global leader in digital technologies in the next 4-5 years. MeitY has played a key role in the development of emerging technologies, such as Artificial Intelligence (AI), blockchain, Internet of Things (IoT), additive manufacturing, robotics, etc. The MeitY Startup Hub and the network of Centres of Excellence (CoE) established by MeitY, in partnership with the industry and the states, is playing a crucial role in the development and application of these technologies. Hence, the Digital India programme has been very successful in creating a digitally empowered economy and society in India and is poised to achieve much bigger milestones in the future.
We have adopted digital modes and even citizen data is being stored on cloud platforms like DigiLocker. With this, cybersecurity becomes a major concern. How is MeitY working to strengthen cybersecurity in the country?
Security of digital platforms is of prime importance and it needs to be considered even while conceptualising any application. Security is not confined to a single level but needs to be addressed at business (defining security policies), infrastructure (appropriate configurations at network, data centre and hardware), application (application deployment, OS hardening) and data (storage, access) levels. It is the least expensive and most effective way to plan and implement security-specific functions in the platform development cycle to avoid costly retrofit or rework later.
Also Read | Cybersecurity by Design should be the Mantra: Dr Rajendra Kumar
MeitY has implemented the best cybersecurity practices in all its applications and cloud infrastructure. It also supports various ministries, departments and states in adopting the best security practices in their own IT systems and application development. Due to the proactive steps taken by MeitY in the cybersecurity domain, our capabilities have been recognised internationally and as a result, India was ranked the 10th best country in the world in the Global Cybersecurity Index 2021.
What is the roadmap for further digital transformation in the country? What message would you like to share with our readers on India's transformation?
MeitY's vision is focused on making India a global leader in digital technologies through digital transformation in all domains of governance, economy, and society. We need to ensure that this decade is India's 'Techade'.
The vision is based on six key pillars. First, we need to ensure a world-class digital infrastructure to connect all citizens, so that every person can avail online services and opportunities and participate fully in the digital economy. Second, we need to provide the most efficient and fully connected digital government that delivers seamless and end-to-end online services to citizens and businesses. There needs to be a relentless focus on improving 'ease of living' for citizens and 'ease of doing business' for the industries. Third, we must strive to achieve the $1 trillion digital economy vision by massively scaling up the digitalisation efforts in the economy and incentivising the growth of the electronics and semiconductor manufacturing industries. We also need to ensure that our rapidly growing startup ecosystem scales to even greater heights in the years to come.
Fourth, we need to ensure cybersecurity and modernise our legal framework for supporting the rapid growth of a data-driven digital economy. Fifth, we need to ensure that we develop advanced capabilities in emerging technologies so that India becomes a global leader in this area of strategic importance. Last, but not the least, we need to ensure that India becomes the talent and skill capital of the world. Our youth must have the best of skilling opportunities so that we can lead the world with our high-quality talent.