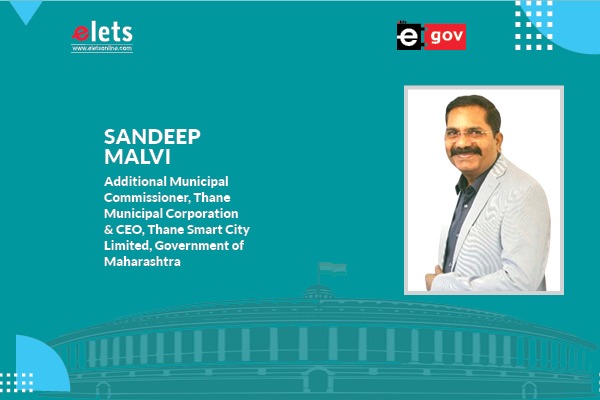 Thane Municipal Corporation is creating awareness, training their internal staff, looking at privacy and security; improving ICT infrastructure, operations & maintenance; identifying industry benchmarks, and adopting best practices, etc. which are undertaken by the organisation. Puja Banerjee from Elets Technomedia in conversation with Sandeep Malvi, Additional Municipal Commissioner, Thane Municipal Corporation & CEO, Thane Smart City Limited, Government of Maharashtra.
What are the types of challenges you face while executing e-Governance initiatives? How are you planning to resolve these issues?
The emergence of Information and Communication Technology (ICT) has provided means for faster and better communication, retrieval of data and utilisation of information for the citizens. E-governance is the application of ICT to provide government services to the citizens through the internet. However, in developing countries like India, where literacy levels are still low and a significant number of people live below the poverty line, people are not aware about the benefits of e-Governance activities and most of them don't even use ICT to much extent.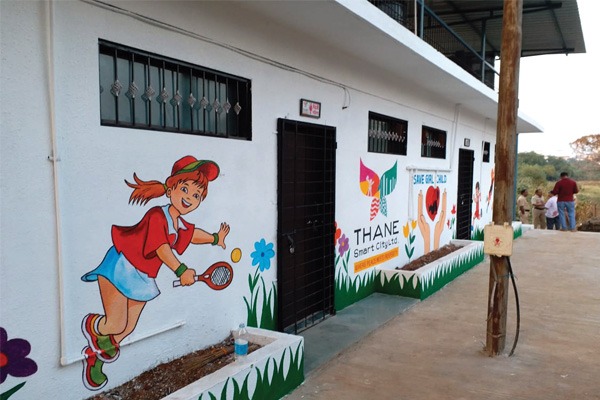 With the context of Thane city, we face several challenges time and again, while executing e-Governance initiatives, majorly revolving around environmental and social challenges, economic challenges and technical challenges. However, these challenges pave a path for us to work tirelessly in addressing each of these challenges so as to ensure great public service delivery and ultimately contribute towards making the life of citizens better in Thane.
One of the most important areas where we focus on, includes designing e-Governance initiatives, which are close to the reality of the city situation. There is a holistic plan which we undertake while finalising e-Governance projects or initiatives which include the following:
First, by evaluating e-readiness, to have a detailed understanding about the readiness of the city to implement projects/initiatives. Secondly, determining the objectives of the e-Governance project/initiative, trying to involve the public to express their ideas and opinions about their expectations and what they want from the project. One important aspect we also look at, is scalability for future growth.
The Smart City concept integrates ICT, and various physical devices connected to the IoT network to optimise the efficiency of city operations and services and connect to citizens. What initiatives has Thane Smart City taken on this front?
Thane has taken various initiatives with respect to the advancements in technology while ICT, and various physical devices connected to the IoT network to optimise the efficiency of city operations and services and connect to citizens. Thane Smart City is a developed urban area that creates sustainable economic development and high quality of life by excelling in multiple key areas; economy, mobility, environment, people, living, and government.
Thane Municipal Corporation is implementing Universal Smart Metering where Smart Water Metres will be installed across the city connections to reduce Non-Revenue Water (NRW) considerably, and the water consumption and application of water charges is based on the effective water consumption by the consumer. It also supports a WiFi enabled mobile application enabling the integration of Automated Metre Reading (AMR) and billing remotely with accuracy. It helps to collect accurate billing data of water consumers to track their exact water usage by following a pay-as-you-use system. By implementing 100% Smart Metering, TMC/TSCL can conduct water audit and systematic leakage detection and repair activity to bring down the level of NRW in the distribution system to the desired level of 15%. The benefits of Smart Water Metre include reduction in illegal connections, providing billing efficiency & accuracy, and enabling increased revenue for TMC. Water metres with IoT help to reduce water losses in the entire water distribution network and allow utilities to track and manage citizen demand for water. The Intelligent Transport System (ITS) for Thane Municipal Transport Undertaking (TMTU) fleet of buses is an innovative and transformational initiative taken by TMC and TMTU to introduce transparent citizen friendly services that will enhance citizens' experience in using TMTU bus services and encourage them to avail this form of public transport, thereby impacting positively on the carbon footprint and traffic congestion issues in and around Thane. The ITS will also allow TMTU to improve operational efficiency and effectively manage their fleet. Under ITS, GPS devices have been installed in 350 buses to enhance citizen safety through real-time live tracking. ITS benefits the citizens by improving the overall quality of life of the residents and the visitors; providing a connected ecosystem of buses, passengers, bus stops, depots, control room operators and management with the purpose of providing safe, hassle-free, and transparent services to citizens, enabling efficient management, and monitoring and analysing the operations of the bus fleet.
Another fantastic project at Thane is ICCC (Integrated Command and Control Centre). ICCC has been set up in the TMC room to provide updates and alerts to citizens and key agencies for event planning, crowd monitoring and disaster response. ICCC is envisaged as a centralised Integrated Data Centre and Command and Control Room, which can be used for all citizen- centric services/processes including their safety, protection and policing.
DigiThane is a major e-Governance initiative of Thane Smart City. Please shed some light on this initiative.
DigiThane is a one-stop-shop for municipal and merchant services for all citizens of Thane. Before implementation of the DigiThane project, Thane Municipality faced many challenges with respect to lack of data about need & preferences, owing to low citizen interactions. It affected planning, execution, and monitoring of projects with low involvement of the ultimate beneficiaries, the citizens.
DigiThane, the solution deployed, comprises Digital Assets (Mobile app, website, SMS, merchant portal and app, social media, SMS, emails) and Citizen Engagement Operations Team (managing content, merchant ecosystem, analytics, helpdesk & registration). The main services provided by the TMC through DigiThane platform consist of enhanced municipal services, targeted information, citizen engagement, integration with third party applications, and various other G2C, B2C, C2C services are provided through the platform. It is an integrated and unified platform for all smart city applications and one point access to all municipal services and bill payments for citizens.So far, the DigiThane platform has registered more than 2,86,000 users. More than 9.1 crore one-way communications and 2.9 crore two-way communications have been received from more than 240 surveys that have been conducted. About 17,000 citizens interact with the municipality everyday through the DigiThane platform. With respect to property tax payment, 20 crore tax was collected by 20,000 people in FY2019-20, and 21 crore tax payment was collected in FY 2020- 21, filed by approx. 17,500 people.
DigiThane has been a pioneer project in bridging the gap between the corporation and the citizens by achieving increased public engagement, enhanced municipal services and improved service delivery.
The platform has been nominated for several awards & recognitions: Won 2nd spot in Governance category at India Smart Cities Award Contest (ISAC 2020), Best Digital City Application Award from NIUA, MoHUA (GoI), January 2020, Smart Cities Mission recommended entry for Smart City World Congress 2019, Best Smart City Application Award (Business World 7th Smart City Conclave 2019), Gold Category Award for citizen centric governance (SKOCH), October 2019, etc. Recently, the DigiThane project won the SKOCH 2021 "Gold" award in the Municipal Governance category from the SKOCH group.
What are the best practices?
Making progress on citizens' biggest problems requires city administration to make better use of data, involve citizens, invest in resources, and collaborate with stakeholders across different sectors. There are various best practices and innovative aspects of the projects at Thane Smart City. A few instances of those are:
With the increase in positive COVID cases in Thane, the administration followed lockdown with curvature. In case of a lockdown in the city, the administration was assured of full cooperation to meet the daily needs of the people so that no panic situation is formed in the city. To overcome the pandemic, Thane Smart City Limited integrated the Health state helpline with the ICCC. This helped us in tackling the challenges faced due to the COVID pandemic and its underlying implications like lockdown, etc; setup of COVID war room which monitors real time monitoring of ambulance and hospital beds; COVID data analysis and status report preparation; implemented solutions for real time monitoring of water-logging contributing to improvement of city's health and its infrastructure; distance analytics and crowd analytics features of VA have been used during COVID lockdown.
During COVID, the TMTU bus services were curtailed and very limited services were operational to help movement of staff working for the essential services. The ITS system was helpful in tackling the pandemic situation. Few of the GPS-enabled buses of TMTU were converted into ambulances to cater to the urgent need of ambulances in and around Thane city. Solid Waste Management department vehicles were integrated into the ITS system for live monitoring of garbage disposal.
What is the future plan of Thane Smart City?
Thane aims to be a truly global city by being smart as well as a sustainable city. We at TMC (Thane Municipal Corporation), have a vision of making Thane an innovative city that uses ICTs and other means to improve quality of life, efficiency of urban operation and services and competitiveness, while ensuring that it meets the needs of present and future generations with respect to economic, social and environmental aspects. We plan to work across and bring about major developments in various sectors namely: transportation, infrastructure, communications, technology, economic services, urban planning and electricity, etc. moving forward.
Your views on Digital India and its future?
I truly believe India is leading the world in building the foundation for a strong and scalable digital economy. Today we have 1.18 billion mobile connections, 700 million Internet users, and 600 million smartphones, which are increasing by 25 million per quarter. Digital India initiative by the Government of India has been a flagship initiative in transforming India into a digitally empowered society and knowledge economy. It was launched in July 2015 by Honourable Prime Minister Narendra Modi, to ensure the Government's services are made available to citizens electronically by improved online infrastructure and by increasing internet connectivity or making the country digitally empowered in the field of technology. The initiative includes plans to connect rural areas with high-speed internet networks.
Digital India initiative consists of three core components: Development of secure and stable digital infrastructure, delivering government services digitally, and universal digital literacy.
It is interesting to see the variety of responses you get when you ask a group of people what 'Digital India' means to them. For some people, it is about the increasing ease of use for various services, including government facilities, UPI payments, Direct Benefit Transfers through Aadhaar, CoWin for vaccination, etc., while for some it is about Indian tech Startups—Zomato, Ola, Urban Company, etc, that are redefining how we consume goods or services. For some, it's the legendary tech services companies – TCS, Infosys and the like, that have built India's mammoth $200 billion tech sector and for many, it is the power of social media and how it's giving every Indian a voice.
In the last 75 years, India has made a remarkable jump to become a robust digital economy. How well we can integrate digital solutions across platforms will define the future of our country. By the 100th year of our independence, a lot more can be achieved, for which we must strive towards developing a seamless, transparent, and inclusive digital ecosystem which is driven by India's world-class innovation capabilities. The next few years will be decisive for India's potential to stimulate employment and get back to being one of the world's fastest-growing large economies.