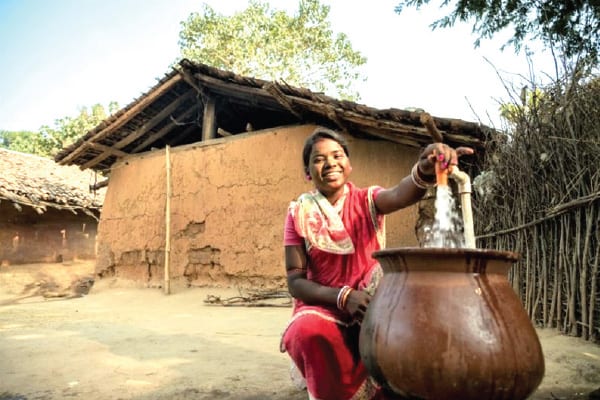 The success of a government is measured by the amenities it provides to its citizens. And safe drinking water is one of the biggest factors that determines this success. Uttar Pradesh government has been working continuously towards achieving this target, specially in the drought hit and rain scarce regions of Bundelkhand and Vindhyanchal. Tarannum Manjul of Elets News Network (ENN) shares an in-depth report.
Uttar Pradesh is a state that has a huge disparity when it comes to water distribution. The state has issues like drought and floods at the same time in the same season. Ensuring safe drinking water to every household is an issue that raises its head time after time, yet dies an untimely death due to lack of sustained efforts.
The drought hit regions of Bundelkhand and Vindhyachal have been the lowest when it comes to providing safe drinking water to every household. The seven districts of Bundelkhand are united by one common crisis: water scarcity. Every year, thousands of families are forced to flee the region and migrate. According to official records, there were about 10,000 ponds in the region. There are innumerable wells commissioned in the times of Chandel and Bundela kings, but now a large number of these wells as well as ponds have dried up. Every year, new ponds and water structures are commissioned and developed, but the water crisis remains intact.
The Government of Uttar Pradesh, led by Chief Minister Yogi Adityanath, has been working to ensure drinking water for all. Adhering to the UN SDG 6, the state government has committed to provide clean drinking water to all its citizens. The Uttar Pradesh government has already made the Namami Gange and Rural Water Supply department execute schemes like Har Ghar Nal – Tapped Water in Every house – in the state.
Ensuring that no person suffers from shortage of pure water this summer, the Namami Gange and Rural Water Supply Department are working on a war footing to provide the benefits of schemes like 'Har Ghar Nal' scheme to hundreds of villages in seven districts of Bundelkhand and two districts of Vindhya, which are facing water scarcity. Owing to the sustained efforts of the CM Yogi Adityanath-led government to provide pure and safe piped drinking water in water-stressed regions, under the Har Ghar Nal scheme, potable water has reached as many as 59,202 houses, benefiting nearly 2,36,808 people.
In addition, various older schemes have also been started afresh in Bundelkhand and Vindhya. With this scheme of retrofitting, water supply is being provided to more than 1,02,445 houses and more than 4,09,780 people have benefited. The government has completed water-supply related works under the scheme in more than 60,000 villages, due to which these areas are now getting water supply in abundance.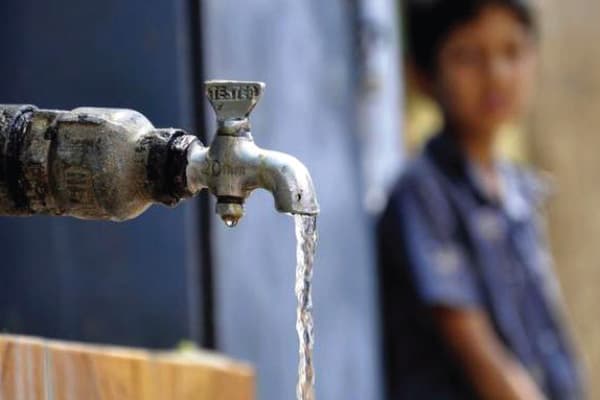 With the efforts of the government, water connections have been provided to more than 1037 houses in Jhansi. Water connections have been given to more than 5414 houses in Lalitpur, 5203 in Jalaun, 5779 in Hamirpur, 9658 in Banda, 2902 in Chitrakoot and to 11,279 houses in Mahoba. Besides, the government is also working on a mission-mode to provide functional household connections to over 17,930 households in Mirzapur and 3,21,403 households in Sonbhadra. Retrofitting schemes completed in Mirzapur, over 24,150 households were provided with clean drinking water.
In the nine districts of Bundelkhand and Vindhyachal, old schemes that were either incomplete or non-functional have been completed by Namami Gange and Rural Water Supply Department in a time-bound manner. Nearly 59 out of 62 retrofitting schemes have been completed in Mirzapur and more than 24,150 households have received pure water. Water connections have been given to more than 10,974 houses in Sonbhadra. While 9156 households in Jalaun, 20,969 in Jhansi, 1450 in Lalitpur and over 11,966 households in Mahoba have been benefited. Water supply connections have been provided to more than 10,554 households in Hamirpur, 835 households in Chitrakoot, and in 12,391 households in Banda.
Also Read | Uttar Pradesh Moving Beyond Basics to Achieve SDG 6
In arsenic affected areas of Bundelkhand and Vindhya, Namami Gange and Rural Water Supply Department are working to provide drinking water supply to more than 26,900 houses, benefiting over 1,07,600 people from the scheme. Through two ongoing schemes in Jalaun, water connections have been provided to 1189 houses in Jalaun, 2400 in Jhansi, 5184 in Lalitpur, and to over 5062 houses in Mahoba. Water connections have also been given to 1686 families in Hamirpur, 1219 in Chitrakoot, and to a maximum 4596 households in Banda.
It may be noted that the Bundelkhand region receives relatively little rainfall and is a dry region. After taking charge in his first term, CM Yogi Adityanath started emphasising on the expansion of irrigation capacity and rainwater harvesting in Bundelkhand as part of his resolve to provide 'Har Khet ko Pani'. It was decided to build a total of 269 check dams and 219 ponds in the third phase of Bundelkhand package. With this significant move of water conservation, the government also aims at raising the groundwater levels to provide safe drinking water.
The Principal Secretary, Namami Gange and Rural Water Supply Department Anurag Srivastava has directed to regularly monitor the functioning of the water treatment plants as well as to check the water lines laid at various levels. He has also directed to stop the leakage and wastage of water in the waterline at any cost. Water supply works are on the verge of completion in most of the villages of Bundelkhand.
The Har Ghar Nal Yojana, which is running with the help of the Central Government, is being completed about 6 months before the scheduled time. Pure drinking water will not only help people quench their thirst, but also help them stay away from several water- borne diseases.
Significantly, under the Jal Jeevan Mission, the Government of Uttar Pradesh has so far provided 31.76 lakh water connections out of 2.63 crore families in over 97,000 villages. Not only this, the government has provided 19.15 lakh tap connections in the last financial year. The state government is working on the target of providing 59 lakh tap water connections in the current financial year, 85.40 lakh in the financial year 2022-23 and 90.01 lakh in the financial year 2023-24.
Piped water for Bundelkhand & Vidhya to be a prime target
A total of 467 piped drinking water schemes have been implemented in 32 projects under the Jal Jeevan Mission in Bundelkhand region. Of these, 43 are surface water based schemes and 424 are groundwater based. Through these schemes, arrangements will be made for 11,95,265 functional home water connections for a total population of 72,68,705 of 3823 revenue villages. Clean drinking water will be supplied to a total of 11,95,265 households. These projects will benefit 40 tehsils, 68 development blocks and 2608 gram panchayats of seven districts of Bundelkhand region, while there are total 162 piped drinking water schemes under 17 projects under the Jal Jeevan Mission in Vindhya region. There are 22 surface water based schemes and 140 groundwater based schemes. Under these schemes, 6,69,508 functional house water connections (FHTCs) have been provided for a total population of 40,45,943 of 2,961 revenue villages and this will supply pure drinking water to a total of 6,69,508 households.
What official figures say
According to an official statement, the Government of Uttar Pradesh provided 1.915 million tap connections in the 2020-21 fiscal. While in the 2021-22 fiscal, the state planned to provide 5.9 million tap water connections. In 2022-23, the aim is 8.54 million tap water connections while in 2023-24, the final nine million taps will be provided. Amongst the districts, Baghpat in Western UP has the highest tap water coverage at 43.44 per cent, whereas the Central UP district of Sitapur has the lowest coverage at 3.03 per cent.
The 2019 data of the Department of Drinking Water and Sanitation shows that 63 of the total 75 districts in Uttar Pradesh have fluoride present in amounts above the permissible limit of 1.5 milligram per litre (mg/l). Further, 25 districts are affected by high arsenic (above 0.05 mg/l). Almost 18 districts, including Sitapur and Lakhimpur Kheri, have both high arsenic and fluoride in their groundwater.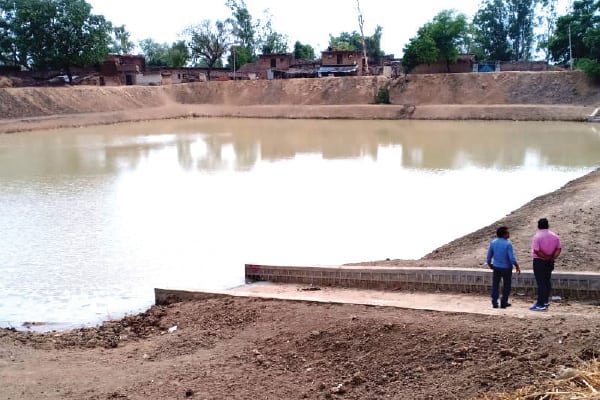 The state has a target of 100 per cent tap water connection coverage by 2024 across all its rural households in 97,000 villages. A press statement dated August 6, 2021, issued by the Ministry of Jal Shakti, showed that the total assured fund available for the implementation of Jal Jeevan Mission in Uttar Pradesh is more than Rs 235 billion. The Government of India has allocated Rs 108.7 billion to the state under the Jal Jeevan Mission for 2021-22. This was the highest allocation so far to any state, stated the Ministry of Jal Shakti in its statement dated June 12 last year.
Also Read | Boosting Rural Tourism, UP Government Plans to Give a Village Life Feel on a Vacation
Uttar Pradesh bags the 'best state' award for water conservation efforts
Uttar Pradesh was recently lauded for its water conservation efforts, as it won the first position in the Union ministry of Jal Shakti's National Water Awards 2020 in the 'best state category'. This is the third edition of the award given for adopting a holistic approach towards water resources management in India. Rajasthan and Tamil Nadu bagged second and third prizes respectively in the best state (normal) category. The 57 awards were announced in 11 categories including Best States, District, Panchayat and Best Industries.
The Award in the north zone district category this year went to Muzaffarnagar of UP. Balua of Varanasi, Uttar Pradesh won the award for the "Best Village Panchayat"–North Zone.