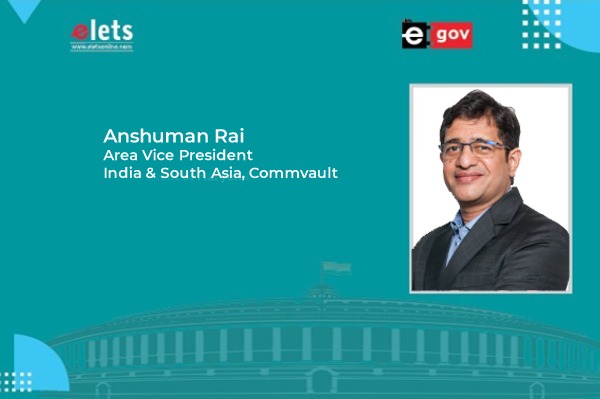 As the digitisation tide is on the rise, data protection and cybersecurity are the terms that the governments need to vouch for. Highlighting the significance of data management and protection, especially in the government setup, Anshuman Rai, Area Vice President, India & South Asia, Commvault, interacted with Adarsh Som of eGov Magazine in an exclusive interview.
How can advanced data management solutions help governments improve efficiency, productivity and service delivery?
In the last couple of years, the entire focus of governments have shifted towards increasing digitisation and reducing physical processes. As an example, about 15-20 years back, it was almost impossible to know the money sitting in your Provident Fund account. Also, transferring money from one company to another was a nightmare. However, things have changed dramatically and now it just takes a click of a button to transact huge amounts. This is evident enough to know the level of transformation happening within the government.
Also Read: Safeguarding Children from Disasters & Achieving SDG 11.5
As the data moves and grows, it weighs on the challenges of data management and maintenance. Issues like data fragmentation surface and there has to be somebody to track the data fragments, have data-about-data, segregate new data from old data, and more. All of this takes a toll on the data management process and it only gets difficult with time.
Productivity and Efficiency are directly proportional. As the data management becomes tough, it puts a load on efficiency and productivity and this is where the role of data management solutions come into play. Data management solutions provide insights to the government about the data, threats to data security, possible solutions for data protection, and more. Therefore, such solutions add to the productivity and efficiency of the government operations. It is imperative to understand that with the rise in digitisation, the cyber threats have also risen. Therefore, to safeguard data, there is a need to add a management layer which will also help in improving efficiency.
With the government's milestone projects like Aadhaar, GI Cloud, or DigiLocker, which uses citizens' data, the security of the data becomes imperative. What measures should the government take to address the issue?
Considering the Russia-Ukraine conflict, while we see the physical war that is ongoing, we tend to miss out that ahead of this invasion there would have been a cyber invasion to weaken the opponent first. This is a classic example of why data security is of prime importance.
To understand data security we need to look at the basics first. Risk could be defined as Threat multiplied by Vulnerability. The threat probability is increasing by the day which is a known fact. However, what is in control for the government is the 'vulnerability' aspect. This is where we can play the cards right to prevent cyber attacks and data breaches.
The data protection starts from educating your employees about the threat landscapes. It is seen that a fairly large number of attacks penetrate through vulnerability at the employee level. A simple example could be phishing and how an unaware employee could easily fall for such a trap. Next, strong perimeter security like firewalls have to be implemented. Furthermore, at the endpoint, there has to be security measures deployed to prevent data breaches. This is how an overall cybersecurity strategy is designed.
However, it is known that irrespective of various cybersecurity measures, the attackers break-in. There have been many big names in the industry who have faced the adversity of getting under a cyber attack. Anyhow, what matters at the end is to safeguard the data and bounce back in business. Therefore, data backup and recovery play a crucial role in sustenance. Commvault offers an effective backup and recovery environment to ensure no loss of data.
How has Commvault been involved in strengthening IT departments of the government and public sector? 
If we consider the government, the data could be segregated into three buckets – internal data, citizen services data and public sector data. At Commvault, we are a part of data management for all the three buckets. We provide data management solutions that allow customers to protect and recover data and develop disaster-recovery solutions for them. Also, we have solutions that enable the government to know about their dark data or what we term as data-about-data.
Presently, Commvault is the vendor that has the broadest portfolio in terms of the applications that we are able to protect. We provide our customers an ability to leverage data protection solutions the way they want. Our customers can opt for on-premise solutions or cloud-based solutions, whichever fits right. The seamless experience that we provide to our customers has become one of our USPs.
Also Read: Safeguarding Cultural and Natural Heritage for Sustainable Urban Development

Nearly 40 per cent of the Indian Smart Cities are leveraging Commvault solutions for data management. We are present in multiple state data centres including states like Madhya Pradesh and Uttar Pradesh. Moreover, for large turnkey projects in the country, under several government departments, Commvault is providing the data management solutions. Also, one of the largest public sector banks in India rely on Commvault's solution for protecting over 8000 virtual machines in their environment. Two major oil & gas public sector companies are working with Commvault for their data protection. Thus, Commvault is providing management and security solutions for multiple datasets across the three government buckets mentioned earlier.
In your opinion, how data resilience and compliance will be the backbone of India's e-governance in future? 
Resilience becomes utmost important as the threats are real. The only way one can manage cyber vulnerabilities is to have a resilience mechanism. A cyberattack or a data breach can cost a lot, especially considering the government as not only the government's data is at risk but also the citizens' data. Therefore, the governments cannot afford to take such a risk and hence adoption of data management and protection solutions have become imperative.
It is a benchmark achievement how India has leapfrogged in terms of IT adoption in the past few years. However, there is no way we can afford to miss out on resilience. Just a thought of having the passport seva get stuck for a few hours or the payments system hanging can be enough to know the chaos and issues that will surface. This puts a lot of stress on the government set up and calls for the adoption of solutions like cloud infrastructure. Healthcare is one such sector for which the government has decided to adopt private cloud and Commvault is providing security solutions for the set up. Besides this, compliance is highly important as it contributes hugely towards strengthening resilience.