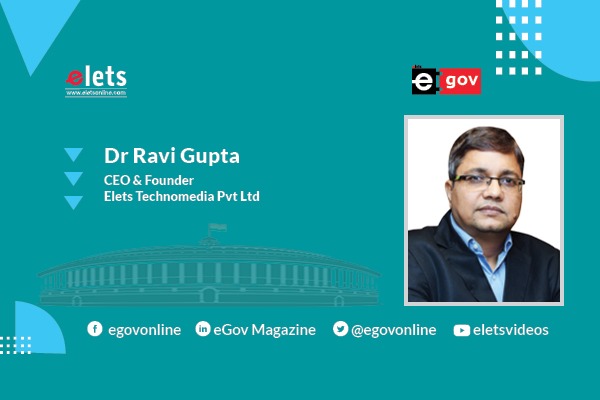 2021 was no less than a rollercoaster ride! From the world's largest COVID vaccination drive to the smiling faces of farmers after the Government took back the farm laws. From major initiatives getting launched like the Swachh Bharat Mission 2.0, AMRUT 2.0; surprisingly rising economic growth to major policy reforms for businesses, MSMEs, healthcare and cybersecurity; India saw a complete makeover of governance as digitisation reshaped the country's operations in a big way.
The year 2022 has welcomed us with the increasing number of cases of COVID's Omicron variant, intensifying the fear of the third wave. However as the year will progress, the country is looking to shift gears to establish hybrid working and hybrid education as the new normal. The year 2022 is full of possibilities. The Centre and the state governments are gearing up by adopting emerging technologies like AI, IoT, ML and heading to shift the data to a hybrid cloud environment for enhancing efficiency, productivity, and data security.
In the past year, while the digital modes continued, the diminishing impact of COVID and reopening of public spaces & physical public events, Elets and eGov Magazine also organised physical and hybrid events. The first hybrid event the eGov Magazine organised was Ubharte Sitaare of Uttar Pradesh Conference which is in-detail covered in this issue of the eGov Magazine. The Minister for MSME and Export Promotion, Government of Uttar Pradesh, Siddharth Nath Singh graced the event with his presence as the chief guest.
Also Read: Need to Make Urban India Disaster-Ready
Besides, this issue also covers projections on the country's growth prospects in the year 2022 in its Cover Story. In addition, a vivid representation of recently launched major projects in Uttar Pradesh and their impact on the state in 2022 is also enclosed in this issue. The Magazine also brings forth coverage of invaluable deliberations on our virtual series of MSME Growth Summits wherein eminent speakers from the state governments and industry shared their perspectives on the role of MSMEs in the economic recovery of states post-pandemic.
We wish you a safe and resilient year 2022 ahead!