Elets Technomedia in association with the Department of MSMEs and Exports, Government of Uttar Pradesh; SIDBI; and India Exim Bank organised 'Ubharte Sitaare of Uttar Pradesh Conference-cum-Expo 2021' on November 12, 2021. Minister for MSME and Exports for Government of Uttar Pradesh Siddarth Nath Singh graced the event with his presence as the Chief Guest.
The Minister addressed the event on the Ubharte Sitaare scheme and its implementation in Uttar Pradesh. He said Ubharte Sitaare Scheme was launched in Lucknow by the Union Finance Minister Nirmala Sitharaman. It is a scheme that aims to promote exports in the state of Uttar Pradesh and handhold and help exporters to overcome the challenges they face. "Ubharte Sitaare has been a handholding scheme for MSMEs to aid them to explore new markets and expand their business," he added.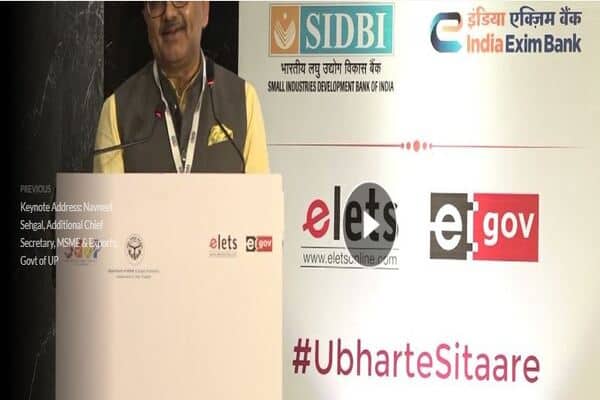 As per the vision of the Prime Minister of India, India should become a major player in the global supply chain. Calling Uttar Pradesh the "backbone", the Minister said, "To take India up to that level, strengthening trade and exports in the state of Uttar Pradesh is most important."
In 2017, we were told that we have more than 9 million MSMEs in the state. After this, the Department of MSMEs, Government of Uttar Pradesh, has helped set up 80 to 85 lakh MSMEs additionally. Besides having such a big base of MSMEs, Uttar Pradesh is heading towards adopting better technology, innovation, improving infrastructure and becoming a part of the global supply chain.
During the first wave of the COVID pandemic, the Department of MSMEs and Exports joined hands with PwC as consultants to work towards boosting MSMEs growth in the state. "We observed that the moment was opportune to invest in MSMEs as many companies withdrew from China and were looking to set up in India. We prepared a 'Action To Be Taken' report wherein we identified the potential of products from Uttar Pradesh in 31 new countries," the Minister highlighted. He further mentioned that "Under the guidance of Chief Minister Yogi Adityanath ji, we have explored the potential of 100 local products from Uttar Pradesh in under 15 sectors."
Speaking on the present scenario of exports in Uttar Pradesh, the Minister said, "At present, the Uttar Pradesh exports amount to over Rs 1 lakh crore which is estimated to cross the Rs 2 lakh crore mark by fiscal 2026-27. However, we have come up with a new export policy wherein we have tried to overcome the export challenges that a landlocked state like Uttar Pradesh faces. Besides, we are promoting exhibitions and expos. We have also participated in Dubai Expo and our flagship scheme of One District One Product (ODOP) will be a major eyecatcher. In an analysis, we found that our exports have jumped as much as 38 per cent because of the ODOP scheme."
Also Read: Ubharte Sitaare of Uttar Pradesh Conclave-cum-Expo ended on a high note
Expressing his concern to make Uttar Pradesh a hub for exports across the country, he said, "Lateral entries of experts are a must to make Uttar Pradesh a hub for exporters."
A scheme like Ubharte Sitaare handholds the exporters in meeting their financial needs. "Under the scheme, we pick up champions based on the process, product, innovation, and technology. The scheme is specifically designed for those exporters and startups who wish to imbibe a change." He called on people to promote the Ubharte Sitaare scheme in all the 75 districts of the state to explore the potential of the scheme to the maximum.
Follow and connect with us on Facebook, Twitter, LinkedIn, Elets video