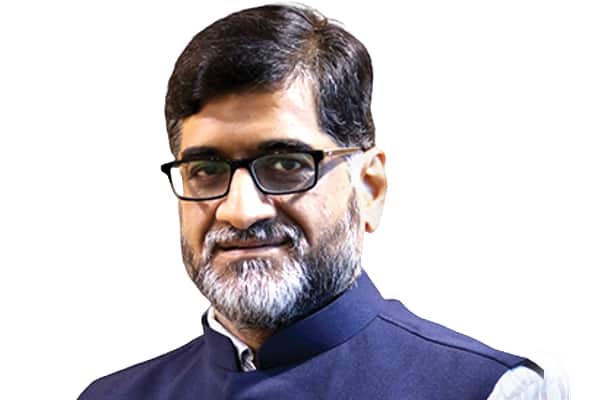 As the population in cities is surging day by day, the civic services, resources and environment take a toll. With an aim to make the urban centres across the globe more liveable, sustainable and resilient, the United Nations (UN) Sustainable Development Goal (SDG) 11 addresses the issue and provides guidelines for countries to form a framework to improve their cities. Addressing the role of SDG 11 in India, Sameer Unhale, Joint Commissioner, Directorate of Municipal Administration, Maharashtra, interacted with Adarsh Som and Harshal Desai of Elets News Network (ENN).
What is your take on SDG 11 and how does land-use planning plays a crucial role in making urban centres across the globe more sustainable and resilient?
SDGs are a global consensus on important goals we all should strive for. As cities are important players in the urbanised planet in the 21st century, SDG 11 will have important implications on the impact on and of cities. Amongst various aspects of city institutions and processes, land-use planning is very significant and our cities depend on nature as well as on form of land use. Therefore, fostering any innovation in land-use planning will directly have the potential to make a city sustainable and livable. Land-use planning will be a very important tool we have in terms of implementing sustainable urbanisation. However, an issue that often comes in the discussion of land-use planning is that it is taken in a very narrow sense which I think needs to be changed. It needs to be more integrated, holistic and more inclusive considering the various interconnections of innumerable elements under the umbrella of the urban landscape. We cannot constrain land-use planning only to instruments of Zoning, Land Reservation for a specific purpose, FAR, etc. It has to be improved and enhanced. We need to bring more innovative planning tools for bettering urban land-use planning. Moreover, there is a need to get a comprehensive view of the various purposes for which land-use planning is done. It should include social aspects; economic aspects; cultural aspects; issues of gender, child, disability, etc. Therefore, the purpose of any planning mechanism for land use or otherwise should take into consideration the essential aspects of making cities livable for all the citizens. We tend to use more and more western notions of land use and planning. They probably need to be Indianised to suit our geography and society. This is also a way through which we can make our existing land-use planning mechanism better and make it address the concerns of the common people. Sustainability and environmental planning also need to be closely integrated with the present framework of land-use planning along with the economic and financial aspects. Land use planning, along with the other aspects of city governance, administration and management can help cities realign their energies to achieve SDG 11.
How can citizen engagement impact urban planning? In what manner our present-day participatory governance system extends opportunity to citizens to share their insights in urban planning exercise?
Urban development is a state subject in our Constitution. There have been a set of advisories from the Union Ministry to bring in uniformity and principles of sustainability and innovation in the purpose and functionality of planning authorities. However, States have their own town planning Acts and will have to incorporate the changes suggested by the central government. Land-use planning is an activity that essentially needs to be done at the city level. However, the technological capacities and manpower often make it conducted by the State functionaries.
There is scope wherein modern technology can be leveraged to infuse a participatory culture of the planning process. Generally, after being prepared by the technical team, the "Draft Plan" is put out in the public domain for the people to suggest or object to it. However, technology can make the very process of making this draft plan participatory. The citizens could be engaged and through crowdsourcing of draft plans. Such participation in the initial stages itself becomes important as once the plan is prepared it gets very technical and hard to understand for common citizens. Also, they do not get a chance to interact with the planning authority apart from hearings on the suggestions or objections. Therefore, crowdsourcing the planning process could make planning easy and social media can also be used to engage citizens while creating draft plans. Collective wisdom that emerges would be closest to attaining SDGs at the city level.
Innovation in urban planning is essential. Availability of many apps in the digital ecosystem, satellite maps & GIS, planning and design simulation, digital twinning of cities etc. also offers the possibility for citizens to participate in preparation of city plans and get a better idea of how a city can be built and maintained. This evolution in planning technology will make it easier to bring the citizens and communities closer to cities. It is also important because the city plan directly impacts the citizens and stays with them for decades.
Further the element of time frame in land-use planning has important implications for SDGs. When we have to achieve them as early as by 2030, we will have to make planning and its implementation fast-tracked. Land-use planning at a city needs to be in a comprehensive, holistic and integrated way. Urban planning is though not the only domain where citizen engagement plays a crucial role. Citizens participation is also required in the maintenance of a city. From cleanliness, anti-pollution measures, improved mobility, waste management, water resources, and so forth. The city government must take up measures to attract citizens in engaging with the city and join hands with the community organisation in making the cities liveable. We, at the Thane Smart City, had collaborated with the UNGC (India Network) to make Thane the first SDG city. An effort of SDG budgeting was done at the city level. I hope that SDG budgeting and financing will also be important to achieve SDG 11 at the city level.
How is the 'ClimateSmart Cities Assessment Framework' that the Government of India has launched to achieve its targets under the Paris Agreement is being implemented?
The impact of the urban world on the climate and environment is substantially higher than the geographical footprint that they actually occupy. Therefore, the Climate Smart Cities Assessment Framework has been an important educational exercise for cities to clarify the set of actions that need to be taken to make a city "Climate-Wise". It provides the city administrators with a set of indicators on how to move ahead imbibing sustainability in a city's core structure and operations.
This framework is a noteworthy strategy at the national level to help cities run their civic operations in an environment-friendly manner. The features on the national rankings of the various ClimateSmart cities are welcoming measures as they will make the cities and citizens aware and try to incentivise them to work towards various elements included in city planning. The 15th Finance Commission has also extended funding exclusively and specifically on some ClimeSmart targets through a tied grants mechanism. Financing for water and solid waste management, amongst others, are the two areas that have been linked and funded for various cities in India and would help in achieving the targets associated with the SDGs.
From 2015 onwards, we're seeing many efforts towards citizen engagement to the New Public Management Framework. So making a platform for citizens to participate and engage with the government authority on city issues is important. The sheer importance of citizen participation can be viewed in 'Swachh Bharat Abhiyan' which played a major role in improving solid waste management across the country. This momentum can be used also in the Climate Smart cities.
Please share a few best practices for civic bodies to improve the overall sustainability in their respective cities and work on developing a healthy, clean and sustainable environment to make cities more livable?
There have been many best practices in Indian cities across the States and efforts to document them and publish them will help. In Maharashtra, a 'Majhi Vasundhara City Competition Framework', conducted under the Department of Climate Change and Department of Urban Development is being implemented. It aims to preserve the five elements of the environment in cities and towns of the state. 'Majhi Vansundhara' can be dubbed as 'My Earth' Mission. It also has a city ranking mechanism that ranks cities on the basis of their work in preserving the natural and clean environment and sustainable development. Community engagement with individual e-Pledges along with the 'City Reward' mechanism is creating traction for this mission in both urban and rural habitats of the State.
While I was working as the CEO of Smart City Thane, we had developed a mobile application called 'DigiThane'. It was an idea to digitally facilitate the citizens to connect and experience their city. We also innovated a feature for plastic waste management in the city. The app enabled the civic administration to connect with more than 800 rag pickers to the end-recyclers and connecting with the citizens at the locality or the area level. Community engagement should help in achieving SDG at the city level. We prepared a small network of automated weather monitoring and AQI monitoring stations. The data from these stations were made available on the public platform through the DigiThane app. Thus, we could bring climate and sustainability data directly to citizens. The Digithane was also awarded the National Smart City Award in 2021 by the Union Ministry of Housing and Urban Affairs (MoHUA).
Apart from technological interventions and innovative approach, there is one area that remains untapped and that is using our traditional knowledge. We are blessed to have a long tradition in knowledge related to the environment & sustainability available across the country. We can make urban lives better and live in harmony with our nature and planet. The SDG framework also resonates with our constitutional philosophy as amplified in the Fundamental Rights and the Directive Principles of State Policy. Therefore, not only technology, citizen engagement and community participation but our traditional knowledge could also be utilised to make our cities Climate-Wise and help Indian cities to achieve not only SDG 11 but also other targets in the SDG framework related to the urban living.