Goal 6 of the Sustainable Development Goals recognizes the importance of ensuring the availability and sustainable management of water. It encompasses a range of values for water, with sub-goals focused on water quality, equitable access, and efficient use by various sectors, improved governance, and the protection and restoration of water-related ecosystems, including rivers. Water flows through and connects all SDGs and is a fundamental prerequisite to the achievement of all 17 SDGs, write Rajiv Ranjan Mishra, Director General, National Mission for Clean Ganga (NMCG), Ministry of Jal Shakti, Government of India, and Shivani Saxena, Environment Planner, NMCG.
For Indian cities which continue to expand and develop creating an additional load for water extraction and pollution on urban rivers, there is a specific need to address the impact of the development activities within the city on the river as well as the impact of the river on the city. The dynamism of a river shifts and emerges, both with time and flow. Embodying the social, cultural and economic conditions that influence the urban landscape, rivers act as products and producers of urban growth. In the case of Ganga, it symbolizes interdependency, continuity and permanence within its urban environments, spatially anchoring and physically linking the urban fabric. Therefore, effective management of this limited resource is only possible through an integrated approach to urban planning and a paradigm shift in understanding the interactions between a city and a river.
The approach necessitates an understanding of what it is to be a river. While enumerating the many functions, meanings and identities a river hold, a simple and tangible understanding could be a 'River sustains a Habitat', a habitat that nurtures and enriches biodiversity. A healthy river will in turn support a healthy water system inter-alia supporting a healthy liveable city. Rivers have had a long history of anthropogenic interventions and their impacts have been seen across continents. The major contributors of these impacts are 'humans'. A never before seen vista by nature during the COVID crisis, drove home the truth that when left alone, our rivers will heal themselves, biodiversity will return and waters will run clean.
The urban drivers of river health, though well documented, have not found much traction with city planners, a view reinforced when planning their growth, cities often do not consider rivers as a part of their urban contexts. Any river flowing through a city cannot be looked at in isolation, without highlighting its regional and local linkages. The increase in the pollution load of Ganga is linked with growing urbanization where 10 big cities are contributing almost 60 per cent in terms of municipal wastewater load. Tributaries such as Yamuna, Kali, Hindon, are carrying their fair share of pollution loads as well.
Namami Gange, an integrated river rejuvenation program recognizes these urban drivers of change and has been working towards negating these impacts through supportive and transformative activities. It is further felt that for cooperative federalism, cities themselves should acknowledge river as part of their boundary and evolve integrated river management as part of their city planning processes.
Also Read: Effective Water Management, Need of the Hour : Rattan Lal Kataria
Recognizing the River – City Connect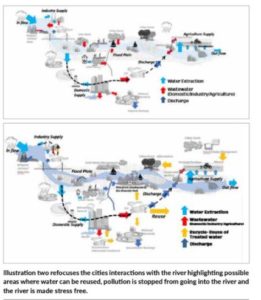 At Namami Gange, a journey that sparked off a movement for new thinking on urban rivers originated from the need to see our rivers clean and an attempt to stop the pollution from reaching its banks. While understanding the various connections that a city and river can have, it was made quite clear that the solutions would have to be a mix of hard and soft interventions. From industrial water extraction to water reuse loop, extraction for agriculture supply to run-off, religious activities on ghats to city water bodies supplementing groundwater and in turn adding to river flow, these interactions make each river city unique in itself and hence the approach to the interventions have to be tweaked accordingly.
The formal urban planning approach has usually been city-centric where the majority of developments are geared towards the upliftment of the city irrespective of the impacts that are felt on the river and its floodplain. This fact evidenced by multiple instances of deforestation, lake filling, wetland and riverbed encroachment, unsustainable sand mining, dumping of solid waste near water bodies and continued depletion of water resources. The river is seen as a backyard, best kept hidden while planning, resulting in floodplains and the river becoming a dump yard.
The way to formalising Namami Gange's approach has been through a river lens. Looking at river centric urban planning, all interventions are focused on one idea – the river entering a city boundary should leave in the same or better condition than it entered in. Once cities share the responsibility of keeping the river clean, they are expected to work in tandem to create a healthy river.
Also Read: Making Ganga 'Nirmal' & 'Aviral': NMCG
Many of Namami Gange's projects have been taken up with these intentions. Pollution abatement through traditional interventions like creating sewerage infrastructure, effluent treatment plants, treated water reuse and solid waste management are designed to relieve the river of its pollution loads. Interventions such as afforestation on riparian boundaries, organic farming, eco-friendly development of riverfronts, cultural mapping & public-oriented activities along the river, Cultural mapping of Ganga, wetlands and water bodies rejuvenation are designed towards reviving and rejuvenating the river and its ecosystem.
City governments are being mobilized to create enabling environments for the river to thrive. Small rivers flowing through city boundaries are envisioned as green walkways for the city residents. Activities to reconnect the citizens with the river and its banks are being taken up. Cities of the Ganga basin are also expected to create their own Urban River Management Plans to undertake projects which will improve the health of the river.
The thrust of Namami Gange mission towards urban rivers is best captured in the observation made by the Hon'ble Prime Minister during the meeting of the National Ganga Council. "There is need for new thinking – 'River Cities'. There is a need for the residents of these cities to ask, 'what can we do for the rivers'? Cities should be responsible for rejuvenating their rivers. It has to be done not just with the regulatory mindset but also with developmental and facilitatory outlook." This vision lays down the foundation for transforming cities into self- advocating authority for river rejuvenation.
Follow and connect with us on Facebook, Twitter, LinkedIn, Elets video