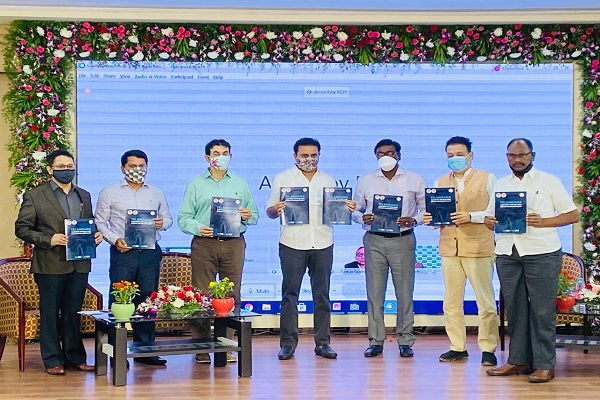 With a vision to make Telangana a hub for electric vehicles (EVs) and energy storage systems (ESS), the Government of Telangana rolled out the 'Telangana Electric Vehicle & Energy Storage Policy' on October 30. The policy will be effective for ten years from the date of notification and will be reviewed by the Steering Committee as notified in the policy.
Telangana Minister of IT KT Rama Rao and Transport Minister Ajay Kumar were also present at the policy launch. With the launch of the new EV & Energy Storage policy, the State goverment aims to lure private investments worth $4 billion and generate employment for 120,000 people by 2030 through shared mobility, charging infrastructure development, and manufacturing activities.
In regard with the subsidies and policies available under the Electronics Policy 2016, the new EV policy offers various incentives in the EV and ESS sectors like incentives have been made available for EV manufacturing, energy storage systems and related components in the State through capital subsidies, SGST reimbursements, power tariff subsidies, and more.
Also Read: CM Kejriwal launches Delhi Electric Vehicle Policy, claims it to be most progressive
Moreover, the policy also lays out a provision of 100 per cent exemption of road tax and registration fee for the first two lakh electric two-wheelers and first 20,000 electric three-wheelers purchased and registered in the State. Besides this, retro-fitment incentives have also been provided at 15 per cent for the first 5000 three-seater autorickshaws for a cost capped at Rs 15,000. The policy added that financing institutions would be encouraged to provide a hire-purchase scheme at discounted interest rates. For EV four-wheelers, 100 per cent exemption of road tax and the registration fee has been provided for the first 5,000 units purchased and registered. The exemptions are also made available for the first 500 EV buses and State Transport Units with an objective to encourage electric buses.
As per the new policy, investment of over Rs 200 crore in plant and machinery or providing employment to more than 1,000 people shall be categorised as a megaproject.
Also Read: Telangana Cabinet Nods for Electric Vehicle Policy, EV users to benefit
Further, the policy states that the government would facilitate setting up of an initial batch of fast charging stations in Hyderabad and other towns in a phased manner, by state entities and private players.