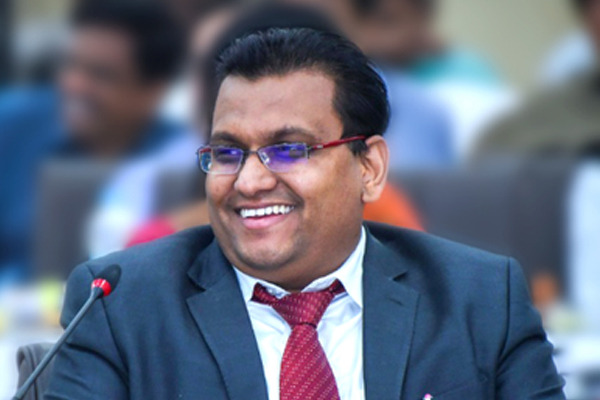 Elets Technomedia organised India Transformation Summit to highlight achievements, growth and development which has transformed the face of India within a few recent years. P S Pradyumna, Commissioner, Agriculture Marketing & Co-operation Department, Andhra Pradesh addressed the summit on 'Vocal for Local: Jobs and Livelihoods, Reinvigorating Rural Economy and Social Entrepreneurship'.
Mr Pradyumna began with a mention of the COVID pandemic saying, "The pandemic made us realize that there were a lot of practices in our country which was termed as unscientific by the westerners. Supporting his statement he gave an example of organic agriculture which has hyped as the trend these days." To make 'Vocal for Local' a success, it is essential that the skillset of the local farmers and local entrepreneurs is respected and the decisive steps are not taken only on the basis of educational qualifications, he added.

Speaking on the policies, he said, "Our policies have been very simple and the first thing is there should be no rural distress. We bought the farm produce fairly more than what we buy normally as due to the COVID pandemic the national and international prices crashed. Hence, the increased purchase helped to generate a minimum income for the farmer. Secondly, new supply chains have been created to keep the agriculture market running and farmers get sufficient prices."
Further, he added, "Now we are focussing on marketing the agricultural products. Earlier marketing was not given that much of significance. Also, with the help of the Centre's schemes like eNam coupled with State schemes, we have entered actively into marketing agriculture and local rural products." The department is also looking forward to networking with private players for contract farming, selling fresh commodities, etc.
Talking about the use of technology to improve the agriculture economy, Mr Pradyumna said, "There should be a common nationwide portal for the exchange of commodities which I think eNam is trying to create. Secondly, each agricultural commodity should be quality assured. If the local people are trained to do the quality assessment, the physical; testing and chemical testing, our agricultural products will get more value for export. Next, transport aggregators can be brought in the agro-processing industry for logistics and other requirements. This can streamline the work."
Also Read: Technology Powering Animal Husbandry & Dairy Sector: Atul Chaturvedi
Emphasising on the operation of agriculture market and rural economy, he said, "There is a need to remove the concept of distress in the agriculture market. Citing the Centre's move where the MSP was revised, he said, it was commendable and further improvement can be done nationwide." Highlighting the crux Mr Pradyumna added, "If we can bring the quality assurance of each agricultural product along with traceability coupled with organic farming, I think agriculture alone can kickstart the economy."
Wrapping his address with a concluding note, Mr Pradyumna said, "The transformation is visible and the world today looks at India with respect. Moreover, our image for our own people has seen an upliftment… With Centre's active steps to empower the small industries, tribal and rural economy, we can have multiple growth centres than a few in metropolitans only."