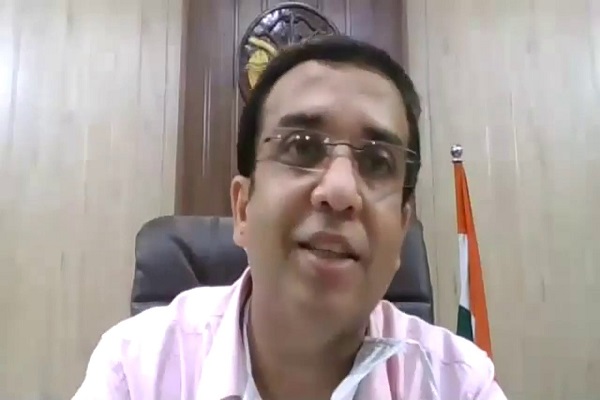 The Government of India has been proactive in answering their call of duty in time on COVID-19 because of which the situation is better here than many developed countries. Efforts of the Centre is not solely responsible but State and local governments have played a critical role in slowing the pace of COVID-19 spread. One such district is Pilibhit in Uttar Pradesh which has shown commendable efforts in containing the viral spread. Vaibhav Shrivastava, Collector and District Magistrate, Pilibhit discussed the actions he took in the district to fight the pandemic in a webinar hosted by Dr Ravi Gupta, Founder and CEO, Elets Technomedia.
Pilibhit's Success story
Shrivastava started off with a case study saying that his team was informed about a woman who returned from Saudi Arabia. So, he immediately called in his officials and started tracking her with the help of local intelligence. After the woman was tracked down, the authorities collected her sample and quarantined her. She tested positive and was kept under medical supervision in isolation, he added.
Her journey was trailed and every concerned authority was informed about the case. Shrivastava said that Mumbai Airport authorities were informed, Bareilly authorities were informed and in Pilibhit she was monitored regularly. Her contact history was also tracked and all suspected people including her family members were quarantined. Finally, after the woman recovered, she was sent back to her village and asked to home quarantine for the next 14 days, said Shrivastava.
The case study reflected the proactiveness of the district administration in Pilbhit to act against COVID-19. Elaborating on their modus operandi to contain the virus infection case, he said that the area under 5 kilometre of the radius, where the woman was tracked, was sealed and a door-to-door survey was conducted, samples were collected and tested for the viral infection.
Also Read: "Without Smart City initiatives it would have been tough to effectively fight with COVID19": Dr Rajendra Jagtap
Measures taken by the district authorities
Shrivastava, addressing the webinar about the measures taken by the district administration, said one of the important steps we took was to prevent people from crowding in mandis. To achieve that we started door-to-door delivery of vegetables to the people directly. "We used the Government's portal 'Supply Mitra' for carrying out the home delivery of vegetables", Shrivastava added. Also, a fixed rate list was provided to vegetable vendors in mandis and to grocery stores to prevent overpricing of the essential commodities.
"Moreover, for the convenience of the people, we started spreading awareness on our social media platforms. Also, people were reaching out to us in any emergency case, in need of any help, complaints if any, and so on through our social media handles", said Shrivastava.
"Our social media handles were of great help in providing people with telemedicine service. We asked people, who needed to see a doctor for general checkups or some other diseases, to upload their prescriptions and provide details of the symptoms. A doctor used to attend to those posts and prescribe medicines", said Shrivastava.
Also Read: Using innovation, how Pilibhit DM ensured record voting in LS poll
Shrivastava also mentioned that initially, people were not following the lockdown norms due to unawareness. In such cases, our social media portals helped. Also, we made public announcements to make people aware of the situation. Moreover, we banned the vehicular movement on highways and roads, he added.
In order to ensure that the lockdown norms are being followed across the district, Shrivastava said, "We also used drones for monitoring. We made a control room which effectively helped in controlling and monitoring the situation."
Shrivastava described an incident when around 9,000 to 10,000 migrant workers entered the district limits. "We immediately responded to the situation…At every corner of the street, health personnel were deployed to conduct primary testing of all the workers", said Shrivastava. Many of those were quarantined, he added.
We are also promoting people to use Arogya Setu app which has helped us in locating Corona positive people.
Concluding the session Shrivastava said, as of yet things are under control in Pilibhit. Cooperation from the public has played an important role in containing the pandemic. NGOs, Gurudwaras and common people came forward to provide food for the poor and the needy. Also, through the help of our SHGs we are getting masks prepared locally and also sanitizers are being manufactured in house. Therefore, there is no shortage of basic PPEs in the district, he added.
"Exciting news! Elets eGov is now on WhatsApp Channels 🚀 Subscribe today by clicking the link and stay updated with the latest insights!"
Click here!