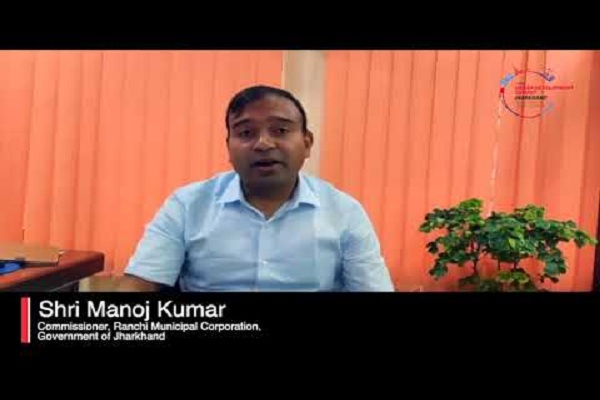 Ranchi Municipal Corporation is leaving no stone unturned to make Ranchi one of the best cities having all infrastructure of an ideal urban city. The corporation has not only taken novel initiatives in the areas of waste disposal, housing, traffic congestion, and integration of technology to improve work efficiency, but also ensured proper implementation to make Ranchi a clean and beautiful city, says Manoj Kumar, Commissioner, Ranchi Municipal Corporation, Government of Jharkhand, in conversation with Gopi Krishna Arora of Elets News Network (ENN).
Solid waste management plays an important role in development of any urban city. What measures have been taken on this front?
Most important thing for any corporation is the management of solid waste or liquid waste. There are some issues with solid waste management in Ranchi Municipal Corporation. It requires a concessionaire agreement setting the rules of solid waste management that can segregate at the source and carry out the activities like collections and disposals related to it.
There was a company named SL Infra, which used to look after the collections and disposal of the waste management. As disposals hold an important role in waste management, more emphasis was laid upon disposals by the Corporation.
Though the company was keen in converting waste to energy, plan didn't work out as DPR could not be repaired. Furthermore, the company wanted an assurance from the government to bear the cost of termination of the project. As the Government didn't get convinced with the proposal, the waste deposal plant couldn't be materialised.
As a result waste started mounting up. In addition, there were other issues with our carriage and transport including door to door collection etc.
What sort of issues the corporation faced while implementing various initiatives on waste disposal?
There were issues with carriage and transport segment. Door-to-door activity on collecting the garbage should have been more. Only 60 percent efforts were done on this front. This created an issue in the corporation as the activity was not carried out properly.
Give us a holistic perspective of Ranchi Municipal Corporation in terms of its vision to improve various parameters of an ideal urban city.
The corporation has now taken up responsibility of cleanliness on its own hands. All the activities are undertaken by the corporation itself. Our prime objective is to bring new changes in the corporation and for that we have invited three request for proposal (RFP)s. As per the plan, the garbage collections will be technology based with a proper interface. There will be e-smart bins at every transfer stations which will indicate that the bin has already been filled. We have already set up almost 70 e-bins. One of the major tasks will be to get all the MTS emptied and take it to the disposal site.
"The corporation has now taken up responsibility of cleanliness in its own hands. All the activities are undertaken by the corporation itself. Our prime objective is to bring new changes in the corporation and for that we have developed three request for proposal (RFP)s."
All our primary collections completely depend upon the segregation between solid waste and liquid waste. We are looking forward to scientifically concentrate the waste within three-four acres of land and the remaining land will be used by companies to build their plant.On the front of sewerage disposal, a company is working in zone one and it has already completed 50 percent work in setting up the sewerage treatment plant.
There are a lot of schemes of Government of India like Pradhan Mantri Awas Yojna (PMAY) where eminent measures have been taken. Under PMAY, we were supposed to complete 15,000 houses. We have completed 7,000 houses and officers are working to complete the remaining.
Jharkhand Urban Infrastructure Development Company (JUIDCO) is working to ease traffic at major congestion point. It is also working on five major roads to convert it into smart road.
Tell us a little about JUIDCO
Infrastructure plays an important role in the economy, contributing a lot to the development of a state. Working under the Rural Development and Housing sector, JUIDCO is a company formed to look into the infrastructural creation of Jharkhand in order to achieve rapid overall development of the State. Right from planning to thier execution, JUIDCO controls and administers all the infrastructural projects related to urban planning, urban water supply schemes, development of public amenities like parks and urban greenery, transportation, solid waste management, building etc.
JUIDCO undertakes the planning, execution and implementation of all the government projects like townships, roads, canals, bridges, reservoirs, sewage, drainage, sanitation, water, waste, gas and basically all other development works that make the lives of residents easy and convenient.
Any other project of the Central Government or the Jharkhand State Municipal Corporations in is also undertaken by the company.
How technology has been integrated to improve efficiency on various fronts in the corporation?
Soon, we will be working on mechanical sweeping of roads taking cue from Bhopal. We have requested for the machines to get the work done. In addition, we are working on a plan to implement IT-based monitoring system of all staff including sweepers. A GPS tracker system would be used to keep a tab on daily work.
Ranchi Municipal Corporation is taking a lot of measures to improve delivery of services….unveil the future plans of the corporation which are being worked upon?
There are several wings in our department in which we are planning to computerise all the work. In the engineering section, from measurements to the estimations and even the payments are software computer based. Engineers are being imparted prior training on this.
We have also developed an asset management system to take care of our assets through which every minute detail of the asset will be monitored. Apart from this, we are planning to computerise all the other wings like advertisements, registrations etc.
Wings like property taxes, water taxes, and enforcement wing are completely computer-based. Our main agenda behind computerising all the wings is to improve work efficiency on work front. We are also working on vendor markets and shelter homes.
A modular toilet is an important element of Swacchta Survey. Though we already have 110 such toilets, the corporation is working on a plan to add another 150 soon.
Water crisis is looming large in Ranchi. 25 percent of the population depend on surface water in Ranchi and rest on ground water. We are already providing tanker service to 350 points. We are working on many other projects to ensure clean water to people of the city.
A plan is afoot to cover 75 percent people under Amrit Yojna and projects worth 280 crore has already taken off. Another project worth 700 crore with support from the World Bank is in the pipeline.
Another sanctioned project under Jawaharlal Nehru National Urban Renewal Mission (JNNURM) is being worked out with support from L & T. The project will be completed at the end of this year.
Rain water harvesting is another important area we are turning our focus upon. As per our holding rule, all those apartments measuring more than 3,000 square feet should have rainwater harvesting system. We have identified 950 such apartments where there is no such system. These units have been asked to get it implemented by September. We have written to all apartment owners to plant at least five such plants in their compounds. The RMC is aiming to develop Ranchi as a herbal city.
Awareness plays an important role in making any initiative a successful endeavour. What is your message to general public to keep the city neat and clean?
I appeal to the people that they should have two dustbins at their homes-one for solid and another for liquid waste. They should not throw waste in a haphazard manner. They should patiently wait till the next day for the waste disposal van to collect all forms of wastes. We discourage people to use polythene to collect household items for daily use as it contributes to environment pollution.