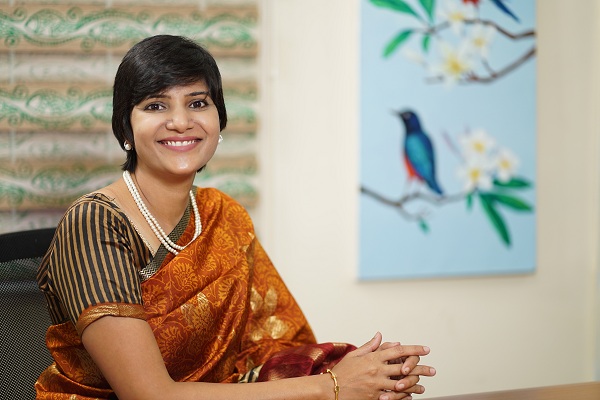 From being an environmentalist by heart to a crusader who drove Hyderabad to emerge as the leader of recycling initiatives in India, Hari Chandana Dasari, Zonal & Additional Commissioner, GHMC has always been an inspiration for many. Sudheer Goutham of Elets News Network (ENN) in conversation with the iconic IAS officer tries to find out more about her multifaceted personality and career milestones.
What prompted you to take up a career as an Indian Administrative Service (IAS) officer after giving up a highpaying job in a London-based global firm?
IAS was a kind of career diversion for me after a life-changing experience. After completing my studies from London School of Economics, I started working with global firms like World Bank and then BP Shell in London. Once when I came back home on a vacation, I happened to interact with an old man who came to meet my father, a former IAS officer. While offering him water, I asked him the purpose of his visit. The old farmer was one of the beneficiaries of the land distribution that my father took up when he was the joint collector in Medak district (United Andhra Pradesh). Even after 20 years, he still remembered my father and came to convey his regards. The land parcel they received brought them good fortunes as the land price went up. His family and children are still surviving on that.
Also Read: Hyderabad Moving Towards Plastic Alternatives
This chance meeting triggered me to choose IAS as a profession, which has much wider public reach than any other work profiles. In private sector, I would develop specialisation but the impact and public reach is limited. In World Bank again I was working with IAS officers. Bureaucracy and politics are the only two professions through which a larger impact can be brought for betterment of people. While the latter was not my cup of tea, I chose to take up IAS.
Your father is a former IAS officer. As a child when you were growing up watching your father functioning as a bureaucrat, what was your experience and impression?
Yes, my father D. Srinivas is an ex-IAS officer of 1987 batch with the then United Andhra Pradesh state government. Initially, we felt this job (IAS) was more stressful as my father could barely give time to the family due to his work. My brother and I grew up under the influence of our mother. She was the one who used to take major decisions of our life like education, among others. That is when I decided to get into a job which shouldn't take away the family time. Later, I realised the kind of impact this job can have on people's life and betterment of society. Even smaller decisions that my father took in his tenure as a bureaucrat have had great impact on people's life. Even after decades, people still remember him and hold high regard for him. Incidentally, when I visited Adilabad to meet tribal communities during my training period, people would remember my father and his work. That is the kind of impact a civil servant can make on people's life. Then I realised that this job is worth it even to sacrifice a part of our family life and continue to live in a glass bowl.
"Even smaller decisions that my father took in his tenure as a bureaucrat have had great impact on people's life. Even after decades, people still remember him and hold high regard for him. Incidentally, when I visited Adilabad to meet tribal communities during my training period, people would remember my father and his work."
In the beginning you had a different outlook on this service as it would take away the family time. Now, being in the service how do you manage to achieve work-life balance?
The character of service has changed now. Even the public's demand on your time has come down. This change can also be credited to the competency of private sector and technology which has eased the load on bureaucrats, which is good. Presently it's not that stressful.
Apprise us about some of your works so far that give you a sense of pride and immense satisfaction.
I would say there were several works performed by me which gave me immense satisfaction. As the subcollector of Vijayawada, we took up the first ever Land-Pooling Scheme of India which happened to be a big success. It was a satisfying experience as it gave decent housing to the poor and development rights to the land owners who contributed in the pooling.
Another initiative that gave satisfaction was implementing tax on sand mining which curtailed illegal mining to a large extent. Further, my first project in GHMC, which was building the IDH Colony in Secunderabad, was the first such project (double bed-room housing for the poor) in the state of Telangana. It was another immensely satisfying job I did.
In the corporation, I took up several recycling initiatives as I was concerned about the sustainability of the city. Most of the works we do now involves recycling aspects in it. Now, Hyderabad is the leader in recycling. We use recycled plastics in laying roads and prepare tiles in use them for laying footpaths. Dustbins are being made out of recycled plastics. Now, we are promoting recycled housing and also put recycled toilets. With this we have used over 15,000 kg of waste which was supposed go to the landfill.
Coming to bigger project, given my job profile, we have created around five wonderful and innovative parks that are proving to be good community centres for the citizens. One of them is the first ever dog park in India. Others include Durgam Cheruvu Park (The Secret Lake Park) and Play Park in Kukatpally. We also created Panchatantra Park based on the themes of Panchatantra stories, which is exclusively for children, and Mir Alam Lake Park developed on Nizami or Dakhini theme. We are also coming up with another park for senior citizens.
Since you have dealt with cracking the illegal sand mining and other matters, have you faced any dangerous or scary incidents that made you think it is such a serious job?
Yes, there were some scary law and order situations I had to face. In the initial days of my career, sand mining was a big industry in the Vijayawada division as it was next to the Krishna River. I used to get complaints of sand mining in the nights and I had to go for sudden raids in the night and seize the heavy vehicles used for mining.
Initially it was like an adventure, but later I realised that how this illegal activity would seriously impact the eco-system of the river. The random raids and seizing of the vehicle were not going to work. We needed sand mining but at a sustainable level. That is when we started fixing the sealing and brought in the concept of tax payment for mining over and above the basic minimum quantity. That was how we could bring down the illegal sand mining significantly. I used to take along the police force with me as there were always dangerous elements. However, some officers did lose their lives while dealing with the illegal sand mining mafias.
Tell us about the incident when you almost got kidnapped by Naxals?
That was yet another experience. During my training as an IAS officer, I was deputed in Paderu village in Vishkapatnam as an assistant collector. I had to function as VRO as part of my training. I went there and started working. One day, the local superintendent of police and his team came rushing to my office and asked me to leave with them immediately.
Also Read: Hyderabad Moving Towards Plastic Alternatives
Initially, I was confused and somehow we managed to leave the place. Later, after reaching the district headquarters I was told that some naxal movement was reported in the place and they had planned to kidnap me. It was like a near miss for the naxals. Later, I went back to the area and spent one month of time working there and also stayed in the village. Incidentally, it was the same place where my father got kidnapped by naxalites along with an MLA for three days in early 90s. He was then serving as the project officer for Integrated Tribal Development Agency (ITDA). That incident made national news headlines back then. It was a stressful time for my family.
Your husband also happens to be a bureaucrat. Please tell us how did you both meet and finally got married?
Yes, he is also a bureaucrat and is currently working with Central Tax Department. Our meeting, however, was not a very romantic one. We were like family friends and I have known him for a long time. Ours was an arranged marriage.
You are a working mother and a bureaucrat with demanding field-work profile. This job- profile usually involves high expectations from the citizens. How do you balance your personal and professional life?
It is very tough. Sometimes I get very busy and my day starts at 6 am. When its election period, I end up working till 12 am or post midnight mostly. The family needs to understand the nature of our job and adjust accordingly. Since my husband is also in service, he understands how demanding the job can be. It works in a balance system, where we both adjust accordingly and give time to our child. It is really tough.
The kind of work you are doing needs a lot of passion for it. What has been your driving force?
It's mainly the self satisfaction of creating an impact and bringing the change that keeps me driving to do better. I am passionate about sustainable and clean planet initiatives which I personally believe in. As for Hyderabad, I am born and brought up in this city and I have a desire to do something for the city. Fortunately, I got the opportunity to work in this post and I am doing my best.
Also Read: Innovations and Partnerships Transforming Hyderabad: Hari Chandana Dasari
What's the definition of innovation for you and how do you put it in practice in you day to day work?
Innovation, I would say, is the change for better. Sometimes it's a small change and sometimes it can be a big transformation. For instance, in GHMC we never thought of recycling products. Once we introduced it everybody got on it. Recycling is not a new concept but it can be an innovation in the city. As we go ahead with it, new things emerge. Earlier in GHMC, recycled material were used only in foot path tiles and laying roads. Now, we have taken it up in boards and cardboards kind of things that are used in building houses.
You worked in both private sector and now in government service. How has been the experience?
Before becoming as IAS officer, I worked with BP Shell and World Bank. World Bank is a think-tank and the work is more focused and research oriented. In BP Shell, the work was on bio-fuels and clean energy. In IAS, the work is more practical and involves crisis management where we go with the flow. Some of IAS profile can be more of planning and conceptualization, but we are more into action.
Any other passion or interest you have?
I am passionate about painting which I do during my free time. I also like travelling. I am happy even with short trip that gives time to relax. Travelling also gives exposure to different culture, people and their perspective, which is good to understand.
Any message you would to give the readers of eGov Magazine and Portal?
I would say keep an open mind rather than setting limits and stay highly positive. We need to keep thinking for better ways to do. That is how we grow as a person and also as a society for better.
Also Read: GHMC — Ensuring High Food Standards with Mobile Apps