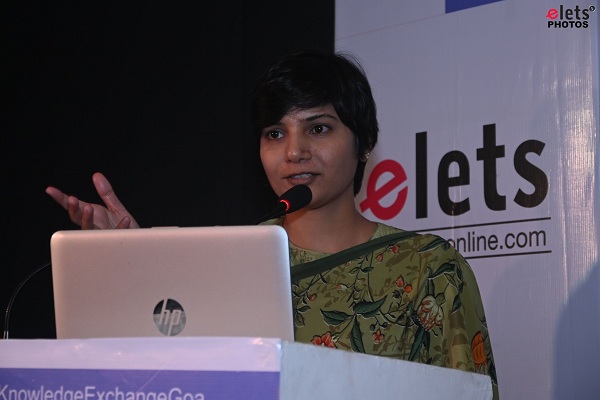 Hyderabad is not a smart city for various reasons. But the city has seen a lot more smarter initiatives which are ongoing and a lot of innovations are happening in the city, says Hari Chandana Dasari, Additional & Zonal Commissioner, Greater Hyderabad Municipal Corporation.
"Like Chennai, Hyderabad has embarked on a programme to restore its water bodies and we are already mid-way through our experience on that. We have also converted all our street lights into LED. Hyderabad is the first metropolitan city to have done that. As a result of that, we ended up with energy savings of nearly 40 percent which is worth about Rs 40 crores annually for the Greater Hyderabad Municipal Corporation (GHMC)," Dasari said while speaking at the Elets Knowledge Exchange Goa 2019.
Post that, now GHMC is also into IoT monitoring of the metering and LEDs, which may allow the civic body to do another 10 percent of energy savings, she informed.
GHMC is massively into road development and infrastructure improvement. The Metro rail network, now in its phase-2 operations, is one of the most successful Metros in the country. "We are also doing work on the lake restoration front. We had around 215 lakes in the past but we lost 50 of them and now we are left with only 185 lakes. The problem of urban lakes, especially in big cities, is not only about water quality or the protection of the water body but also about seeing that it is not encroached upon," Hari Chandana Dasari added.
To address these issues, the corporation decided to make the water body a social space. "We needed a public place that was created on the basis of public ownership and partnership. We roped in local people around the water bodies to look after it and adopt it. So, we created a synergy between civil society, the residential colonies, the government, which is the corporation, and our CSR partners who are the implementing agencies of the project," the Additional & Zonal Commissioner of GHMC said.
The Corporation prepared the digital maps of all the lakes in the area under it and then superimposed them with its revenue maps. It sat down with different departments responsible for lake restoration, including the irrigation department, revenue department, the corporations and the water board, to jointly design the DPR of all the lakes that is being implemented in a phase-wise manner. "In the first phase, we have undertaken work on 25 lakes and post that we will be taking up the work in the next phases. All of the restoration work on these lakes is being supported by our CSR partners," she added.
Also Read: Hyderabad Moving Towards Plastic Alternatives
Instead of relying solely on satellite data, GHMC is leveraging drones for mapping the lakes by adding more layers to this data using drones. "We find multiple usages for drones. For example, we are using the drones for monitoring the water quality. The samples are collected from all the lakes every 15 day and the water quality is tested by the PCB. Also, the drones are deployed to map out the lakes. If there is any complaint of encroachments happening on the lakes, our drones report back to us about any such case," Dasari explained.
Recently, the Corporation found another very innovative use of drones, which is spraying bio-pesticides and also larvae-side in the lakes. "This is probably first of its kind effort in the country. We have had amazing results because mosquitoes are a big problem in Hyderabad. When people have to go to these lakes for spraying, they have to take boats and it is a time consuming process. But with drones, it is done in half a day compared to 15-20 days in the manual process followed earlier," she said.
GHMC is investing Rs 200 crores for developing green spaces like parks. Interestingly, the Corporation has developed the country's first scientific dog park which has won appreciation from many quarters. "We have also done a VR for developing a park for senior citizens as well. It is focused on mental illnesses."
One of the innovations that proved to be of great help for GHMC is Shellmac. "It is an amazing technology which is like cement. When you pour it in any pothole it compacts in an hour, compared to the conventional methods that take up to 24 hours to complete and creates road block of sorts. It is slightly expensive than cement but well worth it especially during the rainy season."
Also Read: GHMC — Ensuring High Food Standards with Mobile Apps
Waste management is another problem the whole country is grappling with. "We also have a huge 145 acre dump site which was traditionally used as an open landfill. But now we have done away with that and we have gone for decentralised bio-methanation units. This initiative is cutting down waste at source and is ensuring that it does not reach the dump site. This is mainly for wet waste which is coming from the kitchens and hotels. Apart from that, we have moved to a waste to energy plant that will be launched soon. It will deal with all the mixed waste. We are the second city after Pune to have a construction debris compacting site," Dasari said.
In the area of public toilet management, GHMC realised that until there is a person sitting at the toilets 24/7 these are not clean. "So, we have integrated markets and cafes into our toilets. We have SHG women who run these free toilet facilities and to help them meet their financial requirements we give them the opportunity to run the shops or cafes. In return, they are obligated to maintain the toilets. To ensure that the toilets are maintained clean, we have fitted them with IoT-based applications which help us receive the feedback from the users," the Additional & Zonal Commissioner of GHMC added.
Also Read: When Passion Meets the Desire to Impact Lives
This model is quite successful and we have installed 30 of them. The pink versions are known as 'She Marts', which are women only toilets, while Loo Cafes are the ones with cafes. The cost of earlier units was around Rs 10 lakhs but now GHMC has been able to bring down the cost to Rs 8 lakhs.