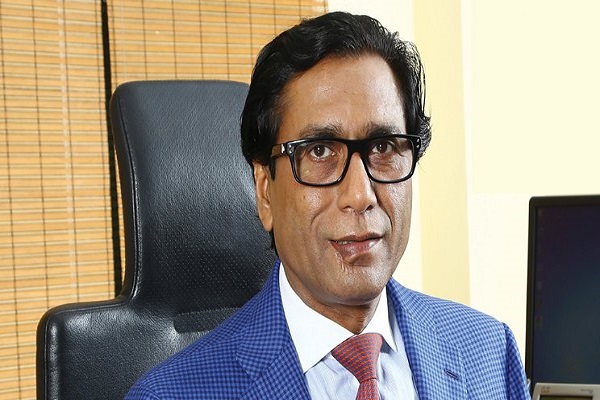 Uflex Limited has ambitious plans to substantially enhance its manufacturing capacity for flexible packaging in the next few years. As a Group, we lay a lot of emphasis on environmental sustainability in all our business processes therefore we propose to set up a solar project in Uttar Pradesh on 300 acres with an investment of approximately Rs 1,200 crore, says Ashok Chaturvedi, Founder, Chairman & Managing Director, Uflex Limited in conversation with Elets News Network (ENN).
What are the plans of Uflex Limited for Uttar Pradesh?
Uflex – India's largest multinational flexible packaging materials and Solution Company has its roots in Uttar Pradesh. With humble beginnings in Noida back in the mid-eighties, when the city was in its nascent stage with hardly any infrastructure, Uflex in the process of its evolution helped transform the face of Noida and Uttar Pradesh.
Today Uflex Group and its associate companies put together is a $2 billion dollar (about Rs 12,500 crore) organisation focussing on high quality products, innovation, human resource development and trust of all stakeholders including its customers to create value added differentiation catering to the entire realm of flexible packaging requirements not only in India but overseas as well. We would like to further enhance our unique business strengths in the state of Uttar Pradesh in the years that follow.
Given the myriad benefits like light-weighting/down-gauging, sustainability, reduction at source, high product to package ratio, lesser energy utilisation at all the three stages of the product lifecycle i.e. manufacturing, transportation and disposal, there is no stopping for the flexible packaging industry hereon so to speak. We have ambitious plans to substantially enhance our manufacturing capacity for flexible packaging in the next few years. This would entail the need of following machinery and capital equipment in a phased manner:
Conventional Gravure and C.I. Flexo Printing Machines;
Hi-Tec Gravure & C.I. Flexo Printing Machines with LED curing system – first time in the world;
Extrusion Coating Lamination Machines;
Solvent Based & Solvent less lamination Machines;
High Speed Inspection and rewinding Machines;
Slitters & Doctoring Machines;
Utilities like boilers, heating systems, chillers, generator etc. For seeing this through fruition from scratch to finish we endeavour to invest Rs 500 crore towards the project. We would require around 75 acres of land for doing this. Our capacity enhancement would generate employment for additional 500 people. To achieve this goal well in time we solicit Government's support in terms of quick approvals, infrastructure towards road and rail transportation; well-developed industrial land with proximity to residential hub for easy sourcing of manpower and uninterrupted power supply among others.
As a Group we lay a lot of emphasis on environmental sustainability in all our business processes therefore we propose to set up a solar project on 300 acres with an investment of approximately Rs 1,200 Crore. The land requirement works out to about 4-5 acres per megawatt depending upon various technologies of photovoltaic cells. The useful life of a typical solar plant spans across 25 years. The proposed project is expected to generate employment for 250 people at various levels. Electricity thus produced will be used for captive consumption and the surplus shall be supplied to state or national grid. This would be Uflex's contribution towards Government of India's target of achieving 100 GW of solar power by 2022. Uflex Limited remains committed to the success and progress of Uttar Pradesh.
Dovetailing the synergies of the Government and industry, there is no stopping for Uttar Pradesh to become Sarvottam Pradesh of our great nation.
Please brief us about products and services of Uflex.
Uflex today has state-of-the-art packaging facilities at multiple locations in India (Noida & Jammu) with installed capacity of around 100,000 TPA and has packaging film manufacturing facilities in Noida (Uttar Pradesh) India, UAE, Mexico Egypt, Poland and USA with cumulative installed capacity in excess of 337,000 TPA.
We deploy cutting edge technology to provide best in class and optimised flexible packaging solutions to our clients in terms of aesthetics, functionality, barrier properties, eco-friendliness, anti-counterfeiting properties among other features. To elaborate, we have six strategic business units giving us the competitive edge and an irreproachable reputation of a fully integrated end to end flexible packaging materials and solution company with a formidable market presence in over 140 countries across the globe.
These six businesses are:
Polymeric Films: Producing BOPP, BOPET, CPP, Metalized films and other specialised films.
Flexible Packaging Products: Producing flexible packaging laminates (in roll form); prefabricated pouches, flexitubes (laminated), big bags, aseptic liquid packaging material.
Engineering: Producing a wide range of flexible packaging converting machines, packaging machines and ancillary equipments.
Cylinders: Producing rotogravure printing cylinders; flexo-polymer plates; elastomers and sleeves.
Holography: Manufacturing world class track and trace enabled anti-counterfeiting and brand protection solutions that prevent look alikes/ body doubles which erode the brand equity of our clients.
Chemicals: Producing inks, adhesives, coatings and polyols that are used in printing and lamination processes.
We have recently commissioned state-of-the- art aseptic liquid packaging material manufacturing plant in Sanand, Gujarat.
With this we have completed our product portfolio to include end-to-end flexible packaging solutions for solids, semi-solids, powders, granular material, non-aerated liquids, pastes, gels and viscous fluids. This plant re-affirms our commitment towards Government's Make in India initiative.
To sum it up, I would like to reiterate that we at Uflex globally offer end-to-end flexible packaging solutions for: l Solids / Granular products/ Powders ( 10 grams to 40 kg) l Semi Liquid Products/ Viscous fluids/ Gels (10 ml to 200 ml) l Aseptic packaging solutions non-aerated liquid products (65 ml to 1,000 ml) Uflex stands committed to manufacturing top of the line flexible packaging materials and solutions on the soil of Uttar Pradesh and supplying it to the whole world.