Telangana has moved from an energy deficit to energy surplus State in a short time span, says G Raghuma Reddy, Chairman & Managing Director, TSSPDCL in a conversation with Divakar Mukherjee of Elets News Network (ENN).
Give us an overview of TSSPDCL.
Southern Power Distribution Company of Telangana Limited (TSSPDCL) was incorporated along with the birth of the State of Telangana on 2 June, 2014. It is responsible for supplying reliable and affordable power in the southern region of the State.
TSSPDCL has developed a reliable power delivery infrastructure and currently maintains a vast infrastructure network, which includes 1,461 of 33/11 KV substations; 2,812 power transformers; 1,061 of 33 KV feeders; 6,345 of 11 KV feeders; and around 370,113 distribution transformers of various capacities.
TSSPDCL generated an income of Rs 17,743.77 crore from its operations during 2016-17. The peak demand met for the year FY 2017-18 was 6313 MW. On an average, TSSPDCL delivers 121 MU per day to various categories of consumers. The corporation has a strength of over 9,000 employees.
How is TSSPDCL promoting New & Renewable Energy in the State?
What policies are in place? Telangana State has been a frontrunner when it comes to realising the ambition of the Central Government of making India a country powered by green sources. Since its inception in 2014, TSSPDCL has been able to bring the installed capacity of Solar to almost 3.1 GW through state-specific bidding, NTPC bundled schemes, rooftop net metering, third-party and captive projects. This was made possible by a required push from the Government and DISCOM. The developers were attracted to the bidding process by offering appropriate incentives.
The solar policy provides fiscal incentives with ease-of-doing business provisions to address investors concern. Some highlights of the Solar Policy are as follows:
Setting up of Single Window for expediting the clearances and approvals at various levels, defining its time limit.
Deemed conversion of Land to NALA status on payment of necessary charges.
Providing monetary incentives on electricity duty exemption, cross subsidy surcharge exemption, concession or reimbursement of VAT, and stamp duty registration charges.
Exemption of transmission and distribution charge for wheeling of power.
Exemption of supervision charges.
Enabling additional incentives by providing Deemed Industry status to the solar power projects.
These incentives notified prior to the Bid processes had resulted in a competitive tariff as quoted by the developer. The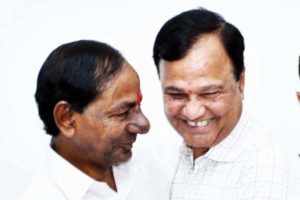 innovative model of tapping solar generation in the State in a distributed model is attributable to the progressive leadership at TS Discoms and Energy Department. This model has been instrumental in reducing the transmission losses as well as in avoiding upstream investments.
What provisions are being implemented to bridge rural-urban infrastructure gap?
TSSPDCL has been actively working towards increasing the penetration and reach of its network and services in the rural areas. 5.57 lakh additional households were electrified between 2015-16 and 2017-18—most of which comprised of rural areas. Agriculture, the most critical part of rural economics, has been a recipient of many encouraging policy measures. For example, Telangana is providing 24×7 electricity to agricultural consumers—being the first State to commence 24×7 power supply, which is recognised as a major initiative to improve farm productivity and livelihoods in the rural areas.
Meanwhile, the safety of power usage is set to improve drastically through avoidance of accidents, as farmers are likely to use the power supply in the daytime. Lift Irrigation Scheme has also been promoted to help farmers improve their income, and bolster the State's performance in agriculture.
"TS Discoms is committed in meeting the objectives of the GoTS to supply 24×7 power supply to all the consumers in the State in a reliable and affordable manner."
How is the State government promoting new & renewable energy? What policies and new initiatives have been undertaken in this regard?
The State has organised many rounds of bidding for solar-based energy generation and has been successful in implementing the projects. A conducive ecosystem is in place for developers to step in and flourish it in a fast-forward manner.
How are you bringing Telangana power distribution at par with global standards?
Telangana has always been in the forefront in upgrading its infrastructure and usage of technology to provide reliable power supply to the consumers. The State is free from power shedding. This improved power supply leads to many other benefits such as improvement in productivity for industrial consumers, and quality of life for all consumers in the State.
TSSPDCL is a pioneer in adopting several technological innovations in Energy sectors:
Company-wide ERP for managing key internal process
Consumer Analysis Tool (CAT), Monitoring & Tracking System (MATS) to analyse consumer data and improve operations
Online tracking systems for key consumer interface process like HT applications, Net-metering applications, etc.
GIS-based consumer indexing and asset mapping
Follow and connect with us on Facebook, Twitter, LinkedIn, Elets video