Hyderabad Traffic Police has introduced Hyderabad Traffic Integrated Management System (HTRIMS), an innovative system that reduces the waiting time for commuters at the signals and also saves fuel, says Jitender, IPS, Additional Commissioner of Police, Traffic, Government of Telangana in conversation with Harshal Desai of Elets News Network (ENN).
Traffic Police in Hyderabad has undertaken several IT initiatives to streamline its operations. Can you share some of them? Hyderabad Traffic Police has introduced Hyderabad Traffic Integrated Management System (HTRIMS). These are smart signalling system equipped with cameras. If the roads are empty and there are no vehicles to move, the system automatically allows vehicles on the other side to move. This innovative system has allowed us to reduce the waiting time for commuters at the signals. HTRIMS also helps in saving the fuel.
We conducted surveys and collected data from different sources and found that due to the system, the journey time is reduced from 10 to 20 per cent on some stretches. All these signalling system are controlled from central control room. It has allowed us to optimise signal timing at some places. Further, we are the first police department in the country to implement cashless system of challan. And we are glad to update you that we have been running this system for the last two years successfully. This system has certainly boosted confidence in public resulting in greater compliance level.
We have also focused a lot on pedestrians' safety. We have also proposed to Greater Hyderabad Municipal Corporation (GHMC) to build more and better footpaths for pedestrians. People are encouraged to make the most of footpaths.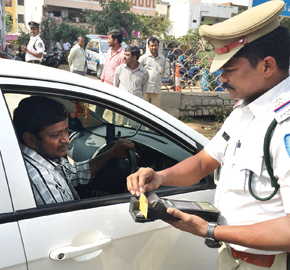 Hyderabad Traffic Police is also using body cameras. Could you throw some light on the same.
This is again an initiative which has been implemented for the first time by the Hyderabad Traffic Police. This initiative has not only improved the behaviour of the public but also of the policemen who wear these body cameras. Cases of assault on policemen and public were common a few years back. However, with this step there has been tremendous improvement in the behaviour of both publc and policemen. Both the sides have started respecting each other. It has also reduced stress among police personnel. It has indeed boosted the two-way transparency in the entire process. Body cameras have proved to be an effective way to spread a feeling of satisfaction among public.
Are you planning to increase the workforce of the Traffic Police?
I can proudly say that Hyderabad Traffic Police is not planning to increase the strength of personnel. On the contrary, we are planning to reduce the strength. Over the last year, we have been able to reduce the traffic police personnel by 200 and we will reduce the number by 500 in the next two years. Our aim is to have a copless traffic management system. We have already initiated the procurement of latest Intelligent Traffic Management Systems (ITMS) and have established our control and command centre. We will probably have the system in place in less than six months. These mechanisms will help us in reducing the number of personnel.
We are working on Integrated Parking Management.
What about integrating ITMS system with various other departments? Will it be an issue?
We are in the process of building a command and control room in Hyderabad. The Chief Minister has already laid the foundation stone. It is the dream project of our CM. The centre will be equipped with the latest technology fusion centre and will house several departments including Greater Hyderabad Municipal Corporation, Transport, Road and Building, Research and Development, etc, working in Hyderabad and other regions from Telangana. It will be a multi-agency centre for different departments of Telangana government. At the centre, we will integrate technologies. We hope the project will be completed in the next 21 months.
We have studied processes across the globe and decided to build such a centre in Hyderabad. It will certainly be the first of its kind centre in the country.
What steps are you taking to tackle the drunk and driving cases in Hyderabad?
Last year, we booked 16,000 cases, and about 7,000 of them were awarded "social service" as punishment. Nobody is allowed to drive in a drunken state. We immediately seize the vehicles of drunk drivers and register the case against them. We also keep an eye on repeated offenders.
At present, 15 lakh vehicles are on the roads and every day around 1,000 vehicles are added additionally.
We are working on Integrated Parking Management System as well. We are working with urban development authorities to conceptualise and execute the project. We are also concerned about the hawkers and are planning to have a technology oriented hawker management system to make the life of hawkers and citizen easier. We want to regulate them so that they don't cause any problem to the pedestrians and people living around.
Follow and connect with us on Facebook, Twitter, LinkedIn, Elets video