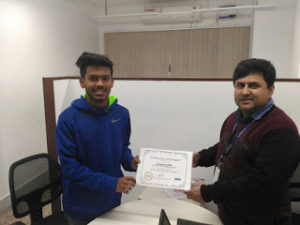 The Uttar Pradesh Government is committed to empowering every section of the society in the State for which several citizen centric public welfare schemes have been launched in the last few years, says Pratyush Prakhar, a student of Delhi Technological University, based on his personal research on the issue.

One such project – Mega Call Centre—was launched recently. This is basically an outbound Call Centre envisaged in the state capital city of Lucknow, wherein only calls will be made to the beneficiaries by Call Centre executives. The main aim of the executive is not only to obtain the feedback on the success of the schemes based on a pre-defined questionnaire.
They will also aware them about the benefits of these schemes. Mega Call Centre has been created with a vision "to get an independent feedback from the beneficiaries and other stakeholders related to various citizen centric schemes being run by different Government departments of the State".
The move seems a significant step towards improving the socio-economic status of the citizens of the state. It will also help in generating the employment for the youth of the State.
According to Heera Lal, Managing Director, UPDESCO, Government of Uttar Pradesh, the uniqueness of this project is due to its very concept. "This can be seen as this project has been a bold step by the government to scrutinize its own work by the people. This is a very rare in the social sector. This will also help increase the public participation in policy making process for the government and will in turn reduce the gap between public and government. At present, more than 80% of the working staff is female. It will help the government in achieving good governance," he added.
Public Welfare schemes covered by the programme In the first phase, the Mega Call Centre would be used to take feedback from beneficiaries of 20 schemes run by 13 State government departments. Further calibration of the schemes will be done in the best public interest.
The schemes of departments like Social Welfare, Rural Development, Medical & Health, Secondary Education, Minority Welfare, Animal Husbandry, Revenue, Agriculture, Urban Employment & Poverty Alleviation, Energy, Labour, Handicap Welfare etc. are presently covered in this initiative. In the next phase, more 11 to 12 schemes are being formulated to be included.
This programme helps the departments to get a close feedback on their ongoing schemes and remove any bottlenecks being encountered, giving them a chance to continuously evolve their schemes to suit people more.
Key Stakeholders
Key stakeholders that shall be serviced through the call centre are:
1. The Government of Uttar Pradesh
2. The Beneficiaries
3. Uttar Pradesh Development Systems Corporation Ltd. (UPDESCO)
4. M/s Ernst &Young (EY)
5. M/s Karvy Data Management Services Ltd. (KDMSL)
6. Medhaj Techno Concepts Pvt. Ltd.
UPDESCO has been appointed as the nodal agency for a successful implementation and execution of this Mega Call Centre project.
M/s Ernst &Young (EY) is the consulting agency for selection of System Integrator and overall monitoring of the project.
M/s Karvy Data Management Services Ltd. has been selected as System Integrator for setting up of Mega Call Centre and the responsibility of running the Call Centre has been entrusted upon the company in August, 2016.
The services of Third Party Audit Company are also to be undertaken to ensure quality of the calls and feedback received from beneficiaries through the Mega Call Centre.
A team of three business analyst from Medhaj Techno Concepts Pvt. Ltd. take care of this.
The basic expectations out of the System Integrators, which is Karvy in this case, are:
A. Define communication for the target beneficiaries
B. Set-up outbound call centre to reach out to beneficiaries
C. Provide Analytics Support to the Purchaser and concern departments/functionaries.
4 Operations The operations of the Mega Call Centre are the main job of Karvy Data Management Services Ltd. (KDMSL).
Calling was started from September 21, 2016 and formally inaugurated by Uttar Pradesh Chief Minister Akhilesh Yadav a week later.
The Call Centre has a total capacity of 500 seats; 426 sites at Indira Nagar and 74 seats at Hazartganj.
According to the initial data provided by the departments, over 2.5 crore beneficiaries shall be called through this call centre which runs in two shifts between 8.30 a.m. to 10.30 pm.
This section is classified in three areas: People, Process, and Technology People The staff, led by Human Resource wing, is chosen at multiple levels for smooth running of the centre.
The various levels are:
1. Call Centre Agents – The candidate should have minimum qualification of having passed 12th class with excellent knowledge of Hindi and working knowledge of English.
2. Call Centre Team Leaders — Team Leaders should have at least four years of call centre experience in leading teams of agents. The span of control should be limited to one team leader per 20 call centre agents.
3. Project Manager— One should have relevant experience of eight years or above in managing large scale projects in other call centre set-ups. He/ she should have a minimum five years of call centre experience, which includes experience in managing outbound call centres.
4. Call Centre Analytics Team — The team shall comprise at least three Business Analyst resources that have prior experience in call centre analytics. He/she should have over four years of experience in call centre analysis and reporting processes.
5. Programme Manager–The SI will assign a dedicated Programme Manager who will act as the single point of contact between the purchaser, concerned departments (handling various schemes) and the SI call centre project team.
4.2 Process Basically Karvy is in full hold of the process of the centre but has to submit a timely report to UPDESCO.
The process part is also divided into certain stages.
1. Design and Governance –This part includes obtaining beneficiary details from different departments; understanding the details of each schemes; obtaining approvals from concerned departments through UPDESCO on all such developed content and planned processes and also periodically review content with department SPOCs for different schemes.
2. Knowledge Management — the SI have defined knowledge management processes so that agents have access to updated information on changes in schemes or new schemes being introduced to the beneficiaries.
3. Analytics & Reporting–The Mega Call Centre solution provides for extensive reporting capabilities. The user interface for reporting tools is online and GUI based. The system shall generate two kinds of reports – Operational reports and reports on feedback generated – on a daily, weekly, monthly and yearly basis. The reports shall provide output in the form of charts with detailed drill down data underlying the output. (Refer Annexure II for Analytical reports)
4. Information Security– It is a very key point of the process. Privacy of information guidelines were defined by the SI along with government departments and PMU, to ensure that callers are told how their personal data is being used, and that they are given the chance to access the information and to correct it, if necessary. Anti-virus system and personal firewall is installed on all agent and supervisor workstations. Access to all physical locations such as server rooms and agent floor shall be restricted to authorised personnel using suitable physical and logical security measures. The system shall support encryption of data during exchange internally and with external systems.
5. Audit— There is a comprehensive audit trail tracking every call, with call history (time of call, duration of call etc.) In case there is a discrepancy found in feedback captured and call quality/contents during audit leading to non-compliance of regulations/SLA, the Audited data/outcome/reports shall prevail and Purchaser reserves the right to impose necessary Penalties as defined in Section VII of this RFP. The analytics and the security part are the main in the running phase. So a lot of emphasis is given to them.
4.3 Technology The complete Mega Call Centre solution is implemented at the SI's premises. The Mega Call Centre infrastructure comprises of Desktops, Servers, Switch/PBX, Network Security sub-system, ACD, Call Logger, and Reporting System etc. of sufficient capacity (Refer Annexure I for Infrastructure available). Some of the important components are
: 1. Customer Relationship Management Application (CRM)-Takes care of all the services required to be serviced by Agents. CRM maintains data regarding beneficiaries (as provided by departments) and also provides a complete feedback form per scheme type. (Refer Annexure III& IV)
2. Computer Telephone Integration (CTI)-The CTI functionality shall support relevant screen pop-ups on the agents screen on the basis of called number.
3. Automated dialer–There should be a provision of automatic dialer which allows calling without any manual intervention by the caller. This dialer has the capability to not place duplicate calls to beneficiaries with whom successful calls have been completed, within a span of one year. (Refer Annexure III&IV)
4. Logger— The voice logger system provides 100% recording of calls. The recordings shall contain detailed call information such as date, time, call duration, agent ID, caller number, customer ID, identifier and the solution shall provide advanced searching capabilities. The calls shall be stored for two years and will be available for the Purchaser or any nominated party of the Purchaser. To support all this there should be adequate physical infrastructure.
It will be implemented in form of:
Power backup (2 UPS of Capacity of 40 KVA of Legrand and 1 UPS of 20 KVA)
 Physical security System (Biometric device has been installed at entry gate of the Call Centre and Data Centre for authorized entry) o Safety (Necessary measures are taken such as a well implemented fire system )
Telecommunication Connectivity (Provided by TATA and Reliance at 8 Mb/s transfer speed. A 21 PRI lines network is used to cater the calls) o Training centre. (Refer Annexure I for more details of IT Infrastructure)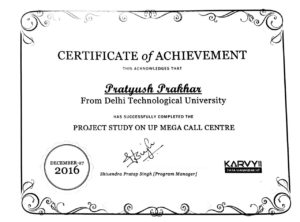 5 Uniqueness of the project
The uniqueness of this project is due to it's very concept which can be viewed as:
This project has been a bold step by the government to scrutinise its own work by the people. This is a very rare in the social sector. o This will also help increase the public participation in policy making process for the government and will in turn reduce the gap between public and government.
At present, more than 80% of the working staff is female.
It will help the government in achieving good governance. It has been almost three months since this call centre went live. It has been quite successful like any other projects run by the state government. Both citizens and the departments have benefited a lot from it. The data also supports my statement. As per the feedback received from beneficiaries for Ambulance scheme, more than 99 per cent of beneficiaries have said that starting this scheme the right decision by the government. Similarly, for pension schemes like Handicap pension, Samajwadi and old age pension, more than 75 per cent of beneficiaries said that they are getting pension within the given time period in their accounts. For laptop distribution scheme, more than 87 per cent beneficiaries said that laptop has helped for higher education and self-employment.
Key Suggestions
A good initiative by the government and running successfully by the government in the state, however, may benefit from a few suggestions which may help in further enhancement to achieve the vision of the project:
Call Connecting Time– Presently it is around 20 to 30 sec. It can be reduced to give more active time to agent. o Call drops- The number is significantly high. The two main reasons as felt by me are the predictive calling technique used and non-standard data provided by the departments. So these two matters can be looked into.
 Risk Management Site– A Disaster recovery site has been provisioned for such purpose. But it is not yet implemented. This should be done as soon as possible.
A Grievance Forum– One should be created to cater the major problems faced by beneficiaries regarding the ongoing schemes. It can be implemented within this program or separately.
Change in the questionnaire pattern-The pattern of questions should be reformed in such a way so as to get maximum feedback out of the people. This will definitely help in better analysis of the various policies. Other than this, 'Mega Call Centre' scheme by the UP Govt. has come as huge help to the citizens and is a great example to be followed by other states.
(The writer Pratyush Prakhar is a student of Delhi Technological University. Views expressed in the article are personal)
Follow and connect with us on Facebook, Twitter, LinkedIn, Elets video