Kerala's forefront digital infrastructure and e-governance initiatives have transformed it to be the most digital state in the country, says P H Kurian, Principal Secretary, Department of IT, Government of Kerala. He elucidates the key initiatives undertaken by his department to transform Kerala into an IT-driven state, while speaking to Vishwas Dass and Arpit Gupta of Elets News Network (ENN)
Kerala has been taking lot of e-Governance initiatives for the past few years. Please tell us about the successes that have been achieved by the State.
Kerala is one of the leading states to have a strong telecom and Internet user base. The State has around 95 per cent teledensity, which is tremendous. It is the only major state with Fibre Broadband connectivity in all the grama panchayats. It is the most inclusively connected state. The government is aiming at bringing in IT initiatives, encouraging inclusive development.
The Department of IT has already started the next wave of IT initiatives in the State, which would enable us to become a 'transformational government' from a 'transactional government'. One such initiative is BharatNet, which would provide a fibre backbone till the grassroot level and connectivity to government establishments. ISPs can tap into this infrastructure, taking the connectivity to individual households. Connectivity infrastructure would further be enhanced after commissioning Wi-Fi hotspots across the State.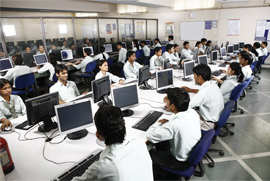 The government is in the process of leveraging the State's high mobile penetration and working towards a common mobile platform, integrating various mobile applications both existing and forthcoming, to use it as a means of ser- vice delivery. The e-Office initiative is being implemented at lightning speed across all administrative departments and their line offices, which would definitely improve the efficiency level of government machinery.
Unlike many other states, Kerala's terrain conditions are not as congenial for setting up IT infrastructure. Due to this, last mile connectivity is a major constraint and sometimes increases the cost. Irrespective of whatsoever challenges faced by us, we've made substantial achievements and take pride to be among the list of top performing states in the e-Governance domain
We also understand that the real assets for the State would be the future generation. Thus, programmes, like Digital Empowerment Campaign and Electron- ics@school, are being implemented to empower the future generations. Besides, Department of IT is also part of various other important initiatives in the State, pioneered by other departments, where we play a consulting role.
How the State's IT policy is wooing investors to set up their units in Kerala to give an impetus to the State's economy?
Our focus is towards an inclusive growth. The IT policy of the State is aligned accordingly. Kerala offers best network and well-connected infrastructure. With competitive advantage of ICT infrastructure spread across the state in hub and spoke model centre around major cities like Thiruvananthapuram, Ernakulam and Kozhikode, highest tele and mobile den- sity, in-house skilled and talented resource pool, investors would get more than what they would bargain for. Already established technology parks like Technopark, Infopark and Cyberpark are offering over 1,000 acres of land with a built-up space of more than 12 million sq ft, providing investors and corporates ample choice of office space suiting their individual requirement and budget.
In terms of investment, the State is definitely sitting on a landmine of opportunities as it has investment friendly initiatives like single-window clearance system for business proposals and lower operational costs. Kerala is now promoting private initiatives in building IT industry infrastructure, through specific scheme namely "Private Integrated IT and High Tech Township."
What are your expectations from the State Government to improve IT sector in Kerala, particularly to create more jobs for youth?
As you may be aware, creation of technology parks like Technopark, Infopark and Cyber- parks have provided employment to one lakh youths. With many more phases of the above parks within and outside the present campus being initiated, we expect to create another two lakh jobs in the IT sector in the next five years, which will be a feat in itself vis-à-vis habitable land available to the State.
What kind of challenges are you facing to further strengthen the IT Department?
The Department now functions as a Mission (Kerala State Information Technology Mission), which by itself is very good when com- pared to normal governmental setup. We need to increase the number of technical personnel in the mission and their remuneration so as to retain the talent.
In terms of investment, Kerala definitely offers a landmine of opportunities, as it has investment friendly initiatives like single-window clearance system for business proposals and lower operational costs
Can you elaborate on few major IT projects which are in the pipeline in Kerala?
Some of the key projects include cloud-enabled IT infrastructure, considering the limited space and resource availability, providing connectivity to all government offices up to panchayat level through OFC, video conference infrastructure at taluk level along with floatable licences and civil station WANs, among many others.
To give impetus to m-Governance, we will create mobile app store and promote wider adoption of mobile governance across government services, considering state teledensity, various welfare services/pensions to be linked to Aadhaar, database sharing and interoperability across all departments, creation of public addressing system using next-gen video conferencing solutions like telepresence, ensuring accessibility of electronic ser- vices to citizens either directly through the Internet or through CSC's, creat- ing and retaining skilled resource pool within the government via capacity building initiatives and efficient resource mobilisation.
Follow and connect with us on Facebook, Twitter, LinkedIn, Elets video