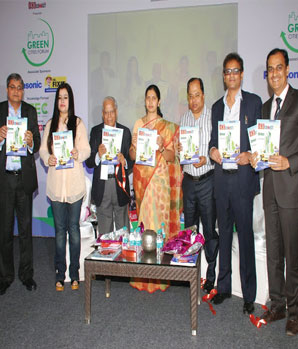 As 'Green' turns a vital mantra for achieving the dream of sustainable smart future, stakeholders from the construction sphere join the Elets Technomedia platform to share their views on the shape of things to come. A report…
Chanchala Sandeep Kodre, Mayor, Pune Municipal Corporation
A direct relation exists between the infrastructural demand of our country and constantly ascending population. This shooting pace of population index has considerably raised the demand bar for infrastructural requirements in our nation. However, the growing infrastructural demand has brought with it a slew of concerns which hurdles the progressive growth of urbanisation. Pollution, haphazard disposal of waste materials, expanding slum population etc. are among the few prime concerns posed before the pace of urbanisation. In such a scenario, the Green concept has evolved as the ideal mode of operation.
Today, the world is witnessing a Green wave, wherein energy efficiency has evolved as the core mantra of infrastructural development. The progressive technical advancements have evidently contributed to implementing qualitative technologies for utilising the potentials of non- perishable natural resources. Rainwater harvesting, effective sewage treatment plants, solid waste management etc. are the ideal such technologies that need to be positively practised for the development of quality urban civic regions. This prospective pace can be achieved only with the positive participation of all the stakeholders who are contributing towards the development of ecostructures.
Rajendra Nimbalkar, Vice Chairman & Chief Officer, MHADA, Pune
Affordable housing is one among the vital elements involved in the urbanisation process. Affordable housing can be divided into two sections – housing for the haves and have nots. Now, MHADA is in the process of expanding and implementing such initiatives across major cities and even at the Taluka level.
The issue of population explosion is one amongst the burning concerns faced by the Indian housing sector. The population of our country in 2010 was 1,200 million and by 2030 is expected to shoot up to 1,500 million. A constantly rapid increase is also being witnessed in the urban population in India. The urban population index constituted 10.85 percent of the total population in India in 1901, which has now grown 15 times more and is at 30 percent. By 2030, the urban mass population is expected to further rise to about 40 percent.
The situation, hence, demands effective implementation and practice of policies, active participation from stakeholders, improved pricing of raw materials, and support from governing authorities in making available constructional resources, etc.
Sunil Mantri, President- NAREDCO and Chairman-Mantri Realty Ltd
Green buildings is the largest evolving concept today across the globe, wherein India has now emerged as the fifth largest nation following the green norms.
The concept which was initiated in 2003 from the green footprint of about 20,000 sq ft has now evolved into 2.10 billion sq ft of construction area. Development of such eco-structures can be progressively attained only with the active participation of key stakeholders involving governing authorities and private developers. Incentives and concessions on availability of resources, raw materials, construction practices etc. can evidently attract and encourage more developers to actively contribute towards the development of a Green Economy.
Ranjeet More, Vice Chairman & MD, Universal Construction Machinery & Equipment Ltd
While the concept of Green is being increasingly focussed upon, the other key element to be considered is the growing threat of environmental pollution. In western countries, maintaining carbon footprints is being practised as a mandatory policy, whereas in India the policy is yet to be implemented effectively. As we all stakeholders and citizens move towards joining the 'Green Wave', we need to focus on whether we are actually capable enough to provide a healthy environment to our people.
Effective policies, when supplemented with qualitative execution process, can effectively bring about qualitative development. Several new smart cities are being developed along the ambitious Delhi-Mumbai Industrial Corridor, and sustainability is the only mantra for qualitative development and maintenance of these structures.
Abdulkader Bengali, Business Head – Large Waterproofing Group, Pidilite Industries Ltd
Green Building movement is being witnessed in India for the last 11 years. Sustainability of an eco-structure is not only about implementing energy efficiency but also ensuring strong and stable structure. These structures require advanced technologies and solutions. We need to build and develop technical solutions which can suit Indian conditions and market requirements.
Global Warming is another concern as high temperature interferes with the completion of construction project. Our endeavour is to evolve as a Complete System Solution Provider. Pidilite aims to deliver solutions which can prevail as differentiators in changing the landscape of the Indian market towards qualitative pathways.
We have introduced low energy consumption systems that have helped in extending the lifespan of structures from 10 years to about 25 years. The situation today demands a qualitative mode of operation.
"Sustainability of an eco-structure is not only about implementing energy efficiency but also ensuring strong and stable structure" – Abdulkader Bengali, Pidilite Industries Ltd
K Raghavan, Director – Product Management, Johnson Controls (I) Pvt Ltd
HVAC (heating, ventilation and air conditioning) are vital elements of construction structures. More than 50 percent of energy consumption in a building space is taken by HVAC systems incorporated in the structures. Incorporating energy-efficient HVAC systems is an ideal mode for developing eco-structures. Qualitative HVAC systems can only be installed when incorporated with energy-efficient models. Another vital practice being evolved with the popularisation of Green building concept is the focus towards utilising advanced analytic tools, qualitative designing of structures and revision in indoor air quality. In the air conditioning technical trends, we observed only two prime successful evolutions – VRF (variable refrigerant flow) systems, which is already popular in India for the past 8-10 years, and introduction of magnetic bearing centrifugal chillers. Today, discussions continue on promoting the Green Building concept, but we need to focus upon the actual monitoring of developing these eco-structures. Efficient energy systems and analytic tools can predominantly contribute towards the betterment of these structures.
Anirban Banerjee, Head-PBX SSD, Panasonic India
Innovation is the mantra to move ahead towards green and sustainable future. Innovations are required to suit the dynamic scenario of customers. Structures, once seen as mere buildings, are now known as 'flexi homes' that have the potential to satisfy respective sustainable needs. A paradigm shift has been witnessed in the development of these flexi homes. The question of ensuring sustainable luxury arises with the development of such structures, where Panasonic predominantly plays a vital role. We do not just cater to the residential sector but have also played a pivotal role in revolutionising the communication networks in the commercial and other realty segments. Each vital aspect has been assured through Panasonic's effective PBX systems.
Ajit Khandese, Director-KWAN Environmental Solutions Pvt Ltd
Sewage treatment is conventionally processed through a natural eco- system, involving the air, water and solar energy. The microbes present in the river or the water reserve consume the sewage which is then treated and evaporated back to the solar resource, through the ultraviolet rays from sun. However, the increasing population, industrialisation and the related problems associated with it have increased the pressure on water resources. KWAN, through its advanced and dedicated team of experts, has succeeded in improving the sewage treatment process with collection tank, aeration tank and membrane bio-reactor tank. The introduction of membrane bio-reactor helps in treating the waste sewage water and later reprocessing it into pure water.
JK Bhosale, COO, Amanora Park Town, City Corporation Ltd
The role of sustainable structures has evolved as the core agenda of discussion in all pivotal platforms. Amanora is one such success town- ships which upholds the green concept and is a live specimen of energy- efficient technologies. It involves creating and maintaining the entire infrastructure of a township. Upholding the importance of utilising energy-efficient technologies, Amanora maintains a 100 percent zero-waste management and effective solid waste management plants. All the waste water generated at Amanora is recycled and processed into purified water and is later utilised to meet the secondary purposes. The township, thus, prevails as an ideal replica of sustainability.
Nirmalya Chhatterjee, COO & Business Director, Tekla India Pvt Ltd
Planning, qualitative designing, controlling the construction wastage and time over-runs in the construction process are some of the prime elements for undertaking effective infrastructure development. However, the aim towards incorporating all these elements productively in the construction can be achieved only with the utilisation of effective technologies. Tekla being a technology solution provider, it offers unique BIM (Building Information Modelling) devices that assist in construction right since the planning stage. The absolute 3D model helps the developer or contractor in vital product planning and resource management.
Sharan Lund, AGM, Architecture & Design, Ahuja Constructions
Amid talks of Green buildings and energy efficiency, Ahuja Constructions has come up with its uniquely developed Prasadam project. The picturesque ideal project implements the concept of Green not just by utilising recyclable raw materials or energy- efficient technologies but also by providing vital open space for plantations. The project serves as an example of how the right location, intuitively developed plans, micro-attention to implement details, contemporary facilities, excellent amenities and high development standards can ensure a perfect healthy life.
Ritesh Surwade, Regional Manager, Zydex Industries
Zydex stands firm on its operational mantra of 'Innovation through Sustainability', which is the prime need of the hour. Water-related damages lead to poor quality infrastructures resulting in compromised strength. Conventional polymer-based waterproofing systems are susceptible to UV, heat and abrasion that fail to prevent such damages in the long run. Zydex's eco-friendly waterproofing nanotechnology ensures a combination of penetrative and reactive silane technology combined with pure acrylic polymer and modified bitumen membranes to deliver superior waterproofing performance that lasts decades.
Mala Singh, Head Convener – Green Governance (Govt) IGBC Mumbai Chapter and CMD PEC Solutions Green Design
The term 'Green Policy' is often associated with the environmental clearance policies and procedures in our country. However, India still lacks a mandatory uniform Green code and has only Ministry of Environment and Forest (MoEF) regulations. India has National Building Code and Energy Regulation Code, which is at the pedestal stages of implementation in India, wherein only few states are now practicing these norms. The green building movement in India can be considered as a self-driven momentum which is being powered by dedicated developers focused towards building structures for future generations. However, with the new government coming into place, we, the developers and builders community anticipate more energy efficient norms and practices to support the sustainable infrastructure development.
Atul Goel, Joint Secretary, CREDAI (Pune) & Managing Director, Goel Ganga Group
Green buildings and sustainable structure is no more a concept in today's era and has now become a reality. The green concept that was once a dream is now effectively implemented with the active support and participation of our central, state and even local governing bodies. Green today is a responsibility of all the stakeholders, especially, the developers and players involved in the construction sphere. As a developer Goel Ganga Group focusses primarily on building sustainable structures and creating structures in conformity with the envi- ronment norms. Construction is one of the few activities that largely contributes towards environment pollution. Awareness and qualitative training of workforce are the other two prime factors in the development of eco-structures. We need to plan and build for our future and such a development needs a qualitative approach and skilled workforce.
NM Tabhani, Senior Environment Engineer, Gujarat Pollution Control Board
Gujarat Pollution Control Board, being a regulatory body is actively involved in enhancing the development of environmental friendly and sustainable structures. In Gujarat, 159 municipalities, eight municipal corporations and four local authorities are actively involved in maintaining and control- ling the environment pollution, particularly due to the generation of solid waste. In addition, the body also guides and monitors the hospitals and clinics in Gujarat in controlling and managing their bio-medical waste. The generation of bio-medical waste is presently about 25 metric tonne per day, addressed by 15 common bio-medical waste treatment facilities in Gujarat. Gujarat Paryavaran Bhavan is the first Green Building in Gujarat and is powered by solar energy.
Umesh Shurpali, AVP – Planning Architecture and Environment, GIFT City
Gujarat International Finance Tec-City (GIFT) aims to cater to India's large financial services potential by offering global firms a world-class infrastructure and facilities. It aims to attract the top talent in the country by providing the finest quality of life with integrated town- ships and multi-specialty special economic zones (SEZs). The vision is to develop a global financial hub and building an ideal replica for the development of futuristic cities.
Abiding by a Green policy and environmental norms is a vital aspect in developing qualitative structures. The concept of sustainability has to be initiated from the institutional reforms involving the prime level of planning and developing structures.

N K Ojha, University Engineer, Maharaja Sayajirao University of Baroda
The concept of developing environmentally sustainable structure is of crucial importance for our society. Maharaja Sayajirao University of Baroda is one such success study which has today evolved into a sustainable green building. A focussed and planned approach by a dedicated team of experts has effectively contributed to the successful develop- ment of this structure. The Green concept, thus, needs active participation from all its stakeholders, who are involved in effective planning and building qualitative structures.
Ar Sarika Vohra, AP-IGBC LEED India, Green Building Consultant
India is a country blessed with immense natural resource; but today, the situation requires a planned approach towards utilisation of those resources. The Maharaja Sayajirao University of Baroda was one such project redeveloped as per the Green norms. Effective waste resource management system, planning the structure as per day-light penetration and ventilation as per the commutation of natural wind were few measures adopted while redeveloping the structure. Green is a concept directly linked with the natural resource and following these norms ensures a healthy and sustainable environment.
Richa Thakker, Project In-charge, SGL Carbon India Pvt Ltd
Energy efficiency has been a core operational mantra for a global major like SGL Carbon. Our one such success innovation contributing in sustainable technology is the ECOPHIT Radiant Ceilings. The product provides a new technically powered innovative approach towards utilising renewable resources. It is equipped with expanded natural graphite, which has a very high level of electrical and thermal conductivity horizontally along the carbon layers. These characteristics are ideal for surface temperature control systems. Our future needs such technologies and products which can empower our dream towards achieving a Greener tomorrow.
Follow and connect with us on Facebook, Twitter, LinkedIn, Elets video