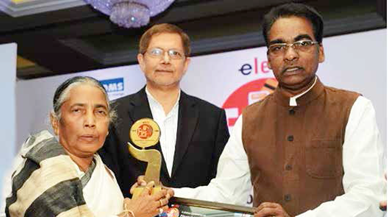 If someone asks Manorama Devi, "Can you reduce the pain of lady and make them socially and economically independent?" The answer to that will be her work force of Srijan for the last 18 years who are working towards the betterment of individual life and making female more independent in the male dominated society of Bihar. Manorama Devi believes in the philosophy that sharing others pain reduces one's own grief. Others get retired from work at the age of 60+ but still at the age of 65, she is as dynamic and workaholic that she looks and dedicates her life in the women upliftment in the society. Recently a reporter asked her, "why you do such things for the society and what drives you to do it at the age of retireing." Her reply was – Khusi baantne se barh jata hai aur gham baantne se ghatata hai (Happiness multiplies after sharing, while woes diminish)."
Life was appearing an endless tunnel for Manorama Devi – a traditional family of village background, when her husband Awadhesh Kumar suddenly passed away in 1991, leaving three sons and three daughters in a growing up stage. At that time, her husband was working as the principal scientist at the Indian Lac Research Institute, Ranchi. "That time, the whole world around her was appearing gloomy.

By her words – it was the inspiring memories of my late husband that I decided to shift myself with my kids to Sabour – an area where the innocent women suffered the most during the infamous communal riots here in 1989. My husband had always said that only a burning lamp can light another lamp," she recalls, adding, "I had also some sweet remembrance with Sabour, as I had spent my early marriage days here because my father-in-law was then the principal of the Agriculture College here."
After consulting the women of the weaker section of Sabour village, I thought that the creation must take place after the catastrophe. "Pralay ke baad phir srijan hota hai isliye maine is sanstha ka naam bhee Srijan hi rakha (As after every catastrophe, renaissance takes place, I opted to christen my organization as 'Srijan'
Starting 'Srijan' with only five women, Manorama Devi (better known as Srijan Didi) first adopted Bapu's charkha, as the medium of building up confidence among the rural folk. "I had some spinning and carding experience with Bapu's wheel at my father's place in Deep village in Madhubani district, so I decided to go with it," Srijan Didi says.
Presently, Srijan has taken a shape of successful women's co-operative, with a Bank, Bindi and Bangles-making units, Tailoring units, Masala division, Computer Centre for Imparting Computer literacy to Gramin people, Garment division, Pickle manufacturing and more with overall giving livelihood to more than 6000 self-employed women. Not only that, more than 500 self-help groups (SHGs) had got training from Srijan. In a recent report by the national level monitor of the co-operative societies in India Major-General (retired) P.C.Puri had also stated: "In Sabour block, there are 339 SHGs, out of which 82 have passed grade-I and four have passed grade-II. Srijan Mahila co-operative society, which is playing effective role in block, is providing training to ladies in stitching, embroidery, making bedcovers, bindis and bangles."
Besides running a successful women's cooperative, Srijan Didi also cared for the career of their respective children.
Srijan Mahila Vikas Sahayog Samiti Ltd registered under Bihar and Orissa cooperative societies act 1935. The area of operation of this society in Bhagalpur District in Bihar. Till 2014 nearly 6000 women associated with Srijan in the form of SHG (Self help group). Vision of Srijan Mahila is to build socio-economic, moral and education development of women of Bhagalpur district.
Couple of month back when Bollywood actor Shakti Kapoor got a chance to visit Bihar, came to know about Manorama Devi for her work and devotion. He can't stop himself to meet her. He moved to her work place and saw the work done by her. Amazed to say that she has done such a good work for the society that is hard to belive in now a days.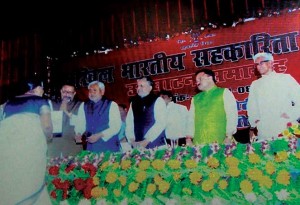 Major programme
Organizational activities
Srijan Mahila directly meet women of weaker section and below poverty line and motivate them organize create self group. The major achievement of this effort 500- 600 self group.
Training programme
Srijan samiti plays effective role in self employment and help women to become self reliant. Major training programme include stitching, handloom, animal husbandry, food processing, Bindi making, computer literacy and many more programme. Srijan Masala and Bindi become very popular brand in Bihar and Jharkhand.
Self-Employment
After training, Srijan Mahila samiti provide Micro credit for raw material, machinery. Major benefit of this activity is self employment among member.
Bachat and Sakh
From 1997 Srijan Mahila Samiti initiate banking activity affiliation from central co-operative bank Bhagalpur. In the field of banking samiti achieved several milestones. In year 2013 a global conference on financial inclusion and payment systems Srijan Mahila got award for Srijan Jama-Virdhi Yojana.
Production and marketing activity
Srijan Mahila not merely trained SHG but also work marketing of various product manufacture by SHG like silk cloth, silk saree, silk suit, Bindi, Pickle, Different types of Masala, Agarbati. Even Ministry of Textile, Govt. of India procures silk cloth Sarees and bed sheets from this society.
Other Activities
Srijan Mahila promote computer literacy among women mainly belongs to village area. Srijan Mahila concern about health of SHG member and provide free health service time to time.
Major achievement
More Than 600 SHG (Self help group)
Self reliant society without any government funding
More than 5000 account in co-operative society and encourage saving among member and provide micro credit for selfreliance among women
Got 'A' certificate from DRDA Patna
Received award From Bihar Government For Co-operative society
Recently Bihar Government propose to create Srijan Mahila Cooperative Bank, it is first of its kind.
In year 2013 a Global Conference on Financial Inclusion and Payment Systems, Srijan Mahila got award for Srijan Jama- Virdhi Yojana