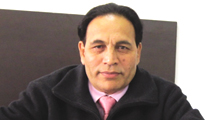 "In the next two years every town in the state will have its own STP (Sewage Treatment Plant)," says Sarban Singh. In conversation with Ankush Kumar
Please tell us about the Mandate of Public Health Engineering Department?
Public Health Engineering Division is responsible for construction, upgradation, and maintenance of water works (WW), Sewerage system (SS), Sewerage Treatment Plant (STP) and Storm Water System (SWS). All these systems are used for supply of fresh drinking water to people of Haryana, and disposal of sewerage and storm water. Public health system in Haryana works continuously to improve the drinking water supply in the urban areas and deficient regions of rural areas. Every year we make efforts to cover more and more areas.
What are the key benefits of Work Monitoring System (WMS)?
Physical and Financial progress of a work is entered by the field offices on a regular basis. Accordingly, data monitoring reports can be generated to monitor the progress being made in the direction of execution of work. Online approval of enlistment of eligible contractors and maintenance of record for future reference is done through Works Monitoring System (WMS). Provision for delisting of contractors has been made which serves as a common reference point for facilitating prevention of award of tender to any de-listed contractor. Database of inspection reports exist on the system enumerating the inspections being done by the field officials depicting the pros and cons of ongoing works along with recommendations for improving the quality of work being carried. Strata Charts of a particular village are uploaded on the system which aid site selection process as suitable site can be detected on the basis of the uploaded strata charts and cost of performing various strata analysis can be saved. Status of filling of storage and sedimentation tanks can be determined corresponding to the running hours of canal. Status of tubewells handed over to Panchayat is readily available.
How do you address the day-to-day complains and provide quality information to the citizens?
We have Fast Track Complaint Redressal System in place through which various complaints about Water supply & Sewerage are received in Head office. Software has been developed to send this complaint through web portal of the department to the concerned field offices. So, Action Taken Report about these complaints will also be received back from field offices to Head office. Lot of information meaningful to the citizens has been provided on the "Citizen Corner" of the homepage of the Departmental website (http://wss.hry.nic.in).
What are some of the key achievements of your department?
Haryana is one of the few states in the country with piped water supply in all the villages. Under the Yamuna Action Plan Project Phase- I, Sewage Treatment Plants were constructed many towns. We have also done work for interception and diversion sewers. For providing sustainable drinking water supply in Mewat area, the Rajiv Gandhi Augmentation Drinking Water Supply Project has been started. The Public Health Engineering Department has taken up the work of providing drinking water in Scheduled Caste Bastis. In this era of Information Technology, this department has developed a Web-Portal (http://wss.hry.nic.in) to bring more transparency in its operations.
Please brief us about the new systems that have been deployed in the recent past by your department?
Shikayat Nivaran Kendra (SNK), a call center, has been set up to receive the complaints. People can submit their complaints on the toll free number – 1800-180-5678. These complaints are forwarded to the concerned field offices through SMS or voice message. A redressal period has also been fixed to redress different type of complaints. Online Water Supply and Sewerage Billing System (BISWAS) has been developed for raising the bills of existing water supply and sewerage connections. The bills in the next year will be delivered through this system. Unique software is being developed for receiving online application from consumers for new water supply and sewerage connection.