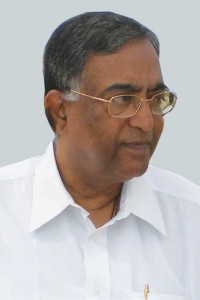 K N Bhagat,  Managing Trustee, OTTET, Odisha
"ICT based modern technology can be used for interconnectivity and networking to integrate all other fields for all round development of society at large," says K N Bhagat
Please brief us about the initiatives that OTTET is taking in Odisha for promoting social development?
OTTET's initiatives for social progress are undertaken through association of service oriented people in the society. OTTET aims to bring about a blossoming in the lives of the citizens through efficient Educare, Medicare and Sociocare. Thus development involves awakening of the dormant spark in humans leading to the blossoming of their personality to unearth the hidden strength and abilities for the purpose of overall progress of society. This process also takes care of spiritual evolution of the people automatically in which individual transformation occupies a very important role. The design of our Ideals and Philosophy seeks to evolve Education, Healthcare Entrepreneurial Development scalable to a large mass and to larger number. While India needs to pay most attention to economic areas and employment generation, India is to emerge as a global leader in the service sectors with its vast and skilled human resource. The services will range from the simple to the most sophisticated ones using the emerging digital and communication revolution. The service sector is not only to be a money-spinner but should also employ a good proportion of its people, often in self-employments, with abilities ranging from simple skills to super skills.
What are the major challenges you usually face while working on various project which has potential to improve the livelihood of the people?
The major challenge was a balanced approach to basic needs on the one hand, and depletion of scarce resources required meeting them on the other hand, which is essential. The recent crisis which has caused not only economic but also social and organizational disasters was the absence of wisdom, trustworthiness, self-restraint, and sensitivity to the well being of others. Another important factor that camps up repeatedly was that none of these merits of individual behavior can adequately and effectively be imposed externally. Hence, the need to inculcate human values that nurture a strong discretionary energy through a properly designed system of education and skill upgradation with human values. It has a very powerful demonstrative effect on public awareness. It is thus necessary that the government follows exemplary behavior so as to serve as an effective role model for all citizens. It is equally important that government as an institution sets right examples in terms of its laws, social and economic policies as well as its normal administrative practices and procedures. Clearly, the government has a heavy responsibility in creating a culture of adherence to high moral standards and values so as to foster an appropriate environment for rectitude. Such adherence should begin with the individual and permeate widely through the civil society.
" OTTET aims to bring about a blossoming in the lives of the citizens through efficient Educare, Medicare and Sociocare "
Very recently, a OTTET-Biocon delegate met the Chief Minister of Odisha. Tell us what you have discussed and what are you planning to do in the state?
The delegation meeting with the Hon'ble Chief Minister, Odisha, was very unique in all respect. The Biocon Chief, Kiran Mazumdar-Shaw, the richest self-made business woman of the country, has displayed confidence in the leadership of Shri Naveen Patnaik ji, Hon'ble Chief Minister, Odisha. She congratulated him on the pro-poor, propeople initiatives of the state government. We will be launching an initiative in PPP mode through which OTTET will provide access to quality healthcare at the door steps of 51,000+ villages of Odisha. It has got two parts; the first deals with the capacity to frame plans (programmes, projects, etc) that have a high probability of success, while the second part deals with its implementation. During discussion Kiran Mazumdar-Shaw emphasized that while the Planning Commission and the Public Health Foundation of India, under the scheme of Universal Health Care (UHC) are now planning to achieve healthcare for all in 10 years time, even countries like USA having best resources of technology and financial power is yet to achieve the same , the Government of Odisha has already started its implementation in the state which is considered first of its kind in the country. She indicated that Biocon in collaboration with OTTET will take forward the initiative of Government of Odisha and make it more comprehensive with the introduction of ICT network based Mobile Hospitals, Cancer and Diabetic Clinics and Health Card for All for the benefit of people of Odisha and society at large.
It is envisioned with the ideals and philosophy
. To create Enlightened Citizens
. To provide all amenities at the doorstep of villages for Education and Healthcare
Your Tele-medicine initiatives have been appreciated, what are your plans to replicate it in another state of India?
The Objective for installation of e-health and telemedicine infrastructure in PPP mode is to achieve the UHC program of Planning Commission of Government of India. It aims at bridging the gap of demand–supply mismatch, Doctor-wise and Facility-wise. ICT based Telemedicine activities are not only dedicated for patient healthcare, but also in physician education and training. OTTET Telemedicine network is a network for Tele-consultation, Tele-Diagnostics and Tele-Education. The clinical component includes Tele-consulting for Preliminary Diagnosis, Pre-surgical Investigation and Post-surgical Follow up, scheduling appointments for hospital visits, expert opinion and patient counseling. All medical Colleges, DHHs, CHCs, PHCs and Sub-centers are considered as part of the network. The PPP initiative of OTTET has been widely appreciated and OTTET has bagged several national and international awards including e-INDIA Award 2013 and FIPS Award 2013. In a boost to the PPP Initiative of OTTET, Biocon chief Kiran Mazumdar Shaw has joined and collaborated with OTTET to carry forward the initiative not only in the state of Odisha but also rollout the scheme of Universal Healthcare Pan-India. The collaboration will strive to emerge India as a global leader in the service sector with its vast and skilled human resources and to provide valuable contribution in strengthening and augmenting and existing public health system. The UHC program will be shortly initiated in the state of Karnataka and few other states where the pilot studies have already been made.
Tele-medicine is one part of ICT, What are the areas wherein ICT can be used for enhancing the access and quality?
OTTET has vision for Healthcare for All, Education for All, Services for All; for moral and spiritual re-generation of Mankind. In order to achieve the objectives OTTET has developed Village Integrated Program to translate the concept of Golden age into the Reality. OTTET has designed for facility centers at District, Subdivisional, Block, Grama Panchayat and Village level, for the development of Individual Care, Employment Care, Health Care, Infrastructure Care, Social Care, Educational Care, Cultural Care and Agricultural Care through which the following services can be provided at the village level: Financial Services, Marketing Communication Services (Advertising, Media, Consultancy and Infotainment), Marketing Logistics, Trading and Distribution, Trade, Promoters Services, Human Resources, Technical & Management Consultancy, Testing, Certification and Calibration Services, Govt. administration Security Services, Repair & Maintenance, Tourism & Hotels, Leisure, Sports resorts, Cultural Activities, Preventive Health care Services, Many others as per the local needs.ICT based Modern Technology can be used for interconnectivity and networking to integrate all other fields for the all round development of people and society at large.
Follow and connect with us on Facebook, Twitter, LinkedIn, Elets video