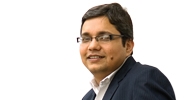 Financial inclusion is a key pillar of e-Governance. While e-Governance can bring efficiency and transparency to the government services, it is only through Financial Inclusion that we can have equity. Discernible progress has already been made in improving access to financial services for the masses, but lot more work needs to be done.
Poverty and exclusion continue to dominate socio-economic and political discourse in the country. The government is taking lot of initiatives to ensure that a largest possible section of society can be included into the financial system. Today many citizens from marginalised sections of society are unable to avail of banking other financial services, as they might not have the complete set of KYC documents. Aadhaar is a foolproof system of identification, and no resident can have two numbers because Aadhaar is based on a combination of standard information like name, age and biometric information which is unique to every person.
On 8th October 2013, the Union Cabinet took the landmark step of approving the National Identification Authority of India (NIAI) Bill, giving a statutory status to the UIDAI, which is issuing the 12-digit Aadhaar number to the residents of the country. Before this the UIDAI had been operating through an executive order, due to which the Supreme Court passed the recent judgment saying that Aadhaar number is not compulsory for availing benefits.
The Bill, which is likely to be taken up in the winter session of Parliament, is long overdue. There was always a need to give a statutory backing to the UIDAI for issuing Aadhaar numbers and delineate the power and the functions of the authority. The UIDAI project, it is envisaged, will lay down a foundation for better delivery of public services and targeted subsidies. As it is an easy and accurate system of confirming the identity of a person, this initiative is also capable of enabling Financial Inclusion of the poor.
There is already a notification from RBI saying that Aadhaar numbers can be used as a KYC proof for opening a bank account. By 2014, it is expected that UIDAI will have achieved about 600 million enrolments all over the country.
On 24th and 25th October, 2013, we are having the event called Financial Inclusion Payment Systems (FIPS) at Hotel Eros in New Delhi. At the time of penning this editorial, we are deep into the nitty-gritty's of arranging this mega event, which will be attended by the who's who in the area of banking, financial services and insurance (BFSI). If you are at the event, you could already be reading this issue of the magazine, which will be launched at the FIPS event. We hope you will be able to make it to the event and take part in the crucial deliberations on the important financial issues.
Ravi Gupta
Ravi.Gupta@elets.in