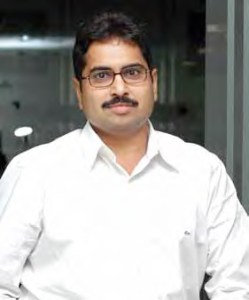 Sanjay Jaju
Secretary,
Information Technology & Communications Department,
Government of Andhra Pradesh

"Information Technology has proved to be a runaway winner when it comes to improving the quality of people's lives," says Sanjay Jaju
Mee Seva is now being replicated in many other states of the country. In your opinion what are the factors that are contributing to the rapid replication of Mee Seva?
As far as replicability is concerned, we have achieved both vertical and lateral expansion in the state. Now Mee Seva has been adopted as a National model for delivering G2C services and the e-district MMP has been accordingly redesigned making it ready for replication at pan-India level. The Department of Electronics & Information Technology, Government of India, has already sanctioned a grant for replicating Mee Seva in five states. The idea is also to convert Mee Seva into components, which can be placed in the National eGov app store for wider use. Essentially, the project is self-sustainable and highly replicable.
What kind of changes or benefits has Mee Seva brought into the entire service delivery system?
Initially Mee Seva had a very modest beginning of 100 centres, it had only 10 services. Today it boasts of more than 7000 centres and 150 services across the state of Andhra Pradesh. I am happy to inform that we have been able to conduct more than 2 crore 35 lakh transactions in the last one year. We are now looking forward to making further improvements in Mee Seva; by the year end we could be offering as many as 300 services. Mee Seva will become an entry and exit point for all the services from to all the departments in the government. In the area of e-Governance Andhra Pradesh has achieved great success, not only due to Mee Seva, but also due to the rapid strides that the state has made in Aadhaar and Direct Benefit Transfer. Before Mee Seva started, Government service delivery systems were manual and opaque. Quite often, the service delivery took too much time. Instances of overcrowded government offices with unfriendly employees and plagued by chronic absenteeism, inefficiency in service delivery, long queues, delays and rent seeking were common. The focus of the administration was on following procedures and keeping records rather than catering to the needs of citizens. The vision of governance was being lost, and citizens were being treated as the subject rather than the object of development. With Mee Seva, things have completely changed.
How do you view the importance of citizen centricity in the e-Governance projects?
Citizen centricity is the ultimate feature of any e-Governance initiative. We are looking to make our internal transactions more transparent and efficient, but our key idea is to improve the life of the citizens. When we started Mee Seva, we wanted to include services that are directly linked to the citizens. The biggest challenge that we encountered in Mee Seva was the silos. Earlier citizens use to run from one department to the other to get the government services. I wanted to break that system of silos in the government. Today technology allows us to connect so that various departments can directly talk with each other. Change management was an important challenge when we started Mee Seva.
The value of rupee is depreciating at a fast pace. In your opinion how is this affecting the Information Technology sector in the country?
It is true that rupee is depreciating, but that has more to do with global economy. Since there is overall slow growth across all the major economies in the world, we have also been impacted. But despite these challenges, it is also true that our IT industry is doing quite well. We are no longer achieving the 25 percent growth that occurred between 2003 and 2008, but we can regain the momentum by focusing on strategic leadership and product innovation.
Follow and connect with us on Facebook, Twitter, LinkedIn, Elets video