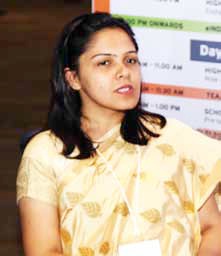 Dr Roshan Jacob
District Magistrate, Gonda, Uttar Pradesh
"Many of the departments are doing excellent, remarkable, and path breaking work but the only thing is that it doesn't get projected as well as it gets in the other states" says Dr Roshan Jacob
Please tell us about your responsibilities as a District Magistrate?
As a district collector, our prime focus in the district is to ensure citizen centric service delivery and to make our government mechanism more accessible and transparent for common people. So we put the fingers in all the departmental mechanism and try to make it smooth and transparent.
Can you brief us with some of the quality initiatives that you have taken in the near future?
If I talk about my personal experience about the districts that I have been, two initiatives we took, one was in the agricultural sector to make available the different services which are offered by the agricultural department to the farmers because they are the biggest beneficiary population. Therefore we aim to reach out to the farmers and form a way so that they come to one place and avail all of the different services like all agricultural inputs ie seeds, fertilizers, subsidy, crop loans and soil testing etc. Hence we have put all such different services together and put them under one name which is called "Krishak Information System" for Kisan, which was started in 2012 and developed by NIC, Gonda. We have launched it in the District Gonda and even the Government of UP is planning to roll it across the whole state. It is highly appreciated as farmer don't have to go again and again to the department and keep finding out what happened to their application, instead they now go to nearest CSC center. In UP our brand of common service center are called as Lokvani Centers, so the farmers go to these centers and apply within the requisite number of days where they get the services that they applied for.
In UP there are lots of hurdle that the government people generally face due to corruption, red-tapism and nepotism etc. Tell us about the challenges you have faced while working in Uttar Pradesh?
Some of criticism is very broad generalisation actually but then lots of good work is happening in the UP and considering the size of state and the population of the place, it takes huge efforts to roll a policy. Our attempt is to work constantly and make the Government citizen interface as smooth as possible. Many of the departments are doing excellent, remarkable, and path breaking work but the only thing is that it doesn't get projected as well as it gets in the other states. Moreover because of the population expansion and low literacy levels among the people, it takes time to get those initiatives actually implemented at the grass root level.
Tell us about LPG Distribution System which is now being implemented in District Gonda?
Another thing that we have done is LPG Distribution system. It was started in 2008 in the District Basti and it is being replicated now in District Gonda in a little more professional manner. We have developed a system called "Easy Gas" which is basically accounting software which takes care of LPG input in the district and outside. This is the first time that the administration understood the supply and distribution of LPG wherein a person can book through it's nearest Lokvani Center and wait at home for seven days to get the delivery of the same. The administration reviews the dependency on oil companies wise so that the Government can understand where this cylinder is going. Though companies have launched IVRS in Big cities but the rural consumer is still in the dark about what is happening, so there was a situation of holding, black marketing, over pricing of cylinders which is still happening in rural areas. Therefore after implementing this software we get remarkable results, the queues before the gas agency simply disappeared and no complain of holdings because we are accounting company wise, agency wise, cylinder wise and we are able to provide a kind of smooth service system to the people.
How much fund was allocated by the government for these two initiatives?
We did it on our own; we told the government our success story which has changed the lives of so many people. So far we haven't received any funding because our system is based on the Lokvani Center which is already there and also the Easy Gas project has given the extra source of income to the Lokvani operators. So more & more Lokvani Centers have opened and therefore it has made the CSC financially viable. So rather than getting money from government we have given money to the people.
Follow and connect with us on Facebook, Twitter, LinkedIn, Elets video