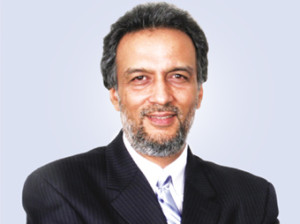 Arvind Thakur
Chief Executive Officer and
Joint Managing Director, NIIT
Technologies Ltd

"We provide hardware and software solutions to train people in latest technologies, so that they become capable of adding value to the entire service delivery system" says Arvind Thakur
NIIT is executing lot of projects for the government. What is the reason behind your increased focus on the government sector?
The primary reason due to which we are sharply focused on the Government sector is because this kind of business can be a good hedge against economic turmoil that we see around us. If you look at NIIT Technologies, you will find that we are having very balanced set of revenues coming from different geographical areas. The US revenue contribution is 36-37 percent, from Europe and Middle East the revenue is in the tune of 37-38 percent, and the rest comes from Asia. Our CAGR from the last three years stands at 30 percent because if USA revenue falls short, then Europe or Asia revenue will make up for the shortfall.
In Asia the stability comes from the Government business because they have huge contracts and irrespective of what is happening in the economy, once a particular programme is sanctioned by the government it will happen. Therefore strategically we find it to be extremely useful for us to pursue the business. We are very sharply focused on the government business and one of the areas of our interest is GIS (Global Information System), which is our technology area. And we are seeing more and more traction in the use of geospatial technologies in the Government. Some of the projects like public distribution system, land records and power management are beginning to see the usage of more and more geospatial Technologies in these areas. Therefore it can be said that e-Governance is giving way to g-Governance.
How is strengthening of Dollar effecting your business?
The volatility is not at all good for business. In any case, you have to hedge and that ensures that you can't get the whole value of the depreciated Rupee. A stable currency is important for growth of any business. A weak dollar is bad for the economy as inflation goes up and things become more expensive.
Please brief us with some of your key focus areas? What kinds of projects and initiatives have been undertaken in these areas?
A very large programme is being conceptualised and that is the National GIS Programme and I think there is a lot of investment pending around GIS technologies. The other areas of our focus are the Ministries and various Government departments. We are very sharply focused on the internal security and defense vertical. In defense we are more into GIS and in home affairs, we have been doing a very large turnkey projects. BSF project has been very successfully implemented and now we are doing the CCTNS programme in Tamil Nadu, UP, Odhisa, Jharkhand and Uttarakhand. So the experience of delivering solutions to CRPF, BSF, defense and para-military organisations has improved our efficiency and effectiveness. For BSF we have gone to the remotest part of the country to create connectivity, train people, roll out the application; it was very hazardous terrain where our officials have worked with the defense personnel. Our aim is not only to provide the hardware and software solutions, but also to train the people and populate the data. We have actually done a lot of talent development as we need to train the people and communicate in their local language which is very challenging. We are currently working on a very good project for better financial management for the Government of Andhra Pradesh. The Airport Authority also has a very ambitious plan as they are putting together their operational center across ten Airports. This is a turnkey project in which NIIT will be responsible for putting the solution together and running and maintaining the solution.
Today NIIT Technologies has a footprint in many parts of the globe. Please provide us with an overview of the projects that you are implementing outside India.
In Singapore, they are very concerned about young people, not getting married. So we put across a system for bringing couples together. We have also devised a solution for looking after the sports related activities; we are doing a lot of work for the land transport authority. Similarly in Australia we work with the public transport department. It is easier to do business with the Government in India as we have built a lot of brand equity. In corporate sector, if you have built a relationship and if they are comfortable that you can deliver the solution, then they will keep coming back to you. But in the Government the decision making takes into account many different factors and you have to make sure that commercially you are the best.
How do you analyse the IT scenario in India?In your opinion, what kind of progress has been made by NIIT Technologies in this area?
On the axis of a two by two matrix on one side you have scale and size on the other hand you have quality and value. The ideal position for a company is to be on the top right of the matrix, where you are the biggest and the best. But we know that the biggest may not be the best and our whole approach is towards being the best. Our focus is on specializing in products and services, which will enable us to drive our vision. Our vision is essentially to be the first choice in GIS and some other segments like travel where nobody is even close to us. We are working in insurance – life and non-life. Our strategy is to focus and differentiate because only then you can create specialisation. During the last twenty years we have grown at a very fast pace. The growth that we had was basically due to the strength of our value proposition that we brought for our customers and for society at large.
Follow and connect with us on Facebook, Twitter, LinkedIn, Elets video