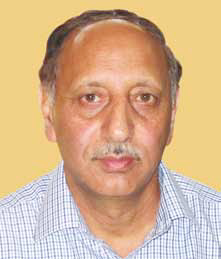 Mohammed Abass Dar, Commissioner / Secretary to Government, Consumer Affairs & Public Distribution Department, Government of Jammu and Kashmir

Transparency in Public Distribution System the State is obliged to ensure food security to every citizen. But food security can only be there if the State can ensure that food is available at affordable prices. Reformative steps have to be taken for improving the delivery system. Only reforms can ensure that the leakages/ pilferages are minimised. The experiences in some States have shown that the ePDS projected are advisable and fructuous.
The Consumer Affairs & Public Distribution in J&K is charged with the responsibilities for timely supply and distribution of foodgrains and Essential Commodities in general and specifically, to people living in far flung, remote/ inaccessible areas. Functional issuance/ management of Ration Cards, distribution of foodgrains, enforcement and regulation of essential supplies and prices/market control always remains the focus of attention. The State being food consuming and deficit, very less quantities of wheat and paddy gets procured. We lack a proper mechanism for procurement as the volume of procurement is small. Whatever the foodgrains are required, same are being arranged through FCI and for further distribution through State Agency. There is a set procedure for lifting, storing & transportation of the foodgrains up to the point of services at Sale outlets/Fair Price Shops. Transportation is being carried out through Government owned State Road Transport Corporation.
In view of the topography of the State of J&K, many areas remain cut off with no road connectivity during winter months due to heavy snowfall. Thus the State has established a mechanism for dumping sufficient quantity of foodgrains for a period of six months well in advance in already developed storage facilities. Right on 15th October of every year, required advance storing is completed and there is no question of shortages. That is how the State ensures the food security and the availability even in remote and inaccessible areas. To overcome the problems of pilferages/ leakages in the system besides placing of Vigilance Committees/ display of lists of Ration Card holders, scale of foodgrains along with price lists, the State Government has empowered and involved the Panchayati Raj Institutions (PRIs) in receipt & distribution of foodgrains, issuance of Ration Cards, elimination of bogus Ration Cards and overall supervision and monitoring of functioning of Sale Outlets/Fair Price Shops. J&K Public Service Guarantee Act, 2011 is a milestone in ensuring timely issuance of Ration Cards.
Accountability in implementation of all these applications, helps in managing the transparency in the Public Distribution System (PDS). By virtue of the Hon'ble Supreme Court, Government of India, passed on directions for shifting to ePDS (end-to-end computerisation) to all the States, a step with the mission to ensure complete transparency in the system of food distribution right from lifting (FCI godowns) to delivery point of Sale Outlets/F.P. Shops.
Instructions/guidelines are continuously being conveyed by the Ministry of Food & Public Distribution and constantly monitored. Other Departments have also been roped in like NIC, Information Technology to help out the State. Like other States, the Project ePDS (end-toend computerisation) formulation and submission had been taken well in time. An Apex level Committee headed by the Chief Secretary and Project Management Unit (PMU) headed by the Secretary CA&PD has been constituted to carry forward the mission mode project. Under Supply Chain Management component, the creation of database of storage godowns, PDS agencies, Fair Price Shops and hosting thereof on State information portal stands already completed within timeframe.
Presently, digitisation of Ration Cards and creation of beneficiary data has been taken in hand through the State Information Technology Department and is under progress, which is expected to be completed within timeframe. For setting up of transparency information portal and grievances redressal mechanism, the toll free numbers have already been installed and Departmental websites launched. Training of the officials down to the level of Area Inspectors has already been conducted. Funding for the Project is yet to be made available by the Ministry of Food & Public Distribution, however, the State Government had set the process of ePDS and is progressing.
Followed by the procurement of hardware, the FPS Automation shall be taken and expectedly to be completed within timelines of the Ministry and the whole system of ePDS shall be made functional. Definitely the ePDS with support of other electronic gadgets at different relevant steps shall help out to control the pilferages/ leakages, to a large extent.
Follow and connect with us on Facebook, Twitter, LinkedIn, Elets video