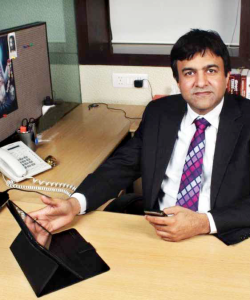 Pradeep Kumar
CEO, Government Business,
Vakrangee Softwares Ltd

eGovernance  space has seen a lot of developments during the last few years.Vakrangee has made a name for itself by managing number of large size e-Governance projects in a timely and efficient manner. Tell us about your experience of working in the e-Governance area.
While executing projects for the government,we are mainly focused on two areas – systems integration (SI) projects and citizen centric projects. In fact, e-Governance has led to expanding opportunities for Vakrangee. We are executing number of projects such as CSC and BCA in about 50000 locations in our last mile Touch-Point business, wherein we, as the interface between Government and Citizen,deliver the government services to the citizens using state-of-art technology. We have ventured into the CSC business in the pursuit of expansion of our Touch-Point Business. Now, our centres at the gram panchayat level in Rajasthan and Punjab are delivering numerous G2C and B2C services such as Land Record, Election I-Card, NREGS Card, Cast/Domicile/Birth/Income Certificate etc. at the doorstep of the citizen. We take pride in the fact that our systems are making it possible for citizens to access various government service without having to visit any government office. As far as the System Integration Projects are concerned, I would like to mention the IGRS Maharashtra project. As we have successfully implemented it. Then we are also doing an end to end smart card based PDS project for the government of Harayana. We are also providing the point of sale terminals at 9,000 fair price shops. After doing UIDAI enrolment, we are actually providing smart card based ration cards. In this, all 55 lakh households in Harayana will finally have biometric ration cards.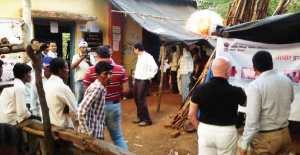 What kinds of biometrics have been captured for your ration card project?
The biometrics being captured are the same as what is being done under Aadhaar. In fact, it is an Aadhaar based project. First AADHAR enrolment is done and then the biometric ration card gets processed. This project is already rolled out in the four blocks of Harayana.As of now we have covered more than one lakh fifty thousand families. This is the largest automated PDS project in the country.We are also part of the NPR data digitisation project execution. Through this the data of all the citizens is being digitized. We have done a major share of that project. Our focus is brining excellence in execution. We bring tremendous amount of efficiency into the projects that we execute, when it comes to delivering results we are far ahead of all our competitors.
---
Vakrangee Softwares is a pioneer in the e-governance domain and brings together all the hardware,software and on ground activation required for successful launch and management of e-governance initiatives. It has the experience, expertise, capability and capacity to handle large scale, nationwide implementation of e-Governance initiatives
---
Tell us about the CSC project that you are having in Rajasthan.
We started the CSCs project in Rajasthan; we got the project awarded in the month of June last year and the State Government had given us one year of time to execute it. I am glad to say that we have managed to complete the rollout of the project in just first four months. All the  projects are now running successfully. We devote so much of time to make sure that the projects rollout on time and as per the client determined SLAs. Take the example of UIDAI project, on paper it seems to be a mere enrolment drive, but in spirit the UIDAI initiative is great scope. It is about ensuring that every citizen in the country has access to benefits from the government, it is about ensuring that student scholarships and senior citizen pensions get directly delivered to them in their villages through their AADHAR linked bank accounts. We have done more than 3.5 crore enrolments for UIDAI in the country.In Maharashtra we have done close to 60 lakh enrolments. For last four months we have been the number one in the country when it comes to Aadhaar enrolments and generation.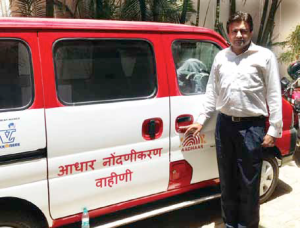 You have also engineered the concept of Mega Centres for enrolment. Please tell us about it.
To facilitate faster AADHAR enrolment of beneficiaries of 26 schemes under Direct Benefit Transfer we have also done some innovations like mega centres. This innovation has been done in close coordination with the Departmentof Information Technology in Maharashtra.Shri Rajesh Aggarwal, IT Secretary,Maharashtra, is an inspiration behind this project.Under mega centres we setup large number of kits at a single location. 10 to 20 kits are there to ensure that people do not have to waste their entire day for standing in queues. We have done this project in Mumbai and Thane. Now we have been asked to launch similar centres in Pune and Nagpur also. In Mega Centres 2000 to 3000 enrolments can be done in a single day. We have also come up with mobile enrolment van for senior citizens and differently-abled people.
The government in centre and in different states are now concentrating on creating an environment for financial inclusion. What kind of work areyou doing in this area?
In financial inclusion we have been awarded Common BCA contract for 2 clusters covering 3 states for launching initiatives related to setting up ultra small branches of all the public sector banks through BCA model (Banking) in every panchayat. Maharashtra is one cluster and Rajasthan and Delhi combined comprise the second cluster. We will be providing doorstep banking and direct benefits transfer. Apart from banking services, we are also adding other services like payment of LIC premiums, Rail ticket booking, and services related to passport, UIDAI enrolment and others.
---
Our Vision is to emerge as the first choice, end 
to end e-governance & ITeS Solution provider
in India and Global Market by efficiently 
serving the requirements of the Governments 
as well as the private sector Industries such as 
Telecom, BFSI, Retail, Utilities and Transport.
---

There have been some question marks about the profitability of the CSCs and the BCs. What is the impact of CSCs  and BCAs in your profitability?
In Rajasthan, our CSCs are doing very good business. Our strategy is to aggregate more and more G2C , B2C and banking services into CSC network.
In what verticals are you seeing maximum growth?
We have recently received the RBI mandate of deploying at least 15000 White Label ATMs. White Label ATM means an automatedteller machine that does not linked to a single bank.These ATMs will provide services for large number of banks. We see lot of potential in this areaAlong with the rural Banking business .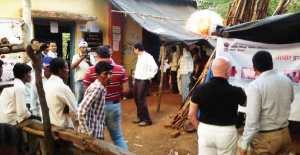 Executing projects for the government must have challenges of its own. At times the decision making is slow, the directives are not clear and there are other issues as well. How do you manage all these challenges?What can the government do to enable companies like Vakaranjee to deliver better results?
First of all, we must have a serious intent for delivering results. Lot of challenges need to be addressed. At times companies face challenges as certain companies are unable to imbibe the spirit of the project. They just intend to finish the work as soon as possible so that their job gets over soon without bothering about the intended outcome for citizens benefits. They fail to understand that every project is also about transforming the model of service delivery. Yes, we do have challenges when some of the SLAs are very impractical to meet, but we always try to satisfy our clients. But our focus is always on delivering good results on the ground. The satisfaction of clients is our first objective. We say what we believe and we deliver what we say!
Do you have any plans to expand your business abroad?
The Indian market is really huge. There is no dearth of market opportunity. Size and scalability,which is available in India, is nowhere else. However we are always on the lookout for lucrative business opportunities abroad.Recently we have completed Land Records digitisation project in Philippines
Follow and connect with us on Facebook, Twitter, LinkedIn, Elets video