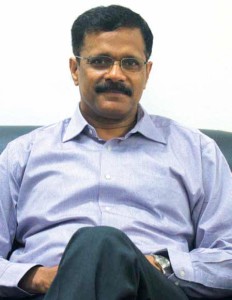 T C Benjamin, Additional Chief Secretary, Public Health Department, Govt of Maharashtra, provides an overview of the IT initiatives that have been undertaken by his department. He also talks about his dream of providing better tertiary healthcare to all. In conversation with Nikita Apraj, ENN
Today ICT has become an inseparable part of healthcare. What are the ways by in which Public Health Department is benefiting from the usage of latest ICT solutions?
Public Health Department is one of the largest departments in the state as far as number of staff is concerned. We have more than 65,000 employees at various levels dealing with delivery of health services across the state. We have three levels of service delivery. At the primary level, we have Sub-Centres and Primary Health Centres. At the secondary level, we have Rural Hospitals, Sub-district Hospitals, Women Hospitals and District Hospitals. At the tertiary level, we have Super Speciality Hospitals. Since we have a large number of employees, we have adopted e-Governance for effective functioning. We use software for monitoring the posting and transfers of medical staff. Postings and transfers are difficult to track unless we have a system in which we can capture data on real-time basis. We have developed an online system for requesting transfers and paperwork is totally avoided as far as submission of requests for transfers are concerned. Likewise, information regarding availability of doctors across all healthcare institutions is readily available online and it is updated every quarter. Other information like availability of staff, Accredited Social Health Activists (ASHAs), medicines and details regarding construction related activities of health institutions being undertaken by the department are also available online. Recently, the department has introduced an online software that assists the doctors to evaluate physically challenged persons at the District Hospitals and thereby avoids any human error in the process. The software certifies the extent of disability and issues online certificate or rejection note as appropriate.
What kind of e-Governance initiatives have been undertaken under NRHM in Maharashtra?
National Rural Health Mission was launched in 2005. The mainstay of the mission is to protect and track health of the mother and the child from conception to the time when child is around five years old. Various milestones are associated with prenatal and post-natal period and various inputs are required during this period for effective tracking. Around 22 lakh deliveries happen in Maharashtra every year. To track this we use Mother and Child Tracking system (MCTS). Through MCTS, our Auxiliary Nurse & Midwives (ANMs) register the pregnant women on MCTS card, which gets computerised on MCTS portal. The unique number on MCTS card becomes the identification number of each pregnant woman for further tracking. We also have created an application for around 59000 ASHAs. ASHA members are not our employees; they are village level activists who are given incentives for various activities such as ANC checks, facilitating deliveries, immunisation and Family Welfare services. An online ASHA application has been developed for tracking the personal information, training, performance and payment details of all ASHAs in the state.
Saving the girl child is one of our most important concerns. The PCPNDT (Pre-Conception and Pre-Natal Diagnostic Techniques) Act bans pre-natal sex determination. With the use of an online application and associated analytical reports, we are able to monitor the performance of the Sonography Centres and can also record the purpose of Sonography tests. We have the data of all the Sonography centres across the state registered with us. Any pregnant lady coming at the Sonography centre is required to fill the 'F' form. The purpose of performing a Sonography test is declared in the 'F' form which is  now filled online. At present, we have 6041 Sonography centres registered in the software and so far 10,45,675 'F' forms have been filled online.
What initiatives has the Public Health Department taken to improve its presence in tertiary healthcare?
Over the years, the department has been dealing primarily with communicable disease like Dengue, Flu and Cholera to name a few. While we are equipped and adept in managing them, we are not geared up to the desired level to provide tertiary level treatment, especially noncommunicable diseases. Today, non-communicable diseases such cancer, diabetes, etc. are claiming much more lives than communicable diseases. Our involvement in this segment is very minimal. For cancer treatment, we have only Tata Memorial Hospital that provides comprehensive treatment. We hardly have any such facility in Vidarbha, Marathwada or other parts of Maharashtra. That is the reason that we plan to set-up establishments treating non-communicable lifestyle diseases in these regions.
There are no facilities to deal with geriatrics problems i.e. problems related to old people. Palliative care means taking care of an old person who may be ill and dying at hospital or at their home. Looking after this population becomes a major concern for the public healthcare system. World Health Organization too has recognized this as one of the prime objectives of healthcare delivery system. We have done very little in this area. There are few initiatives started in palliative care in Vidarbha area. We have trained nurses and doctors for handling and dealing with old patients not only through the required medication but also the desired counselling. We are very keen on helping these patients to reduce their suffering while they approach death. I would like to set-up the institute of Palliative care where nurses and doctors can be trained. The need is to sensitize them about this issue. This institution would be set up in Mumbai, most probably at Tata Memorial Hospital.
---
"We want to set-up establishments for treating non-communicable lifestyle diseases"
---
Maharashtra was the first state to roll out Jeevandayee Yojana for BPL patients which was later adopted by the central government. Tell us about it.
If a poor person needs tertiary healthcare for ailments related to heart surgery or a brain surgery, s/he cannot afford it. To support such needy patients, the Government of Maharashtra started Jeevandayee Yojana in 1997 which used to provide Rs 25,000 for surgeries. Now we have successfully implemented Rajiv Gandhi Jeevandayee Arogya Yojana (RGJAY) in eight districts of the state to improve access of Below Poverty Line citizens to quality medical care for identified specialty services requiring hospitalization for surgeries and therapies or consultations through an identified network of healthcare providers.
The RGJAY provides each beneficiary a cover of Rs. 1,50,000 through insurance. The scheme provides reimbursement through insurance for 972 surgeries/therapies/procedures along with121 follow-up packages across 30 identified specialized. We pay to the insurance company a premium of Rs. 333 per annum per beneficiary family. Through this scheme, we have been able to undertake 47000 surgeries. The scheme has become extremely popular among the beneficiaries and we are planning to roll out the RGJAY in the entire state.
The private hospitals have mushroomed all over the country. What is your view of the contribution that is being made by private hospitals in Maharashtra?
In Mumbai there are about 53 private charitable hospitals. On inspecting all of these hospitals we found that many hospitals were not complying with the rule of reserving 20 percent of their beds for the poor patients. Hospitals are also supposed to keep aside 2 percent of their income in the form of an ' Integrated Patients Fund' which many of them were not adhering to. Few hospitals do not pass on the concessions in fees offered by surgeons to the poor patients. Besides, as per the 'Charitable Act' items such as food, bed charges, linen, OPD charges amongst others are not to be billed to the poor patients. However, some hospitals are found to be charging poor patients for these items. On the other hand, we have given hospitals many concessions in the form of land, extra FSI, exemptions in customs duty and income tax. We have offered concessions to the hospitals because they are expected to provide certain free services to the poor people. We appeal the private charitable hospitals to be socially responsible. Another possible recourse is to withdraw some of their concessions, though we have not done it so far
Follow and connect with us on Facebook, Twitter, LinkedIn, Elets video