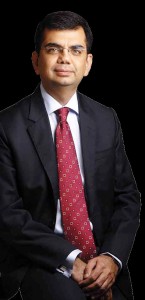 Dimension Data is active in more than 50 countries in the world. What kind of work are you doing in India? What is your focus area?
Dimension Data is a specialist IT services provider that helps clients design, build, support and manage their IT infrastructure using our six solution lines viz. network integration, security, data centers, collaboration, performance optimization and Microsoft Technologies. We have been recognized by Gartner as a leader in their magic quadrant for Communications Outsourcing and Professional Services as also a leader in Infrastructure-as-a-Service magic quadrant. We have been present in India for 18 years now and work with some of the biggest enterprises in several industry verticals.
Keeping our client at the centre of everything we do, we are a strategic IT partner for our clients. As the IT consumption model shifts from traditional on-premises IT infrastructure to a hybrid model where some workloads are moving off-premises into the cloud, we are with our clients at every step of this journey by complementing our traditional SI capabilities with new capabilities around cloud and mobility. In the area of cloud, we are both a cloud builder as well as a cloud services provider globally.
What is your view of the Cloud market in India? Are there sufficient takers for your Cloud based solutions and services in India?
Having gone through the hype-cycle, the cloud market in India has evolved over the last few years. The cloud computing ecosystem has steadily matured to being enterprise-ready.
Globally, enterprises and Governments alike, have leveraged cloud computing to gain strategic agility, reduce business risks and optimize costs. Cloud can support inclusive growth by providing Governments the platform to effectively deliver the citizen charter. It can also be used to increase interoperability between various Government departments and agencies, reduce redundancy and track/monitor the effectiveness of Government schemes.
Though at early stages, we are seeing increasing confidence levels when it comes to cloud adoption in India as the benefits of cloud adoption are evident. Most of the enterprises have taken the first step to cloud by virtualising their data centre. The next step is to automate the infrastructure provisioning and the management layer for enjoying the full benefits of cloud. Enterprises have been experimenting with the public cloud for non-mission critical applications over the last 18 months and many of them are now considering putting some of their additional workloads also on cloud. Public Sector Undertakings and Government departments have started building cloud adoption strategies. We're seeing strong demand for compute-as-aservice (CaaS), video conferencing, backup and storage, and email services on the cloud.
The truly exciting aspect of our cloud services is that we have built several variants of our Managed Cloud PlatformTM (MCP) to cater to different client situations. These are in the form of a Public CaaS, Private CaaS, hosted Private CaaS (where clients can choose the extent of "shared infrastructure") and Provider CaaS (for service providers to offer our cloud technology to their clients). We believe with this portfolio, we have the most formidable offering for cloud supported by our global cloud exchange, and this is getting a lot of attention from our clients in India as well.
In most government departments we are having certain sense insecurity about putting the government data on the cloud. What kind of security systems do you have to ensure that the data is safe in the cloud?
Security is certainly a fair concern, though more of a perceived risk than real. Dimension Data has invested heavily in creating a highly secure environment and follow industry best practices to ensure optimum security of client data at all times. Best-of-breed technology has been used to create a 5 level security architecture that covers over 25 different layers. We have built six state-of the- art Internet Data Centres (IDCs) in partnership with BSNL to ensure compliance with data sovereignty laws that mandate data generated in India remains within the physical boundaries of the country. These IDCs are ISO 27001 certified and SSAE 16 and ISAE 3402 compliant, apart from being India's first Uptime Institute certified Tier III data centres. We have made all necessary investments in ensuring the confidentiality, integrity and availability of client data, at all times. We also openly welcome clients to get our facilities and security systems audited themselves or using external agencies, which we believe is a first and reflects our confidence in the robustness of the
investments we have made.
How do you see the e-Governance area in India? Are you providing services to the government departments for e-Governance implementations? Please provide us an overview of the work that you are doing for government departments in Centre and the States?
We all know India has a complex Governance mechanism due to its federal structure. For a country like ours, properly planned and implemented eGovernance initiatives can catalyze the India growth story. Leveraging the use of technology to improve the effectiveness and efficiency of the delivery of Government services, eGovernance initiatives in India can help simplify the lives of millions of citizen by electronic documentation and online service delivery and at the same time bring in a sense of accountability and transparency on the part of the Government.
So far, we have worked with certain Government PSUs as well as Defence for our SI solutions such as establishing and managing networked infrastructure, security services, implementing high-end tele-presence systems and data center implementations like server and storage infrastructure. With the BSNL partnership, we have considerably widened our portfolio and are today hosting several Government projects out of the BSNL IDCs. Besides, we are at advanced stages of engagement with various Central Government ministries, State Governments and Public Sector Undertakings for fully managed hosting services, with the entire IT system (including applications and infrastructure) provided as a service. With a rich technology lineage and a strong global exposure, we are playing the role of a strategic technology consultant in helping Government organisations leverage technology in their pursuit to deliver the citizen charter.
Our current engagements span sectors like Education, Healthcare, eGovernance, Financial Services, Public Utilities and Civic administration to name a few.
What kind of policies should the government come up with to improve the Cloud Market and IT services market in India? Tell us about your expectations from the government.
Governments should play the role of an enabler in addition to being a regulator. National e-Governance Plan (NeGP) was a step in right direction spanning the various requirements of the country at large. The Department of Electronics and IT (DeitY) recently announced its plans to roll out the National Cloud initiative called 'GI Cloud'. A task force has even been setup to give specific cloud adoption direction
and ensure implementation of this initiative. These are encouraging signs. We can take a leaf out of Governments that have already reaped the benefits of successfully using technology to simplify the lives of their citizens. Government should create a panel of technology partners that have the know-how and the capacity to assist the Government in smoother and quicker execution of these projects.
"Governments should play the role of an enabler in addition to being a regulator"
What kind of growth are you expecting in India during the next five years? Tell us about your plans for growth in India.
With a history of 18 years in India and an employee base of close to 1,400 people, we are deeply committed to service the Indian geography. Besides, we have invested in a Global Service Centre (GSC) in Bangalore, one of the 5 GSCs in the Dimension Data world, from where we service and support clients around APAC and a few outside APAC as well. We strongly believe in the India growth story. This is one of the main reasons behind our Rs 200 crore investment in this partnership with BSNL. This PPP initiative is a testimony of our commitment to deliver the best available services to Indian Government organisations and in turn to the citizens of India. Our combined initiatives with BSNL will provide  a new paradigm in the way Indian Government departments and enterprises view and utilize technology. We are already playing the role of cloud change agents in this geography.
Follow and connect with us on Facebook, Twitter, LinkedIn, Elets video