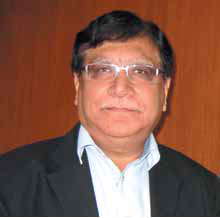 Passionate to bring fibre-optic powered broadband to every home in the state, Peeyush Aggrwal, Executive Director, MTNL shares his views on technology and more.

What has been the role of MTNL in  making Mumbai a smart city? Please  share with us some key highlights of technology installations and its impact?
MTNL has been the incumbent telecom service provider in the city of Mumbai. It has been the lifeline of Mumbai and continues to be so even now. It has a very robust and reliable network in the city with 2.15 lakh fibre KM already laid in the city and is available almost everywhere. It has always ingressed latest technology with changing times from electromechanical switches to State of Art digital switches and now providing FTTH, IP based and NGN services. It has provided first 3G network to the city and best broadband service at a very competitive rate. MTNL has largest share of Landline and Broadband in Mumbai.MTNL is also going to provide major network connectivity to Government of Maharashtra for its surveillance project, one of the major projects related to a smart city.
Please share with us your vision on how best can cities run on an information highway – using broadband technology?
Excellence in key development areas for a smart city has an ecosystem of strong human capital, social capital and ICT infrastructure. Smartcity has to be intelligent, attractive, effective, adaptive, efficient and most important should be integrated. The information highways have to play a key role in the integration for various attributes. The free WIFI zone across all areas of the city is the key and challenging requirement which is feasible under PPP (Public-Private Partnership) mod
There is an economic divide in urban-rural India. National eGoveranance Plan of India aims to use technology as a bridge to the divide. Tell us your views on the impact of the national Fibre Optic Network planned for the country?
In order to have sustained higher growth rate, rural India has to vibrate. Major economic trigger now has to come from rural potential.Government of India has planned fibre connectivity at Block / Panchayat level through USO fund, through its arm BBNL which will provide robust connectivity at village doorstep and will be open to all service providers. The divide will be narrowing in coming years. Rural population which is largely unbanked, will have banks. Aadhar which is a core for rural trigger can ride on this connectivity. This initiative will provide extensive mobile and wireline connectivity in rural India. This has a potential to convert ourvillage to e-village.
Tell us on the latest carrier Ethernet switch routers – making Mumbai the first city to have this technology.
The Carrier Ethernet Switch Routers (CESRs) that would be installed soon by MTNL are designed as a state-of-the-art technology by
IIT Bombay and manufactured by ECIL. The hallmark of any switching, routing and transport equipment is its service bearing capability. The CESR equipment speaks of a 1-microsecond port-to-port latency. The low latency implies the ability to give  eterministic delay and hence provides carrier-class services. The low-latency also implies that the CESRs are excellent from energy consumption perspective. In addition to the Carrier Ethernet service paradigm the CESRs also provide support of the optical transport network (OTN) technology that enhances reach and provides error-free communication. Services can be set up in the CESR based network in the city of Mumbai from 1Mbps to 10Gbps in increments of 10Mbps including leased lines. With these CESRs in MTNL network, we will be able to create a smarter city. Public services such as infrastructure, infrastructure monitoring, security, surveillance and healthcare services can be offloaded to the CESR based network at attractive price-points.

Please share with us your dream project for Mumbai city
Fiber-to-the home providing 100 Mbps bandwidth at every home has been very close to my heart. It will use Home Gateway linking data, electric appliance, home energy equipments, portable terminals, security systems, etc. within home in a network for comfortable, ecological and quality lifestyle.
Follow and connect with us on Facebook, Twitter, LinkedIn, Elets video