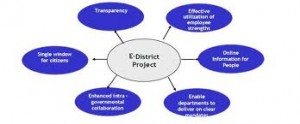 New Delhi: All the 640 districts in the country would be covered under e-District Mission Mode Project by 2016, official sources said here.
The project, estimated to cost Rs 1663.08 crore, proposes to deliver around 50 services on-line at the district level and its subordinate offices.

e-District as a concept proposes integrated, seamless, and online delivery of citizen services at the district level through automation of workflow, backend digitization, integration and process redesign. The services have been shortlisted keeping the citizens needs as primary service objective.
The major service categories include G2C services like issue of Certificates, Filing of RTI & Public Grievance, Request for new ration card etc. This project will also provide G2E/G services like revenue cases, Government dues and recovery etc.
Meanwhile, the Kerala State Information Technology Mission (KSITM), which launched the pilot projects in Pallakad and Kannur district, is working towards the state- wide roll out of e-District Kerala.
Through KSITM, citizens can submit applications anytime for availing the required services. All certificates are issued through the e-District portal and it also includes the digital signature of the issuing officer.
According to an official press release issued by the KSITM, "As many as 23 revenue certificates have been already made available online in the first phase. Nine other departments are preparing to roll out 43 citizen-centric services through the e-District portal."
The National Informatics Centre (NIC) has developed the e-District application and in order to enable service delivery through e-District, the government has notified the Kerala Information Technology (Electronic Delivery of Services) Rules, 2010, under the Central IT Act, 2000.
-ENN Bureau