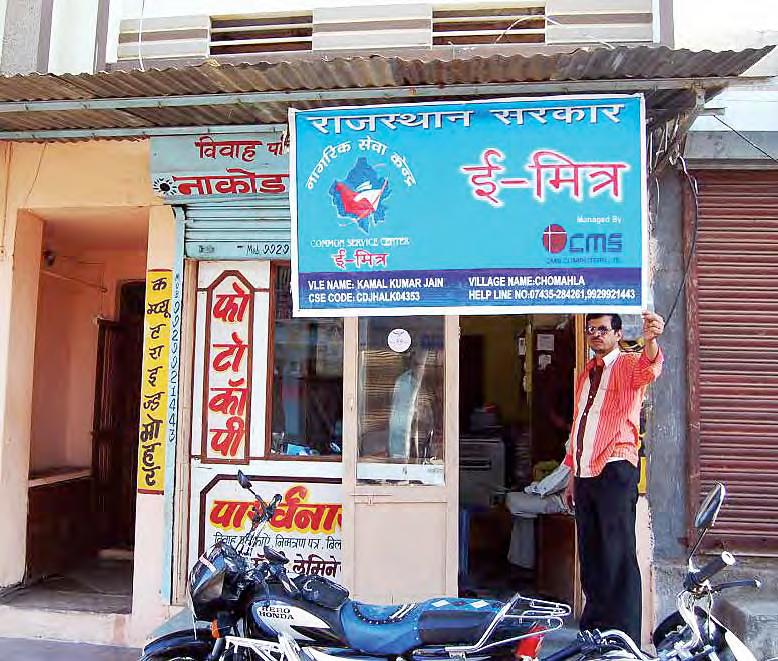 "Social, Financial and Digital inclusion for the masses is priority for the Governments across the world. Smart and effective use of technology can expedite realisation of this objective. Empowerment of citizens to exercise the Right to Public Services is also a priority. e-Governance thus stems from these priorities of inclusion and empowerment," says Sanjay Malhotra, Secretary, Department of Information Technology & Communication, Government of Rajasthan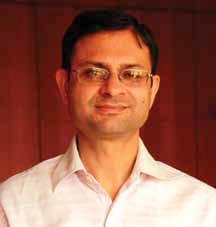 The National e-Governance Plan (NeGP), which takes a holistic and integrated view of e-Governance across the country, targets  to setup one assisted-delivery kiosk for every 6 villages across the country; thus targeting 100,000 kiosks across the country to cater to approximately 600,000 villages in the country.
The nature of a kiosk as an assisted-delivery channel is significant, as it channels our investments in sophisticated IT infrastructure to a citizen, without requiring the citizen to know or understand technology, at the convenience of his/her locality, even in the remotest parts of the country! The kiosks act as the front-ends of  e-Governance. The importance and need for such  a kiosk network to deliver services, particularly in India with significant rural population, cannot be understated.
The Kiosk Network in Rajasthan
To realise its e-Governance vision of leveraging Information & Communication Technology (ICT) not only as a tool for improving governance and employment opportunities, but also more significantly as a means to enhance the quality of life & bridging the socio-economic divide in the state, Government of Rajasthan offers preferential allocation of CSCs to women VLEs. Rajasthan prides to pioneer the concept of kiosk network, before CSCs became an integral part of the NeGP. The Lok Mitra and Jan Mitra projects launched in Jaipur by the State Government all the way back in 2002 has been an immense success! For the first time in the state, there was a single window facility, backed with Information Technology as the enabler, to empower citizens to avail services over the counter, thereby decoupling the service seeker and the service provider. No doubt the bouquet of services was humble, limited to utility bill payments primarily, but our experience of pioneering and establishing kiosks has helped us in a significant way to implement CSCs under NeGP.
Accelerating e-Governance through CSC
With the State's vision of accelerating e-Governance at all levels for improving efficiency, transparency and accountability at the Government-Citizen interface, the CSC Project was launched in 2005 across the State. The growth story – both in number of kiosks and number of G2C transactions has been healthy and commendable; for example, three years ago, we did approx. 1.2 crore annual G2C transactions on our network, but with sustained focus and perseverance, we are hopeful to double that number in the current financial year! The humble beginning in 2002 is now an indispensible part of Rajasthan's e-Governance.
The success of any e-Governance project can truly be assessed by the number of citizen transactions it affords. Our success with significant increase in the number of transactions over the last few years is primarily attributed to supporting policy and expansion of our services bouquet. Initially, only utility bill payments for electricity and water connections was the focus, but gradually, we've ramped up and added an array of B2C services to make the kiosks economically viable.
Subsequently, last year we introduced Digitally Signed Certificates (DSCs) for caste, bonafide and solvency that have been a great success! Citizens can avail the certificates at their convenience at any kiosk. Every month more than one lakh digitally signed certificates are being issued by the system on average, digitally signed by the Tehsildar office; with more than nine lakh since inception. Digital signatures have been issued to every Tehsildar in the State. Introduction of Digitally Signed Certificate services (application and printing respectively) has helped boost the income of an average VLE by `3000-5000, thus strengthening the kiosks to be more self-sustainable.
Another recent initiative, perhaps first-of-itskind in the country, to accept payment and online application from the citizen for various government recruitment examinations conducted by the Rajasthan Public Services Commission, Panchayati Raj Department, Public Works Department, etc, commenced last year. It was undoubtedly a challenge at the beginning, given very large volume of transactions in short period of time (up to 1.25 lakh business transactions with photo & signature uploads in a day), our perseverance and determination to implement the new system as well as to forbid co-existence of manual system with an automated system since inception has been a remarkable success; more than 30 lakh citizens have benefited from the new system over the last 12 months.
Another prominent initiative of significance and current priority is delivery of digitally signed copy of land record to citizens over the counter at any kiosk. Whilst currently in pilot in only one tehsil (Newai in Tonk district) in the state, it has been very successful, with about 40 paid transactions per day at one kiosk. Efficient replication of isolated successes is vital for e-Governance growth; the state government it actively working on its state wide rollout, starting with rollout in one tehsil per district in the current year and expanding from there on. Digitally signed copy of land records  mpowers the citizen to avail service at their convenience, a notable example of e-Governance in the state!
Payments through Aadhaar
Adoption of Unique Identification (UID) in Indian banking system is expected to change the financial landscape of country. Aadhaar Payments Bridge (APB) facilitates seamless transfer of all welfare scheme payments to residents' UID Linked bank account. UID based financial inclusion will obviates need for multiple bank accounts for different schemes, enable faster channel for receiving all welfare payments without any middle-men.
Aadhaar Enabled Payment System (AEPS) further leverages UID online authentication service to be operated in anytime-anywhere banking mode by the marginalised and financially excluded segments of society through microATMs. AEPS empowers to conduct financial transactions (Credit, Debit, Remittances, Balance Enquiry, etc) through microATMs deployed at banking correspondent (BC) in the remotest village. Resident provides his/her Aadhaar number; details of financial transaction sought and fingerprint impression at the microATM device. After authentication banking transaction is done by the BC. Thus AEPS widen the banking accessibility for poor and marginalised people and enable banks to serve the people in most outreach areas at their door step.
Spending on social security schemes is expected to rise phenomenal in a country like India which entails proper utilisation of financial subsidies. UID open the window of good governances as UID based biometric authentication eads to better targeting by eliminating ghost and duplicate beneficiaries and UID linked banking through BC will encompass the most deprived and marginalised peoples in formal banking system.
The state government in Rajasthan is planning to leverage the network of CSCs to make payments through VLEs, who will be appointed as Business Correspondents. One of the SCAs – Vakrangee Softwares Ltd – has been selected as the state level BC for Rajasthan. The state government is in an advanced stage of discussion with banks to rollout Aadhaar based Government to People payments under various schemes through the CSCs.
Several New Initiatives
In the last few weeks, we have initiated action on several new fronts, for example, submission for PAN card applications at the kiosks and fee deposits for government recruitments and admissions at the kiosks.
Most notably, the recent Rajasthan Guaranteed Delivery of Public Services (RGDPS) Act, 2011 by the State Government, preceding the upcoming proposed Electronic Service Delivery (ESD) Bill by Government of India, is one of the first-of-itskind legal frameworks to ensure timely delivery of services to the citizens. The RGDPS Act, under its expanding purview, covers frequently sought services by the citizens, which must be delivered to the citizens in a time-bound manner within the stipulated time period set for a particular service, failing which penalty may be deducted from the salaries of government officer(s) responsible for delayed- or non-delivery of a service. The RGDPS Act supplements the kiosk network, the frontends of the eGovernance, by inspiring trust and confidence for a time-bound delivery of services.
Thanks to the CSCs, delivery of bonafide, caste, solvency and land records certificates, grievance redressal, submission of online applications for a clutch of government schemes and services – all are just a click of a mouse away. And while each service comes with a nominal price tag, the villagers pay up happily, actually counting their savings in terms of time, effort and travel cost to far-off government offices.
Following services are in pipeline for CSC s
• Digital delivery of learner's license
• Payment for learner's license, other taxes/ deposits
• Application for old age, handicapped and widow pensions
• All taxes/dues/deposits of Housing Board.
• All NREGA IT services
• Data entry work on the accounting software of the Panchayati Raj
• Photography for EPIC (Election Photo Identity Card)
• Application and fee deposition for online examination and deposit of fees various  technical and medical exams
Story of a citizen from Govindgarh Tehsil
"Digitally Signed Bonafide Certificate from a nearby CSC Kiosk, in Govindgarh Tehsil has helped me greatly in getting my
daughter admitted in a technical college wherein the authorities readily accepted the certificate as a valid Bonafide proof. I was able to procure the certificate from a single window where I had submitted the application form reducing the labour and time in getting the services from the  concerned Government department."
PPP model for success of CSC s
For having last mile connectivity, a public private partnership (PPP) framework has been adopted focusing on rural entrepreneurship and market mechanism. The CSCs have been set up by the private entities (Service Centre Agencies i.e. SCAs) who are appointed by the State Government through the State Designated Agency (SDA). Raj- COMP Info Services Ltd – the SDA for Rajasthan – is instrumental in facilitating the implementation of the Project within the state and is primarily responsible for providing policy, content, financial and other support to the SCAs in the state.
An online portal has been developed through which the VLEs provide G2C and B2C services to the citizens. The portal provides end-to-end services such as initiation of application for availing services, making online payment as well as tracking of application. The portal also provides  real time information of all the VLEs who provide services under the project in terms of number of transactions, type of transaction, value of transactions etc at individual as well as aggregated levels. Apart from this portal, the SCAs have their own portals for delivery of B2C services, which is also
being integrated with state online portal.
"Social, Financial and Digital inclusion for the masses is priority for the Governments across the world. Smart and effective use of technology can expedite realisation of this objective. Empowerment of citizens to exercise the Right to Public Services is also a priority. e-Governance thus stems from these priorities of inclusion and empowerment," says Sanjay Malhotra, Secretary, Department of Information Technology & Communication, Government of Rajasthan.
Follow and connect with us on Facebook, Twitter, LinkedIn, Elets video