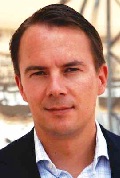 "India by virtue of its huge energy needs, a growing economy and availability of abundant sunshine, is a strategic market for us," Christoph Fark, Managing Director, SCHOTT Solar CSP
---
Tell us about Concentrated Solar Power (CSP).
CSP stations with parabolic trough technology are steam-driven power stations that generate electricity from heat. Parabolic mirrors arranged in long rows concentrate the solar radiation onto a receiver inside which a carrier liquid is heated to almost 400 degrees Celsius. The heat, in turn, is used to raise steam that drives a conventional turbine and thus creates electricity. What's unique about CSP electricity is its dispatch ability. In the form of heat, the energy can easily be stored and electricity generated and fed into the grid when power is really needed.
Which CSP projects are you pursuing in India?
Our CSP expertise makes SCHOTT Solar a growth partner for India's solar power industry. We recently set a new milestone in the country's solar energy sector by completing shipment of more than 17,000 SCHOTT PTR 70 receivers to Godawari Green Energy Limited. These high technology components form the backbone of India's first ever Concentrated Solar Power (CSP) plant. The 50 MW project is located near Nokh village, Pokhran   tehsil in Jaisalmer district. It is well on track for completion in 2013. This will make it India's first utility to generate electricity by using sophisticated CSP technology.
What future does CSP hold in India?
We are convinced that CSP has a very bright future in India. The Jawahar Lal Nehru National Solar Mission acknowledges CSP as a critical technology. Within phase one, seven CSP plants equalling 500 MW are supposed to be realised. CSP represents a highly promising business opportunity and we are confident of using it to expand our footprint in this important market.
What advantages does CSP have over traditional photovoltaic (PV) technology?
With photovoltaics, bands of clouds immediately reduce the level of power production rather noticeably. CSP power, however, is particularly important because it contributes to grid stability since it's dispatchable. This not only spares us from having to build expensive conventional backup power plants to compensate for power shortages, it also makes it easier to grant the necessary commitments to investors and grid-operators.
What is unique about SCHOTT PTR 70 receiver?
With our receivers, we contribute one of the most important components of CSP power plants. The more effectively they do their work, the higher the efficiency of the entire plant. The receivers must be capable of absorbing as much sunlight as possible and yet emit hardly any heat. Moreover, it must withstand severe environmental circumstances – extreme differences in temperature for example – for more than 20 years. The SCHOTT PTR® 70 is four meters long and consists of a stainless steel absorber tube that contains the heat carrier liquid, surrounded by a glass tube, and a vacuum between the two of them. The vacuum has an isolating effect, just like a thermos jug. SCHOTT has developed special coatings that allow transmission of almost all of the sun's radiation through the glass. It also allows one to maximize absorption of solar radiation while emitting extremely low heat radiation. SCHOTT has always been specialized in glass-to-metal sealing that connects the absorber tube and the glass tube while keeping the vacuum stable.
Tell us about some global CSP projects where SCHOTT Solar has supplied receivers.
SCHOTT has a strong voice in this market from the very start. We have been a leading component supplier since the early 1980s when the first commercial parabolic trough power plants were built in California, supplying glass tubes to these projects. Ever since, we have been part of many prestigious projects all over the world, supplying receivers, which SCHOTT started to develop early this century. This includes the Andasol plants in Spain as well as the Nevada Solar One plant in the U.S. To this day, more than 900,000 of our receivers have been delivered to CSP power plants all over the world.
Follow and connect with us on Facebook, Twitter, LinkedIn, Elets video