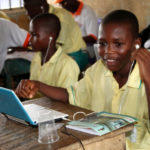 The Federal Government has designed a five year programme for the Universal Services Provision Fund, USPF, to develop rural ICT connectivity across Nigeria.
This is coming at the heels of recent pronouncement by the Minister of Communications Technology, Omobola Johnson that something must be done to address the country's low Information and Communication Technology penetration particularly in the rural areas.
Apparently to fast track the idea, the USPF organised a one day stakeholders consultative forum in Lagos Thursday to provide stakeholders with an opportunity to make inputs and help properly define the direction of the Fund's activities in the next five years.
Speaking at the event, Omobola who is also the Chairman of the Fund's board revealed that the Nigerian Communications Act 2003 placed significant responsibilities on the Universal Service Provision Fund to not only facilitate universal access to communication and applications services, but to also promote greater social and cultural development in Nigeria.
According to her "the USPF's role has never been more crucial as Nigeria is poised to create an Internet and broadband revolution, so the programmes considered by USPF could give our country the push it needs to become a truly digitised nation."
In shouldering that responsibility, the USPF developed new Strategic Management Plan, SMP, which it is sharing with renowned strategic management partners, KPMG to ensure fast achievement of target aims.
With the new SMP, the USPF board said it would provide subsidies or other forms of incentives to telecoms companies and eligible service providers to extend ICT penetration to under-served areas in the country.
Presenting the roadmap tagged "overview of the SMP 2013-2017, KPMG's Joseph Tegbe said the aim of the USPF's strategic plan was to ensure that Fund continued to stimulate creative use of ICT in the country.
He added that, "in response to some of the challenges faced by the USPF in implementing the SMP 2007 – 2011, emphasis will be placed on carrying out the following key activities in the execution of the new SMP: holistic approach to project selection, engagement of stakeholders, qualification of minimum allowable subsidies, and subsidisation of operational cost, among other issues."
He however admitted that central to achieving these goals, would be to identify the market efficiency and access gaps as well as design incentives that would promote the rollout of sustainable ICT services in rural, un-served areas and underserved areas.
This is also as the Senior Manager, Management Consulting, Yetunde Kanu, corroborated him, saying that the goal of the USPF based on the new SMP were to facilitate an enabling environment for ICT and promoting universal access and universal service that facilitate connectivity for development.
According to her, the USPF would facilitate the availability of transmission infrastructure and connection to the national backbone in all local government areas in the country.For her, that would drive increasing access to community-based data and voice services on a shared basis and provide a platform for universal services.