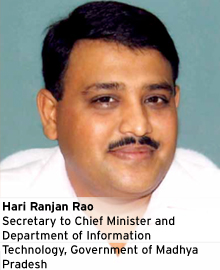 "Our Common Service Centres (CSCs) are a major achievement, as they allow farmers to register for wheat procurement under minimum support price," says Hari Ranjan Rao, Secretary to Chief Minister and Department of Information Technology, Government of Madhya Pradesh.
Tell us about your plans for bringing growth to the IT sector in Madhya Pradesh.

My vision for the State's IT Department is to ensure friendly, transparent, and responsive government for all sections of the society. It is our mandate to  develop and strengthen IT capacities at all levels for overall growth of the society at large and also for providing the government with the information infrastructure in terms of a state wide network backbone, data processing and storage capacities, electronic service delivery framework, policies and  guidelines for project implementations, supporting key statutory acts and policies such as Lok Sewa Guarantee Act and so on. As far as growth of state's IT industry is concerned, we are bringing in policy reforms and taking up initiatives at all levels, right from encouraging entrepreneurship at village and panchayat levels, to attracting global investments and inviting top companies in IT to set-up their facilities in Madhya Pradesh. We are proud to announce that big firms like TCS, Infosys and likes have already chosen Madhya Pradesh as their next base and are rapidly planning development of their facilities in Madhya Pradesh. We are developing educational institutions such as Indian Institute of Information Technology & Management (IIITM). Knowledge  management frameworks such as NKN are coming up to provide high quality IT resources to the state's IT industry.

Madhya Pradesh has taken many new initiatives in e-Governance. How would you rate the state's response to e-Governance?

Madhya Pradesh is in the forefront when it comes to taking e-Governance to the masses. Madhya Pradesh has experimented with Gyandoot project and won acclaim worldwide by initiating right steps for bridging the digital divide. We are the first state to complete the full cycle of Specialised Training Programmes on e-Governance to our officers. We are also aggressively pushing for NOFN project. Our Call Centre called "Tele Samadhan" is a milestone, as it allows us to aggressively push for completion or implementation of multiple e-Governance initiatives, like SWAN, SDC, SSDG, e-District, various State MMPs and so on. The thrust for e-Governance is evident from the path breaking Lok Sewa  uarantee Act of Madhya Pradesh.

According to you what are the main e-Governance projects in Madhya Pradesh that have been immensely successful and have the potential to be replicated?

MPOnline is certainly one of the immensely successful projects in Madhya  Pradesh. Computerisation of Commercial Tax Department was implemented in Madhya Pradesh almost ten years back and today it is one of the most successful applications benefitting lakhs of tax payers, who can now file their returns online. Computerisation of Treasuries is also a successful e-Governance project. Another successful e-Governance is "e-Tendering". So far 67 Departments/agencies have already completely switched to e-tendering. Using this portal, tendering worth `35,17,814 lakhs have been completed in last five years. Our Common Services Centres (CSCs) are a major achievement, as they allow farmers to register for wheat procurement under minimum support price. Within a period of three months, more than 10 lakh farmers across the State have registered with us, and we have their mobile numbers and bank account details. During the wheat procurement season, in the months of March, April and May, these 10 lakh farmers get intimated in advance through SMS about the exact time when they can arrive in local procurement centres. The payments are made directly in their bank accounts.
"Madhya Pradesh is in forefront when it comes to takinge-Governance to the masses"

This unprecedented success in wheat procurement has led the State  overnment to replicate this model for Kharif crops also. Madhya Pradesh has the distinction of being the State with highest usage of Video Conferencing facility for government departments. We are now embarking on many more ambitious programs  such as e-Panchayat, Samagra Samajik Suraksha Karyakram for implementation of various social benefits schemes state-wide.  The Health MMP is also going ahead. In the implementation of
e-Governance projects what kind of challenges do you face?

Main challenges we face are related to network connectivity up to the village level, skilled manpower across all levels within state, capacity building and change management. The solution to these challenges lies in planning, awareness and communication. Policy reforms and having dedicated IT cadre for the state are also important. We are building the infrastructure within the state in terms of SWAN, SDC and SSDG. We are also carrying out capacity building by augmenting the staff strength at district/ block and tehsil levels. At the same time we are creating a training infrastructure across all levels to deal with capacity building and change management issues.
What steps do you think should be taken to ensure that the best practices are implemented while hosting of important state government sites?

I feel the security related aspects, guidelines and standards must be given due diligence while designing important government sites. There is a mechanism in place for all government sites to be audited and certified for security by eligible agencies. Madhya Pradesh Agency for Promotion of Information Technology (MAP_ IT), a think tank for IT and e-Governance in Madhya Pradesh, is creating a Cyber Security Cell to provide long term perspective on cyber security issues. Please shed light on the progress of UIDAI scheme in your state. In Madhya Pradesh Food and Civil Supplies Department is the nodal registrar for enrolling citizen under UIDAI. However, now the Government is taking a decision to increase the number of registrars for a faster rollout. Integration of UIDAI under Food & Civil Supplies Department has been of help in weeding out bogus ration cards in many districts. This by itself indicates the immense potential UIDAI has in terms of effective delivery of citizen services. Government of Madhya Pradesh is committed to integrating UIDAI (Aadhaar number) to all social security related schemes.
In your opinion how can we tackle the menace of malicious content that is being placed on the Internet? Should there be a tighter regulation of the Internet?

Internet is a symbol of freedom of speech and expression. Regular scanning and auditing for security and safety of government websites will prevent the threats from percolating into government systems. For public at large, regular awareness on issues related to online behaviour and advisory from government (IT departments) can be helpful. Institutional mechanisms such as CERT-IN can also be used in states for constant monitoring and spreading of mass awareness on these issues.

In your opinion what kind of sensibilities as an administrator must an IT secretary bring to his job?

Sensitivity towards common man, appreciation for power of IT as a tool for masses is a prerequisite. The person has to keep pace with the latest trends in technology. To be able to lead in a domain such as IT, the IT secretary should be capable of picking up the role of a project manager. The major thrust of an IT secretary's jobs entails management of government projects that have some kind of private partnerships. Once has to deal with consultants and vendors. So the incumbent in this position must be thorough with nitty-gritty's of contracts/RFPs. Business acumen for developing the right business models and negotiation skills are also key to success in this job.
Follow and connect with us on Facebook, Twitter, LinkedIn, Elets video