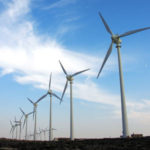 Andhra Pradesh is poised to add 200 MW of wind power farms shortly and has accorded clearance for 2,636 MW of wind power generation capacity, according to Minnie Mathew, Chief Secretary, Andhra Pradesh.
Delivering her inaugural address at the CII Conference, she said the State currently has an installed capacity of 197 MW of wind energy and plans to lay special thrust on boosting generation capacity from renewable energy sources. She said the State Government is working on a tariff mechanism for renewable energy which will make it lot more attractive for wind and solar power generation companies.
Referring to the State passing through an unprecedented power crisis which has impacted all consumers, she said the Chief Minister, N. Kiran Kumar Reddy, has announced measures to support the industrial sector passing through tough times.
The Chief Secretary said the recent moves by the Centre to fix responsibility on State chief secretaries to ensure grid discipline with a proposal to arrest them for violation shows the tough situation that the country is passing through in the power sector.
The per capita power consumption in the country has gone up from 401 units in 2001 to 813 units in 2011. In the case of Andhra Pradesh, this has gone up from 605 units in 2005-06 to 1,039 units in 2011-12.