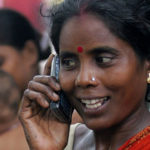 Poor women in Andhra Pradesh could soon get access to their financial transactions on mobile.
About 90 lakh women members of self help Groups (SHGs) in Andhra Pradesh can look forward to this facility, thanks to a mobile book-keeping project being launched by the State Government.
As centre meetings are the cornerstones of SHG activity, data on repayments made and loans disbursed will be uploaded to mobile phones by the record keepers in about 15 minutes.
The records will capture all the existing loans of individual members, insurance details, old loans, details of assets and repayment dates in Telugu.
As of now, the uploading of data of over 8 lakh SHG groups has already been completed as part of the project which is claimed to be the first of its kind in the country. Visakhaptnam-based Bluefrog Mobile Technologies has designed software and is deploying the project.
Under the project, village organisations are being provided mobile handsets uploaded with the book-keeping software to begin with, which will be extended to all others.Every village organisation in the State has about 30 SHGs attached to it and there are over 40,000 book-keepers who are uploading data into mobiles.
The initiative will promote financial literacy among the members and also ensures transparency. More importantly, it helps the Government in village-wise grading of different groups on financial parameters. From a member's point of view, mobile book-keeping is advisable as the possibility of cheating and being cheated is less.
Measures have also been taken to guard against defaults as SMS alerts will be sent on everything, including meeting schedules, payment dates and defaults.
Follow and connect with us on Facebook, Twitter, LinkedIn, Elets video