"Organisations require a very nimble approach to IT management, as it can enable them to manage this data in an efficient manner," says Vijay Mhaskar, VP, Information Management Group, Symantec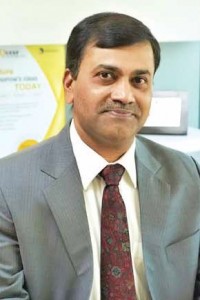 Vijay Mhaskar, VP, Information Management Group, Symantec
We are on threshold of being caught in a flood. A flood of data to be precise. According to the global research firm IDC, worldwide information is doubling in less than two years, with 1.8  zettabytes of data created and replicated in 2011. IDC has also predicted that the digital data  in India will grow from 40,000 petabytes in 2010 to 2.3-million petabytes in 2020. It becomes  very crucial for any company to manage data well since information is the fundamental fabric  that connects myriad aspects of the business into a seamless whole. Businesses rely on  information technology to develop new opportunities, as well as to operate efficiently and  comply with corporate governance practices and industry regulations.
Big data from government
The Government sector is a big contributor to the data deluge. A number of initiatives from the government have led to this massive information growth. Case in point is the digitisation of land records that started in 2009. The UID project is expected to create a lot of information  which will need to be managed efficiently. The largest biometric identification system in the  world, this project requires systems that can store data properly, protect it as well as manage  it in disasters. The recent push from the government to encourage e-filing is another case in  point.
Challenges in managing data
Organisations require a very nimble approach to IT management, as it can enable them to manage this data in an efficient manner.
A number of challenges emerge in managing this data.
• Storage is the biggest concern. The growth of the digital universe continues to outpace the growth of storage capacity.
• Retention and archival of this data is a big issue that needs to be addressed.
• Securing this data, especially given the sensitive nature of this sector, is critical.
Enterprises are increasingly utilising new technologies to meet demands of data storage. There are a number of new technologies that are vying for the attention of IT managers and CIOs. However, there are only a few innovations that can actually help companies improve their top-line performance or bottom-line productivity. Virtualisation is one of them.
Virtualisation for data management
Virtualisation has gained a lot of traction in the recent times. It finds favour with small and big companies alike. It brings with it the promise of radically transforming computing for the better by reducing costs and increasing agility.
Such transformative technologies have gained a lot of attention in recent times due to the benefits that they provide:
• Reduced IT Costs – These technologies offer institutions a streamlined, automated and cost-effective way to deploy and support both computing resources and users, while also meeting regulatory requirements for privacy and reporting.
• Increased Security –Better endpoint controls are enabled through cloud and virtualization
• Improved Flexibility – They helps institutions become more agile by providing the employees access to their workspaces from any location. With streaming technology, users can get access to their applications anywhere, anytime, on-demand.
• Hours Saved –Many enterprises have eliminated much of the manual work associatedwith  application management, saving thousands of technician hours annually.
Technology is evolving at a rapid rate, and virtualisation is no longer just about  onsolidation and cost savings, but is about the agility and flexibility. IT leaders also see virtualisation as  the first step in moving their data centres to a cloud model of IT service delivery. Virtualisation promise scalability, automation, elasticity, and cost-effectiveness. But restricting virtualisation to development environments or noncritical applications, limits  the benefits that this technology can deliver. Best results can only be achieved by conducting  virtualisation on a larger scale.
Follow and connect with us on Facebook, Twitter, LinkedIn, Elets video