"The IT policy, which is now in draft stage and is going through the process of consultation in various ministries, is focussed on ensuring that the IT revenues in the country are in range of US $100 billion to US $300 billion."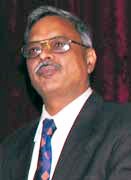 J Satyanarayan, IT Secretary, DeitY, Ministry of Communications and IT, Government of India
During the last three years, the IT industry in the country has been clocking revenues in excess of $100 billion, which is equivalent to almost 5 percent of the country's GDP. IT has led to a  tremendous rise in the level of employment in the country. Close to 28 lakh people are engaged  in the IT industry across the country. We are globally recognised as a superpower in IT. Anyone  who goes through the 12th Five Year Plan document will realise that today the availability of  funds is not a core problem.
Improving quality of people's lives National Policy on Electronics has been formulated to  provide further fillip to the hardware side of our industry. The idea is to bring renewed focus  on manufacturing sector. Currently we are depending heavily on imports, if this trend  continues, then it is likely that by year 2020, we might be spending more of foreign exchange for importing hardware than what we spend on oil imports. It is important that we have some kind of policy to encourage domestic manufacturing in hardware.
Impressive efforts are being made to improve the quality of people's lives through the use of solutions from ICT. Many new ideas have implemented in the National e-Governance Plan  (NeGP). Several Mission Mode Projects are underway. PDS, healthcare and education are also going to come under the ambit of e-Governance. Ministry of Corporate Affairs started its on-line registration system in 2006. Till now more than three lakh companies have
registered through the system.
Another example of a successful e-Governance project is the Passport Sewa Kendras. A total of 77 PSKs have been planned, out of these 70 have already been rolled out. These PSKs have  brought seminal efficiency in the way by which passports are delivered. Applicants no longer  have to stand in queue from 4AM in the morning, as was the case once upon a time.  Instead, they can take an appointment online. In most cases, the applicants are able to finish  their work at the PSKs in less than 45 minutes. There is impressive amount of transparency  in the system.
The broad scope of IT
Many new datacentres have also been created. The capacity is being used to fuel nearly one lakh Consumer Service Centres ( CSCs) in the country. The National Knowledge Network  (NKN) is linking up all the educational institutions of Higher Learning and Research in the country. As many as 1500 institutes, including the IITs and IIMs, are linked with a gigabyte fibre across the country. The R&D work is also progressing at a fast pace. A state of the art research centre has come up in Mumbai. There is also a supercomputing facility in Pune, Maharashtra.
The IT policy, which is still in draft stage and is going through the process of consultation in  various ministries, is focussed on ensuring that the IT revenues in the country are in range of  $100 billion to $300 billion. The policy also envisages greater focus on e-Governance. In  future, we could have a system where it becomes a fundamental right of citizens to have  access to online facilities. Right to eService could become a fundamental right.
The scope of IT is now so broad that it seems quite possible that IT department could become a part and parcel of every other department in the country. Obviously language has a very  important role to play in the field of technology. I am happy to note that the government of  Maharashtra is taking several initiatives in this regard. The state is developing a language  laboratory, which is dedicated to developing the Marathi language on the Internet. In  Maharashtra very good work has been done under programmes like eSetu which was started few years back.
The aspects of security and privacy are also important. The IT technologies should be secure enough to ensure that an individual's privacy is not violated by vested interests.
Follow and connect with us on Facebook, Twitter, LinkedIn, Elets video