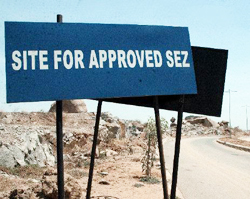 The government will announce incentives to promote IT-related export hubs in small towns as part of its effort to attract investors to Special Economic Zones.

The commerce ministry is amending the rules for Special Economic Zones (SEZs), which have become unattractive to investors following imposition of minimum alternative tax (MAT) and dividend distribution tax (DDT) in 2010-11. Earlier, SEZs were exempted from most levies.
While SEZs across sectors will benefit from the new rules, IT SEZs will reap maximum benefits as their contribution to exports is more than that of others.
After imposition of MAT and DDT, growth in exports from SEZs slowed to 15.4% in 2011-12, from 43.1% in 2010-11 and 121% in 2009-10. The proposals being considered include a sharp reduction in the mandatory minimum area requirement for different categories of SEZs, easier norms for building social infrastructure like schools, shopping complexes and residential blocks in SEZs in smaller cities, besides relaxation in vacancy and contiguity or continuity norms that have often proved to be hurdles for proposed zones.
The government may also allow broadbanding of sectors, which will allow ancillary units to come up in sector-specific SEZs. To factor in more certainty for investors, the government is also planning to issue clarifications in advance on investment and regulatory issues.
Follow and connect with us on Facebook, Twitter, LinkedIn, Elets video